Day is Done
End of Tuesday Night Paddles -- 2005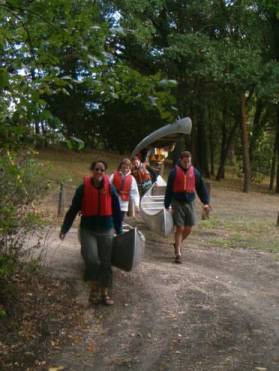 As we headed toward the shore I recalled, as a young boy, singing taps with the setting sun. This seemed suitable with the sun setting behind me and the last official Tuesday paddle coming to an end. On this beautiful fall evening I looked back over the summer. I had a splendid summer leading these outings each week and I think everyone who came out also appreciated the chance to paddle. I enjoyed the opportunity these weekly trips gave me to meet so many new people, teach a few skills, learn a few skills, and just have a chance to paddle.
It was a remarkable paddling year. Lower than expected spring water levels followed by a huge amount of rain. The Red River valley, along with most other parts of southern Manitoba, was flooded through most of June and July as we experienced the largest summer time flooding on record. Finally it was dry through the end of August and September with water levels on the rivers and some lakes dropping to more seasonally normal levels.
Typically 6 to 11 people came out to each paddle. Over 146 people came out to Tuesday paddles throughout the summer. The outings started on May; a beautiful 12 degree day with clear skies and no bugs. A total of 20 paddles ran with no cancellations due to rain or snow. I missed two paddles over the summer while I was away on canoe trips with family and friends.
I did note one week in my log when there was rain during a paddle; the two of us went out anyway. "June 14: warm temperature with light rain during the first hour of the paddle. The bridge was under water, started from opposite sides of the river". Surprisingly even though the bridge was under water there was very little current. Generally the La Salle River backs up from the Red river so the current is usually limited even when the water levels are high. By July 12 the water level was high enough that we could launch canoes beside the canoe compound and paddle over top of the fence -- there was no sign of the fence or the bridge.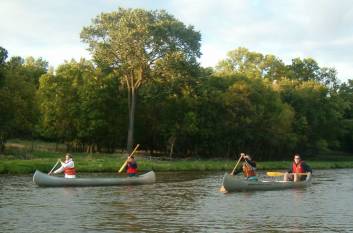 Tuesday paddles have become a time to meet new people, continue old friendships, or just paddle during the quiet evenings. Along with all of the participants I have had the opportunity to learn, and try, new paddling skills. Several participants came to paddles to prepare for courses or practice after taking a course. I was glad to see people coming out to hone their skills. Many new people had their first introduction to canoeing on Tuesday paddles, a number of those went on to take courses.
Brent and Lynn really deserve very special thanks for providing me, and my canoe, with a ride to La Barriere Park almost every week. I am very grateful for the ride but also the help they provided moving canoes, helping others get down to the river, and offering helpful suggestions and tips.
I think the board members, and the Paddle Manitoba membership as a whole, should feel proud of the contribution that they have made to canoeing in Manitoba by supporting activities like the Tuesday paddles.
I want to say thank you to those who came out to paddle this year -- you made it worth the effort. I look forward to being involved with evening paddles and teaching courses again next year.
Day is done, gone the sun,
From the lake, from the hills, from the sky;
All is well, safely rest, God is nigh.

Charles Burchill
---
Back to C. Burchill's Home Page
Paddle Manitoba Home Page
Email: burc...@cc.umanitoba.ca Last modified: Sat Oct 23 07:19:53 2010