The Magic Continued
Wednesday Paddles at La Barriere 2006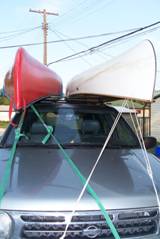 Over 21 weeks this summer Paddle Manitoba ran and supported Wednesday evening paddles at La Barriere Park. This is a tradition that was started in the early 1990s and has continued without fail ever since. I hope these paddles will continue for many more years to come.  This year the outings moved from Tuesday to Wednesday; this change caused me, and participants, some confusion since I continued to refer to them as 'The Tuesday paddle on Wednesday' for most of the summer. Over the summer we had 280 participants with an average of 13 paddlers each week.  Only one week over the summer was cancelled when I was away elsewhere on a canoe trip.
Over the last 6 years of my involvement with evening paddles the magic has been the weather and the participants. With the exception of one day in May two years ago the weather has been perfect.  The one cancelled paddle was due to 60km/hr winds and over 10cm of snow that fell during the day and evening.  The rest of the weeks may, at times, have had rain, hail, snow and wind just before, or just after the paddle but never during.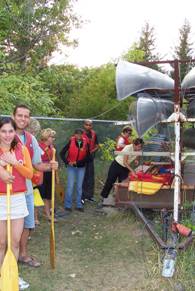 Each week a wide variety of participants came out to join me for an evening of quiet paddling, nature observation, skills assessment, or just to chew the fat.  I learned as much about canoeing and people as anyone else – everyone, including those that were out for the first time had something to add, see, or experience.  It was a treat for me to have so many people out that had rarely or never canoed before.  The help provided by others with more experience was greatly appreciated by both myself and the new comers.
This summer was the busiest that I have experienced as an evening leader. There was an excellent article in the Free Press titled "Water, water everywhere" by Tracey Bryksa on June 3, 2006.  The article raised awareness and brought out many people through June, and much of July.  Over the few days that followed the article I had over 100 phone calls from people wanting to come, paddle, and experience the river and a quiet evening.  Unfortunately, space was limited and I was distressed to turn many people way. The association with Fort Whyte Alive! combined with word of mouth continued to fill paddles for the rest of the summer and fall.
Each week was filled with the typical conversations about paddling, skills/mini lessons, equipment, where to rent, the last trip/or where to trip, and much more. We also had a chance to observe nature in its many forms. Many deer were seen, some of which were interested in us and followed the canoes along the shore – probably trying to figure out what those strange looking water creatures were.  There were always a number of Killdeer in flight and the Great Blue Heron again graced us with its sight.  I was surprised to see a very large snapping turtle, along with many smaller painted, over the summer.  I have seen many snapping turtles elsewhere in the Red River valley but this was the first time above the dam on the La Salle.  One of my interests is in the area of plant identification and edible wilds.  I enjoyed having a captive and interested audience to show different plants and what could be eaten.  One interesting sight was the appearance of wild rice along the river near the dam.  Next year we will see if it continues to grow and spread.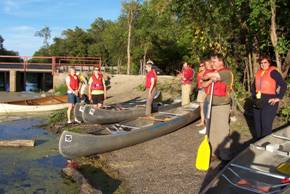 The vast majority of participants were new to Paddle Manitoba and many had either never paddled or had not paddled for many years.  Most weeks there was at least some portion of my time dedicated to showing new paddlers the basics of canoeing and how to keep away from the bank, and maybe go in a straight line.  A number of participants had taken courses over the summer and wanted a chance to practice or brush up on their skills.  Many wanted pointers or suggestions on their paddling technique. A few individuals had plans for trips and wanted a warm up, or in some cases help with skills and suggestions, before heading out. On at least a couple of weeks I had the opportunity to demo canoe-over-canoe rescues.  Several of the canoes needed to be washed and this provided a good learning opportunity to demonstrate some rescue techniques.  I was delighted when Brent, remembering I had more canoes to clean, brought out an old mop to slosh around in the submerged canoes.
One exciting outcome of these paddles was the chance to arrange paddles for groups of individuals on a different evening.  Trying to arrange for a larger group to come out to Wednesday evening was a problem because of the popularity and limited space. With encouragement from one of the participants the Boys and Girls club came out one Wednesday evening and then arranged to come out several more times over the summer on other nights.
The board of Paddle Manitoba should be congratulated and thanked for continuing to support evening paddles as an excellent way to promote canoeing and paddling awareness in Manitoba.
Thanks goes to Brent, Chris, Greg, John, and the others whom I don't recall, who often brought their own canoes and graciously took new paddlers out with them or passed on their knowledge and skills.
On a final and personal note I could not have done all of these paddles without the help of my friend Brent. I really appreciated his willingness to give me, and my canoe, a ride each week to the park. 
See you next year on the rivers and lakes of Manitoba and beyond.
Thanks for a great summer.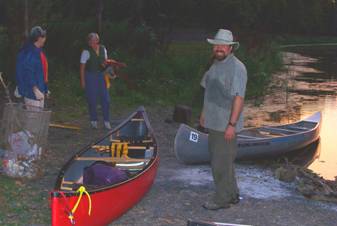 Charles Burchill
---
Back to C. Burchill's Home Page
Paddle Manitoba Home Page
Email: burc...@cc.umanitoba.ca Last modified: Sat Oct 23 07:21:02 2010