September 19, 2017
CYTOGENETIC TECHNIQUES (cond.)
---
REFERENCES:
Chapter 2, The Handling of Plant Chromosomes .pp. 13- 16 Singh.R.J. 1993. Plant Cytogenetics. CRC Press.
Cremer et al. (1993) Role of chromosome territories in the functional compartmentalization of the cell nucleus. Cold Spring Harbour Symposia on Quantitative Biology, Volume LVIII. Cold Spring Harbour Press. 777-792.
Lawrence, J.B. (1993) Probing functional organization within the nucleus: Is genome structure integrated with RNA metabolism? Cold Spring Harbour Symposia on Quantitative Biology, Volume LVIII. Cold Spring Harbour Press. 807- 818.
Trask, B.J., S. Allen, H.Massa, A Fertitta , R. Sachs, G.van den Engh and M.Wu. 1993 Studies of metaphase and interphase chromosomes using fluorescence in situ hybridization. Cold Spring Harbour Symposia on Quantitative Biology, Volume LVIII. Cold Spring Harbour Press.
---
KEY CONCEPTS FOR TODAY
1. Local variations in chromatin coiling, and the consequent variations in chromatin density, result in distinct staining patterns that can be used to identify each chromosome.'
2. C-bands represent constitutive heterochromatin. G-banding patterns on mitotic chromosomes correspond very closely to the chromomere patterns of meiotic chromosome bivalents at pachytene.
3. Polytene chromosomes exhibit easily discernable bands without staining.
4. Individual loci on chromosomes can be visualized by fluorescence in-situ hybridization (FISH).
5. FISH allows 'chromosome painting' using chromosome-specific probes.
6. FISH reveals that chromosomes are not randomly dispersed in the interphase nucleus, but rather, each chromosome occupies a defined 'territory'.
---
I. Chromosome banding
A. Local variations in chromatin coiling, and the consequent variations in chromatin density, result in distinct staining patterns that can be used to identify each chromosome.

The discovery of techniques which produce banding patterns on chromosomes is one of the most significant developments in cytogenetics. These techniques told us that chromosomes have an identity and structure that is consistent in all cells within a species, supporting the chromosome theory of inheritance. Staining made it possible to construct the first chromosome maps, and to distinguish between chromosomes of many different species.

Fixed chromosomes are not equivalent to chromosomes in vivo. Fixation does not appear to extract DNA from chromosomes but it does extract histones and nonhistone proteins to varying degrees. The fixative may not always have a quantitative, reproducible effect on these proteins. The net result is that when you look at fixed chromosomes, you are looking at chromosomes that are chemically and structurally different from chromosomes in living cells.

Some relevant definitions:
band - part of a chromosome that is clearly distinguishable from its adjacent segments by appearing lighter or darker.

chromomere - any part of a chromosome that stains uniquely compared most bands.

chromatin - the DNA/protein complex making up chromosomes

euchromatin - chromatin that tends to take up small amounts of stain, thus staining lightly.

heterochromatin - chromatin that tends to take up large amounts of stain, thus staining darkly. Heterochromatin tends to be densely-coiled.

constitutive heterochromatin - chromatin that remains densely-coiled through out interphase, in all tissues. Often found near centromeres, telomeres and nucleolar organizing regions (NORs).
facultative heterochromatin - chromatin that is either densely-coiled or loosely coiled during interphase, depending of the developmental state or tissue.
B. Giemsa Staining Methods
Mitotic metaphase is the best stage for studying chromosome morphology. Giemsa stain is specific for constitutive heterochromatin adjacent to centromeres and telomeres.
1. Geimsa C-banding technique has been used to identify individual chromosomes in many species by showing the position of constitutive heterochromatin.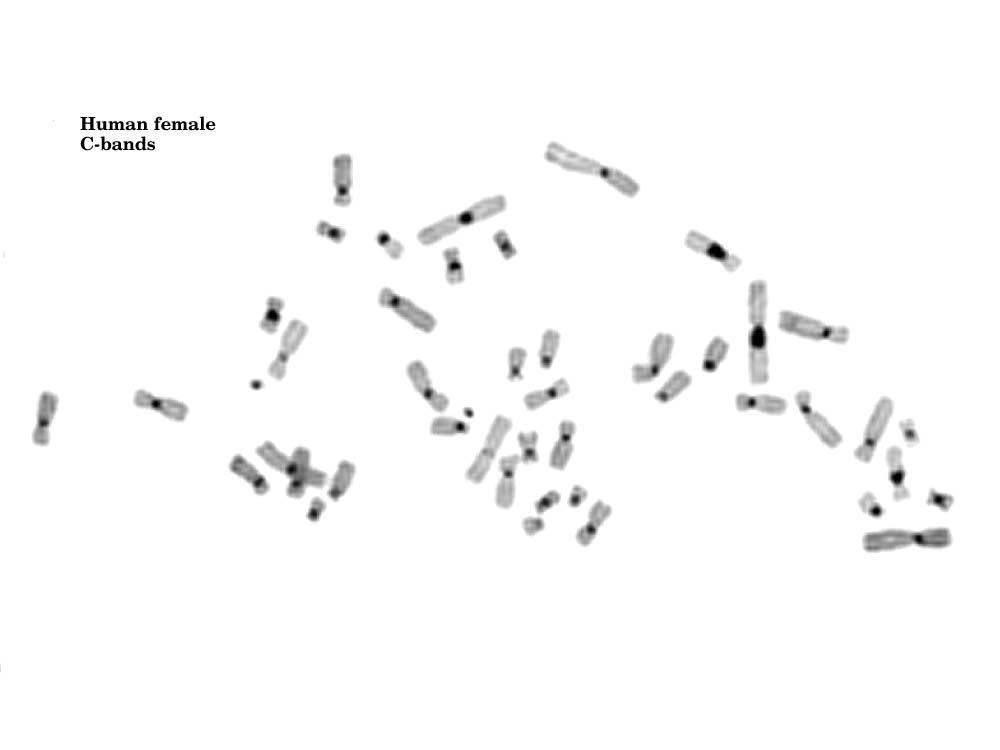 Somatic mitotic metaphase chromosomes of from a human female. Displayed by hypertext link to
University of Washington Cytogenetics Gallery http://www.pathology.washington.edu/galleries/Cytogallery/

Geimsa staining methods were first described in a paper by Purdue and Gall (1970). However, it is important to recognize that staining methods typically need to be fine-tuned for each species, to give the optimal number of bands. We will concentrate on the general treatments and the basis for their application in terms of what each treatment is doing to produce the banding pattern.
Steps of C-banding:
1. Roots are harvested, pretreated and fixed


3:1 95% ethanol:glacial acetic acid for at least 24 h
soften roots in 45% acetic acid or in 0.5% aceto-carmine
prepare slides by the squash method
remove cover glass is removed using dry-ice method. Chromosomes adhere to the slide surface.

The acid pretreatment depurinates the DNA (ie. removes purine bases without cleaving the sugar-phosphate backbone. This helps to induce nicks in the DNA backbone, loosening any supercoiling.

2. Dehydration. Typically slides are placed in 95 to 100% ethanol for 1 hour.

3. Denaturation. Treatment with barium hydroxide for 5 to 15 min at elevated temperature 50-55° C to denature the DNA. Alkali treatment denatures the DNA. ie. breaks base pairing, resulting in ssDNA.

4. Renaturation. The slides are then washed with distilled water and transferred to incubation at 60° C in saline sodium-citrate solution SSC (NaCl) which neutralizes the base, allowing DNA to reanneal. Incubation periods and temperature are variable.

The incubation in SSC alters the 3 dimensional folding of the chromatin (DNA- protein complex). The differential reannealing of the C-band and the non-C-band chromatin to extraction is the basis for the differential staining. The heterochromatin which is highly repetitive DNA renatures under these conditions while the middle repetitive DNA and unique DNA does not. The result is the C-banding pattern.

5. Staining. Slides are then stained with Geimsa stain and checked periodically to see how the stain is progressing. When the optimal staining has been achieved, the slides are rinsed in distilled water to remove the excess stain, air-dried, stored in xylene overnight, air dried again and the cover slip is mounted using Canada Balsam, etc.

Other Geimsa banding techniques include G banding which provides more detail than C-banding. G banding provides identification of almost every chromosome in a complement and structural variation can be detected.
G-banding is produced using Giemsa (=G) staining and usually pretreatment with a diluted trypsin solution, urea or protease.
The Human Chromosome Study Group has published a diagrammatic representation of chromosome bands observed with G-,Q-, and R-staining methods. The nature of these bands appears to be stronger chromosome condensation, but the bands could also be interpreted as the result of alteration of histones and other proteins of the chromosomes. G bands cannot be produced in plant chromosomes although the underlying reason is not clear. N-banding was originally developed to stain the nucleolar organiser region of the chromosomes, plant and mammals.
Key point: Each banding method has a different chemistry affecting different aspects of chromatin structure.