Structural basis of chromosome banding.
G-banding patterns on mitotic chromosomes correspond very closely to the chromomere patterns of meiotic chromosome bivalents at pachytene, that is, the chromatin that is densely-packed enough to see. Chromomeres appear to be the focus of chromatin condensation along the chromosome, and may be the sites where chromatin condensation is initiated. If this is true, G- bands may be the corresponding initiation sites for chromosome condensation during mitosis.
On human mitotic prophase chromosomes, up to 2000 or more bands can be observed. The bands on these high-resolution chromosomes correspond to meiosis chromomeres. As the chromosomes condense in the prophase to metaphase transition, there is a progressive coalescence of bands such that each band and its component sub-bands retain the same relative location and staining intensity. The bands observed at metaphase are made up of a collection of smaller sub-bands.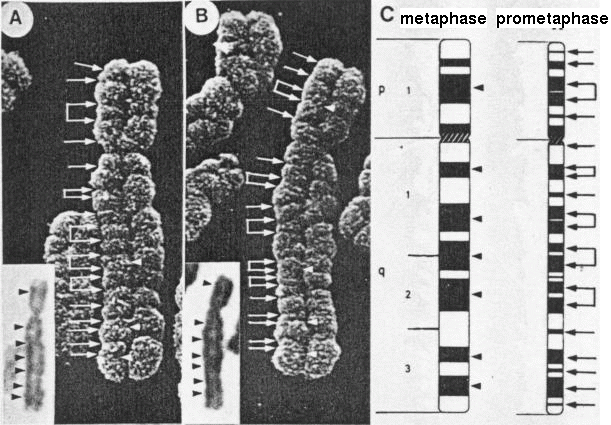 Figure 7. Composite image of a homologous pair of slightly elongated number 5 chromosomes, with the ISCN diagrams of metaphase (i) and prometaphase (ii) chromosome band positions, and light micrographs of the same chromosomes as insets. The major C bands in the LM pictures are consistent with the metaphase band positions in the diagram. Direct comparison of the grooves seen in the SEM and the prometaphase diagram is apparent. (Magnification x 10,000.) (Harrison, C.J., Jack, E.M. Allen, T.D., and Harris, R., J. Cell Sci., 77, 143, 1985.)
Accessed through: Creative Commons Attribution Non Commercial Share Alike License (the terms of which are set out at http://creativecommons.org/licenses/by-nc-sa/3.0/legalcode).


Generally, features of chromosomes do not vary from tissue to tissue or change during the course of development. The organization reflected in banding is not random. In other words, we see consistent bands because the chromosome coils the same way every time.

G-banding has not been possible in plant mitotic chromosomes, even though pachytene chromosomes of plant meiotic cells demonstrate chromomeres.


| | |
| --- | --- |
| Figure 3. Part of a metaphase spread preparation prepared without banding techniques, illustrating small circumferential grooves on the surface of the chromatids. (Magnification x 9500.) | |
| | |
| --- | --- |
| Figure 5. Low-power micrograph of a G-banded metaphase spread. The chromatid arms are segmented by circumferential grooves which run as a helix down each chromatid. (Magnification x 2800). | |
| | |
| --- | --- |
| Figure 6. Detail of a G-banded chromosome, clearly showing the segmentation of the chromatids. (Magnification x 31,000). | |
C. Polytene chromosomes allow banding at a very fine level of resolution
In specialized cells of some plant and animal species, chromosomes undergo many cycles of DNA replication without undergoing mitosis. The result is polytene chromosomes, which may contain as many as a thousand parallel copies of each chromosome, perfectly aligned along their entire length. Polytene chromosomes can be stained and viewed in interphase nuclei. The most common example is the polytene chromosomes in the salivary glands of Drosophila. Because interphase chromosomes are more extended than those in mitotic cells, loci can be identified on polytene chromosomes at a much finer level of resolution.

Compare the size of polytene chromosomes with normal mitotic chromosomes, shown to scale in the inset!

Drawing of polytene chromosomes in one Drosophila. Each chromosome is tightly paired with its homologue so that each pair appears as a single structure which is not the case in most interphase nuclei. The four chromosome pairs are linked together by regions near their centromeres that have aggregated to create a single large "chromocenter". The chromocenter has been split into two halves by the squashing procedure used. Note that the exact side-by-side alignment of many chromatin strands has greatly uncoiled each DNA molecule compared to its packing in a normal mitotic chromosome.

This is an exceptional case of somatic pairing of homologous chromosomes.


Displayed by hypertext link to
http://www.ncbi.nlm.nih.gov/books/NBK26847/bin/ch4f38.jpg

Light micrograph of a polytene chromosome from

Drosophila

salivary glands showing the distinct patterns recognizeable in different chromosome bands. The bands are regions of increased chromatin concentration; they occur in interphase chromosomes and are a special property of the giant polytene chromosomes.




Displayed by hypertext link to
http://www.mun.ca/biology/desmid/brian/BIOL2250/Week_Two/1GeneW2b.html