III.GENOMIC LIBRARIES (cond.)
C. MAP-BASED CLONING (Positional cloning)
Given a molecular marker, clone the associated gene.
1. Localize to a small area using genetic crosses.

First, map the gene you want to clone (d) between two markers m1 and m2:


                      m1     4cM      d  1   m2
                    ___|______________|______|_____           
                        gene must be in here

Remembering that

A. thaliana genome: 70000 kb = 7 x 104 kb = 437 cM, 160 kb/cM (5 cM ~ 800 kb)
H. sapiens genome: 3.19 x 106 kb = 3615 cM, 883 kb/cM

there could be a lot of genes in an interval of one or more map units!

2. Assemble a contig by chromosome walking.

              d                  m2
     _________|____________________|_____________________________
                                _____
                           _____    _____
                     ______              ______
                _____                         ______
           _____                                  _______
               gene must be on one of these fragments

During the initial walk, you have to walk in both directions until you can determine which is the right direction. Often, directionality can be determined if one of the overlapping clones detects a polymorphism. This facilitates a 3 point cross with the probe, m2 and d. The other way of determining directionality is to keep walking until you find a clone that hybridizes with m1.

How do you make "end-specific probes" ie. probes derived from short sequences at one end of a BAC or cosmid insert?
Making an end-specific probe. BAC DNA is digested with a restriction enzyme, such as Alu1, that cuts frequently, yeilding small fragments. (Note that the insert is much bigger than the BAC vector that carries it.) A primer specific for one of the BAC sequences bordering the cloning site is added, along with DNA polymerase and labeled nucleotides. The primer is elongated, but elongation only proceeds as far as the next Alu1 site, at most a few hundred nucleotides downstream. Thus, the only part of the BAC insert to be labeled is at one end of the insert.



If you user a primer synthesized to match the region of the vector immediately flanking the insert, the labeling reaction will proceeed into the insert, and terminate at the end of the fragment, where AluI cut. One of the advantages of this approach is that the same primer can be used for all clones, because all inserts are in the same vector!


End-specific probes can be used to assemble a

"contig" - a set of overlapping BAC clones.

Each time an end-specific probe identifies a new clone in the library, one step in genome walking has been taken.

(Figure displayed from http://gvbioteck.blogspot.com/2012/09/chromosome-walking.html)


From this point on, every gene is a special case.

You know that the gene you want is on one of the clones in the contig. You now need an assay to determine which clone is the right one.


Complementation is the method of choice for experimental systems that allow transformation. For example, disease resistance genes in plants have been cloned by transforming susceptible plants with DNA from each BAC in a contig, and screening for resistant plants.

cDNA screening is an approach that sometimes works. eg. screening for a disease gene in humans:

i) Screen a cDNA library to find clones that hybridize with cosmids in the contig.
(a handful)
ii) Test each cDNA to see if mRNA is expressed in the appropriate tissue.
iii) Of those that are expressed in tissue, sequence each gene in both affected individuals, carriers and non-carriers. Look for correlations between a mutation and the carriers.


D. Constructing contigs by hybridization.
An ordered library is a library of overlapping clones, such that each sequence outside of overlap regions is represented exactly once. Put another way,

think of the chromosome as being split into short fragments laid end to end.

Contigs are assembled by successive hybridization, fingerprinting, or sequencing experiments. Since thousands of clones have to be compared against each other to detect overlaps, computers are used to do pairwise comparisons.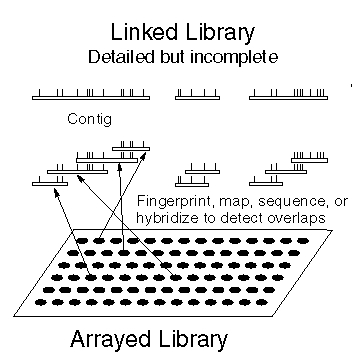 (Figure from http://www.gdb.org/Dan/fig9.html)

Once you have an ordered library:
a. One hybridization experiment tells you

location and approximate copy number of a gene.
b. Everything has already been cloned, so to speak, so even if you only have a partial probe (eg. oligonucleotide), find a clone that has the complete gene.
c. Because the ordered library tells us the order of the sequences in a genome, we can learn about the

higher-order structure of eukaryotic genomes. Potentially, there's still a lot to discover about genome organization.
d. Eliminates the need for chromosome walking, because every part of the genome has already been covered with clones.