2. Autotetraploidy
Autotetraploids: Individual with four basic sets of homologous chromosomes (4x).
Autotetraploids can appear spontaneously in plants as a result of non-disjunction in diploids either in the meristematic tissue or somatic cells. They can also originate in reproductive tissue through the formation of unreduced gametes. They can be artifically produced through the application of colchicine or nitrous oxide. Colchicine is the most effective in the largest number of plant and animal species. Doubling occurs because the spindle fibre formation is disrupted preventing the chromosomes from migrating to the opposite poles.
Morphological characteristics in plants
In general autotetraploids are slow in growth with large dark green leaves. In some species, autotetraploids are larger than the diploid with larger cell size. In self-pollinating species, the autotetraploids are smaller or similar to the diploids.
Cytological Behavior
Each chromosome is present four times and theoretically the affinity is equal between all four sets of chromosomes. There are ten possible quadrivalent configuration of the four homologous chromosomes with any other combination of univalents, bivalents, and trivalents. However, mostly chains (convergent-a; parallel-a) and rings (convergent-b; parallel-b) were observed.

In the diagram below, note that all pairings have the full set of four chromosomes. The only difference is in which ends remain paired at metaphase-I.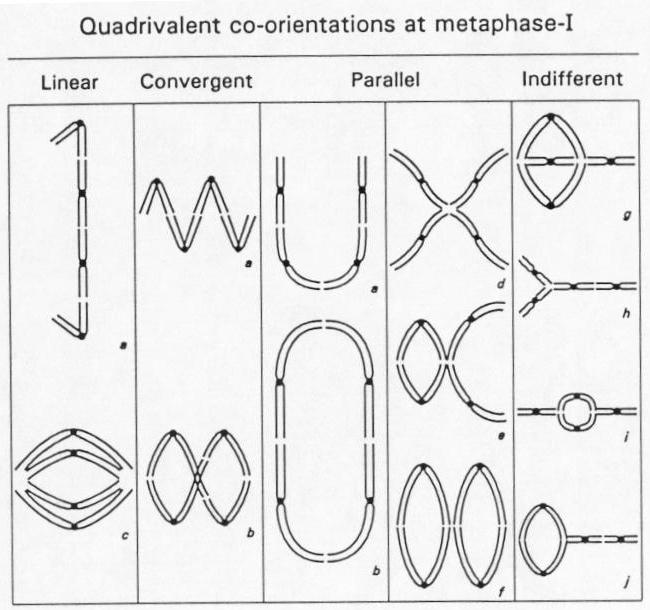 Figure 6.22. Expected ten types of quadrivalent co-orientations at metaphase-I in an autotetraploid. Generally, quadrivalent co-orientations convergent a and b and parallel a and b are observed. (Redrawn from Kuspira et al., 1985. Can. J. Genet. Cytol. 27:51-63. )

Table 6.21. Mean Number of Chromosome Configurations Observed per Microsporocyte at Metaphase-I in AutoTetraploids of Nine Species with 2n = 4x = 28
Species
Univalents
Bivalents
Trivalents
Quadrivalents
Ref.
Arrhenatherum elatius
0.0
4.3
0.0
4.8
Morrison and Rajhathy 1960a
Avena strigosa
0.1
5.0
0.1
4.4
Morrison and Rajhathy 1960a
Hordeum bulbosum
0.1
5.6
0.2
4.0
Morrison and Rajhathy 1960a
Hordeum vulgare
(barley)

0.3
5.7
0.1
3.9
Morrison and Rajhathy 1960a
Pennisetum americanuma
2.64
8.97
0.38
1.49
Hanna et al. 1976
Petunia hybrida
0.1
4.6
0.1
4.6
Morrison and Rajhathy 1960b
Pisum sativum
0.3
5.21
0.16
4.2
Mercy kutty and Kuman 1983
Secale cereale (rye)

0.5
6.1
0.2
3.7
Müntzing 1951
Triticum monococcum
0.2
3.5
0.1
5.1
Morrison and Rajhathy 1960a


0.62
9.86
0.23
1.74
Kuspira et al. 1985
aPennisetum glaucum .
The table tells us that most of the time, either all 4 homologues try to pair, resulting in quadrivalents, or 2 sets of 2 chromosomes try to pair, resulting in 2 sets of bivalents.


3. Autopolyploidy and evolution
Otto SP, Whitton J (2000) Polyploid incidence and evolution.

Ann. Rev. Genet.

34:401-437.



"One of the biggest stumbling blocks to the successful establishment of polyploidy in sexual species is the requirement for a genetically compatible mate."

(Otto SP, Whitton J (2000) )

Any mutation begins as a single molecular event. Its frequency in a diploid population of size P is therefore 1/P. In other words, out of P individuals in the population, only 1 is polyploid as the result of the initial chromosome doubling event. To establish a new population in which all individuals have the new trait requires selfing or matings betwen closely-related relatives. The mode of reproduction can have a great influence on whether or not polyploidies can become established.


Table 3. Incidence of polyloid speceis of insects and vertebrates.

Taxa

Reproductive mode

2x/3x

3x

4x

Other

Insects

Parthenogens1

13

34

16

16



Sexuals

0

[1]

0

[2]

Fish

Parthenogens

1

6

0

2



Sexuals

0

0

10[1]

12



?

0

2

12[1]

3

Amphibians

Parthenogens

1

0

0

2



Sexuals

0

0

18[2]

6



?

0

0

0

1

Reptiles

Parthenogens

3

11[1]

0

0



Sexuals

0

0

0

1

Mammals

Sexuals

0

0

1

0

This table summarizes Web Table 1, ignoring cases where polyploids are rare. Polyploid species are grouped by ploidy level and mode of reproduction, where '?' denotes that the reproductive mode is unknown to the authors. Values in brackets refer to additional cases where there is doubt about the polyploid nature of the species.

1Parthenogenesis - asexual reproduction in which ovum develops into a zygote without fertilization. In some cases, the ovum may require stimulation by sperm, although fertilization per se does not take place. In essence, parthenogenesis amounts to cloning. Parthenogenesis is distinct from hermaphrodism, in which an adult has both male and female sex organs, both of which undergo meiosis to produce gametes, allowing self-fertilization.

The bias toward polyploidization in parthogens, compared to sexually-reproducing animals, is striking. Parthogens do not require fertilization by another individual, eliminating most of the aneuploids that would other wise result from a mating between haploid and polyploid gametes.

In plants, species are capable of selfing, which increases the likelihood that two polyploid gametes will contribute to a zygote, compared to outcrossing species.

Once a population of polyploids are established, matings with other polyploids are more likely to give viable progeny than matings with normal diploids. This is the beginning of reproductive isolation, leading to speciation.