II. EVOLUTION OF CHROMOSOMES
A. Evolution of individual chromosomes.
Based on what we have already discussed in previous lectures, we can summarize the chromosomal changes that contribute to genome evolution:
amplification and deletion of repetitive sequences
deletions
duplications
inversions
translocation
transposition
polyploidy
All of these may contribute to mispairing of hybrids in meiosis, which represents a reproductive barrier. Reproductive barriers therfore drive speciation. Once two populations are reproductively isolated, each population will accumulate further mutations, until hybridization is no longer possible.
Chromosomal Rearrangements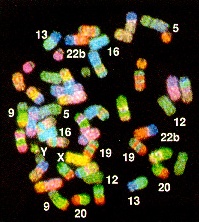 Fig. 3-D from Schröck, E. et al. (1996) Multicolor spectral karyotyping of human chromosomes. Science 273: 494-497.
Even between primates such as gibbon and man, a large number of chromosomal rearrangements are evident. In the figure, chromosome painting of gibbon chromosomes with a human chromosome painting kit shows that all gibbon chromosomes hybridize with human sequences. However, most chromosomes exhibit many colors, indicating that sequences homologous to several human chromosomes are present in each gibbon chromosome. This experiment illustrates the point that genomes can differ substantially, even between very closely-related species.
The longer two species are reproductively isolated, the more chromosomal rearrangements each species will accumulate. Thus, chromosomal rearrangements are an important component of genome divergence, as species diverge.

Take home lesson: As two species become more and more diverged, meiotic pairing becomes more and more complex. This results in decreased fertility of hybrids.
B. Synteny: conservation of gene order
1. Microsynteny - conservation of genes over short chromosomal regions
As speciation progresses and species diverge, chromosomal rearrangements, deletions and duplications cause genomes to diverge. Given enough time, one would expect that the order and location of genes would become completely different, between distantly related species. However, even between distantly-related species, short regions of conserved chromosomal segments can be recognized.
Bennetzen JL, Ramakrishna W (2002) Numerous small rearrangements of gene content, order and orientation diffferentiate grass genomes. Plant Mol. Biol. 48:821-827.
A comparison of several grass genomes showed substantial microsynteny near the adh1 locus in sorghum, maize and rice. While gene order was conserved, the intervening DNA showed numerous insertions/deletions of both genes and non-coding DNA. These results show that it is possible for gene synteny to be maintained even though the distances between genes can get larger or smaller.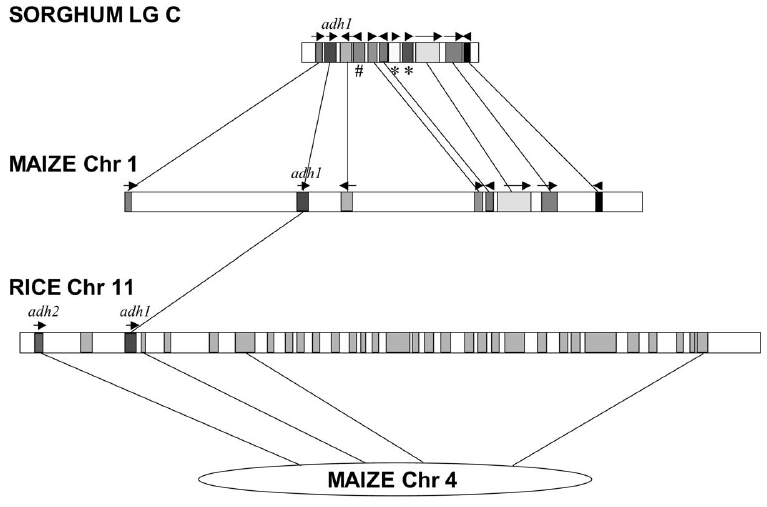 # - gene lost from maize adh1, relative to sorghum
* - genes acquired by sorghum adh1 region
Boxes with arrows indicate known or predicted genes
Take home lesson: Drastic gain or loss of interspersed repetitive sequences can take place between genes, without disturbing the order of genes on a chromosome.
2. Comparison of the Drosophila and mosquito genomes shows large blocks of synteny, and partial polyploidization events.
Evgeny M. Zdobnov,1* Christian von Mering,1* Ivica Letunic,1* David Torrents,1 Mikita Suyama,1 Richard R. Copley,2 George K. Christophides,1 Dana Thomasova,1 Robert A. Holt,3 G. Mani Subramanian,3 Hans-Michael Mueller,1 George Dimopoulos,4 John H. Law,5 Michael A. Wells,5 Ewan Birney,6 Rosane Charlab,3 Aaron L. Halpern,3 Elena Kokoza,7 Cheryl L. Kraft,3 Zhongwu Lai,3 Suzanna Lewis,8 Christos Louis,9 Carolina Barillas-Mury,10 Deborah Nusskern,3 Gerald M. Rubin,8 Steven L. Salzberg,11 Granger G. Sutton,3 Pantelis Topalis,9 Ron Wides,12 Patrick Wincker,13 Mark Yandell,3 Frank H. Collins,14 Jose Ribeiro,15 William M. Gelbart,16 Fotis C. Kafatos,1 Peer Bork1 (2002) Comparative Genome and Proteome Analysis of Anopheles gambiae and Drosophila melanogaster Science 298: 149-159.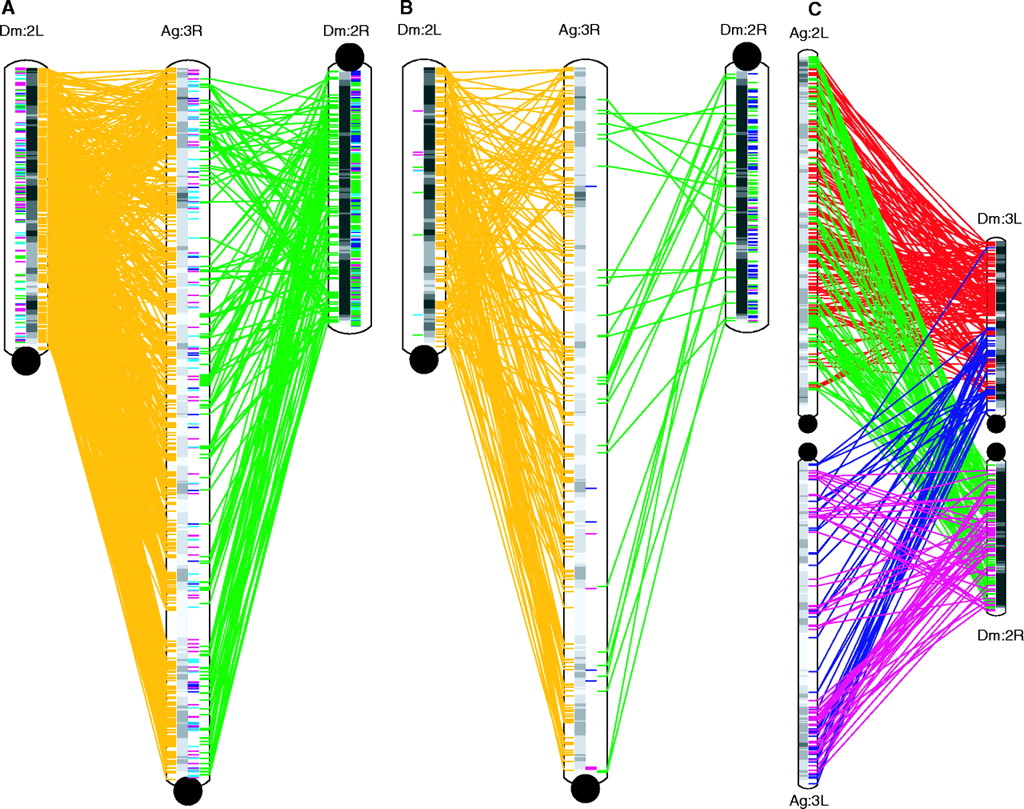 A - 1:1 orthologs. Gold and green lines indicate matchups between orthologous genes in Dm chromosome arms 2L and 2R with Ag chromosome 3R. This is a gene-by-gene comparison between chromosomes (ie. each line represents a gene for gene match).
B - microsynteny blocks. Blocks of known loci conserved between Drosophila and Anopleles are indicated in gold and green lines. Blocks indicate groups of genes that are in the same order when compared between two chromosomes (ie. each line is a match between microsyntenic blocks).
Both arms of Drosophila chromosome 2, designated 2L and 2R, have a largely conserved gene order, when compared to chromosome 3R of Anopheles.

The fact that many of the lines cross indicates probably at least two ancient inversion events. This is easier to see in B.

The fact that both 2L and 2R are roughly colinear with 3R suggests that Drosophila chromosome 2 resulted from a translocation of one copy of chromosome 2 to another.

Although gene order is largely preserved between Ag3R and the two arms of Dm2, the distance between genes appears to be greater. This suggests that either Ag3R gained a lot of repetitive DNA, interspersed between genes, or Dm2 lost a lot of interspersed repetitive DNA.
C - More complex relationships between Ag arms 2L and 3L with Dm arms 3L and 2R. Each block of orthologous loci is indicated by red, green, purple or magenta lines.
Gray bars indicate gene density in a sliding window of 1 Mb.

Anopheles chromosomes have larger gene-poor regions than Drosophila chromosomes

Microsynteny between Ag2L and Ag3L, with Dm3L and Dm2R indicate even further duplications of chromosome arms.
Eukaryotic genomes often contain lots of hidden polyploidy!

C. Allopolyoploidization can cause reproducible changes in genome size, not accounted for by the adding the sizes of the two genomes together
H. Ozkan, M. Tuna, and K. Arumuganathan (2003) Nonadditive Changes in Genome Size During Allopolyploidization in the Wheat (Aegilops-Triticum) Group. Journal of Heredity 94:260-264
The accompanying table shows data from an experiment in which various relatives of wheat were crossed, followed by selfing, to create amphiploid hybrids. The amount of DNA in nuclei was measured by flow cytometry of chromosomes. DNA amounts are given in picograms (pg) per nucleus.

Parents and amphiploids


Generation


2n


Genome


Observed DNA value


Expected DNA value


T. turgidum ssp. carthlicum






28


BBAA


23.64 ± 0.23





Ae. tauschii




14

DD

10.16 ± 0.02





T. turgidum ssp. carthlicum–Ae. tauschii

S1

42

BBAADD

32.13 ± 0.13

33.80




S2

42

BBAADD

31.23 ± 0.06

33.80




S3

42

BBAADD

31.44 ± 0.06

33.8

T. turgidum ssp. dicoccoides




28

BBAA

23.97 ± 0.04




Ae. tauschii




14

DD

10.16 ± 0.06




T. turgidum ssp. dicoccoides–Ae. tauschii

S2

42

BBAADD

31.80 ± 0.11

34.13

Ae. longissima




14

SlSl

14.35 ± 0.09




Ae. umbellulat




14

UU

10.87 ± 0.11




Ae. longissima–Ae. umbellulata

S2

28

SlSlUU

23.21 ± 0.04

25.22

Ae. sharonensis




14

ShSh

14.65 ± 0.07




Ae. umbellulata




14

UU

10.80 ± 0.09




Ae. sharonensis–Ae. umbellulata

S1

28

ShShUU

23.15 ± 0.06

25.45




S3

28

ShShUU

23.17 ± 0.10

25.45


T. turgidum ssp. durum






28


BBAA


23.91 ± 0.12






Ae. sharonensis






14


ShSh


14.66 ± 0.07





T. turgidum ssp. durum–Ae. sharonensis

S3

42

BBAASS

36.52 ± 0.10

38.57

T. urartu




14

AA

11.76 ± 0.07




Ae. tauschii




14

DD

10.16 ± 0.13




T. urartu–Ae. tauschii

S1

28

AADD

19.67 ± 0.26

21.92




S2

28

AADD

19.80 ± 0.07

21.92

S - selfing generations

Key observations:
a) The observed DNA value in hybrids is always about 2 pg less in hybrids than would be expected by simply adding the genome sizes of the parents.
b) The loss of 2 pg seems to be consistent and reproducible, in many crosses. This implies some sort of programmed response
Possible mechanisms:

non-homeologous pairing resulting in chromosome breakage, followed by loss of part of one or more chromosomes.
Nulli/tetrasomy
mobilization of transposable elements