EXAMPLE: Phylogeny of chitinase III genes from protein coding sequences.
Objective: to extract protein coding sequences (CDS) from GenBank entries, align the sequences,and construct a phylogenetic tree.
Sample GenBank entry:
LOCUS       CACHIT       1077 bp    RNA             PLN       11-MAY-1995
DEFINITION  C.arietinum mRNA for chitinase.
ACCESSION   X70660
NID         g17941
KEYWORDS    antifungal protein; chitinase; signal peptide.
SOURCE      chickpea.
  ORGANISM  Cicer arietinum
            Eukaryota; Plantae; Embryobionta; Magnoliophyta; Magnoliopsida;
            Rosidae; Fabales; Fabaceae.
REFERENCE   1  (bases 1 to 1077)
  AUTHORS   Vogelsang,R.
  TITLE     Direct Submission
  JOURNAL   Submitted (21-JAN-1993) to the EMBL/GenBank/DDBJ databases. R.
            Vogelsang, Westfaelische Wilhelms-Universitaet, Inst f. Biochemie &
            Biotechnologie der Pflanzen, Hindenburgplatz 55, 4400 Muenster, FRG
REFERENCE   2  (bases 1 to 1077)
  AUTHORS   Vogelsang,R. and Barz,W.
  TITLE     Cloning of a class III acidic chitinase from chickpea
  JOURNAL   Plant Physiol. 103 (1), 297-298 (1993)
  MEDLINE   94269197
COMMENT     Related sequences: M24365, S41954 & S41955.

            NCBI gi: 17941
FEATURES             Location/Qualifiers
     source          1..1077
                     /organism="Cicer arietinum"
                     /clone_lib="lambda gt10"
                     /cultivar="ILC 3279"
     sig_peptide     16..83
                     /gene="accicer"
     CDS             16..897
                     /gene="accicer"
                     /EC_number="3.2.1.14"
                     /note="NCBI gi: 17942"
                     /codon_start=1
                     /product="chitinase"
                     /db_xref="PID:g17942"
                     /translation="MEKCFNIIPSLLLISLLIKSSNAAGIAVYWGQNGNEGSLQDACN
                     TNNYQFVNIAFLSTFGNGQNPQINLAGHCDPSTNGCTKFSPEIQACQAKGIKVLLSLG
                     GGAGSYSLNSAEEATTLANYLWNNFLGGTSTSRPLGDAVLDGIDFDIESGGQHYDELA
                     KALNGFSQQKVYLSAAPQCPYPDAHLDSAIQTGLFDYVWVQFYNNPQCQYSNGNINNL
                     VNAWNQWTSSQAKQVFLGVPASDAAAPSGGLIPADVLTSQVLPAIKTSPKYGGVMIWD
                     RFNDAQSGYSNAIKGSV"
     mat_peptide     84..894
                     /gene="accicer"
     polyA_signal    1035..1040
     polyA_site      1058
BASE COUNT      329 a    188 c    202 g    358 t
ORIGIN
        1 tgaattcagt gtaccatgga aaaatgtttc aatattattc cctctctttt gctcatttcc
       61 ctattaatca aatcttctaa tgctgcagga attgcagtgt attggggaca aaatggaaat
      121 gaagggtctt tgcaagatgc ttgcaacaca aacaactacc aatttgtgaa catagcgttt
      181 ttatccactt ttggaaatgg ccaaaaccca caaataaacc ttgctggcca ttgtgatcca
      241 tccacaaatg gctgcacaaa attcagtcct gaaatccaag cttgtcaagc caaaggtatc
      301 aaagtgttgt tgtcgctcgg aggcggagca ggaagttact ctctgaactc cgctgaggaa
      361 gcgacaacac ttgcaaatta cctttggaac aatttcttgg gtggcacgtc aacttcaaga
      421 ccattaggtg atgctgtttt agatggaatt gattttgaca ttgaatctgg tggccaacat
      481 tatgatgaac ttgcaaaagc acttaatggt tttagtcaac agaaagttta cctttctgca
      541 gcaccacaat gtccttaccc tgacgctcat ttggattcag ctattcaaac tggtttattt
      601 gattatgttt gggttcagtt ttataataat cctcaatgtc aatactcaaa tggaaacatt
      661 aacaatcttg ttaatgcttg gaatcaatgg acatcaagtc aagctaaaca agtgttttta
      721 ggtgtgcctg cttctgatgc tgctgctcca agtggtggtt tgattcctgc tgatgttttg
      781 acttctcaag ttcttcctgc tattaagact tctcctaaat atggtggtgt tatgatttgg
      841 gataggttta atgatgcaca aagtggatac agtaatgcta ttaagggcag tgtttaatta
      901 acatctatag ttttatttca tgttaaatat tttagtcttc tatgtctttg aataagtagc
      961 atattaattt ggtaggttct gttcctacac attaagtgct atgtgatcac tttgttatac
     1021 atttatatat atgtaataaa aacaggacat tgaaaataaa aaaaaaaaaa aaaaaaa
//
Read entries into GDE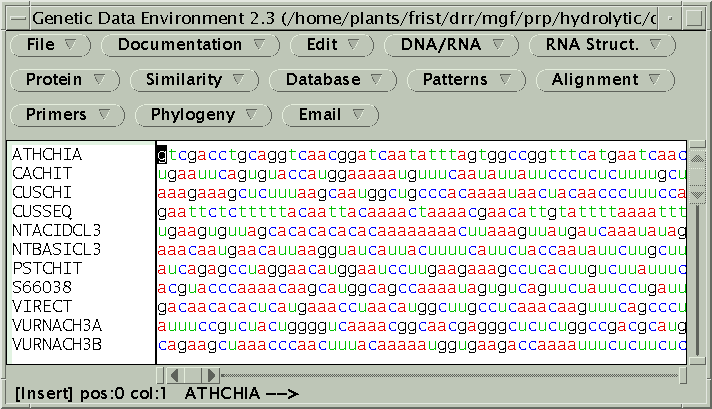 This window contains the complete sequences of both cDNA and genomic copies of chitinase III.
Extract CDS features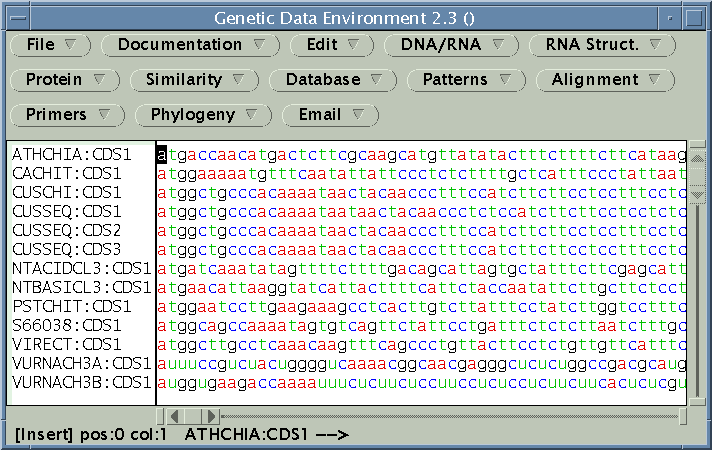 Translate into protein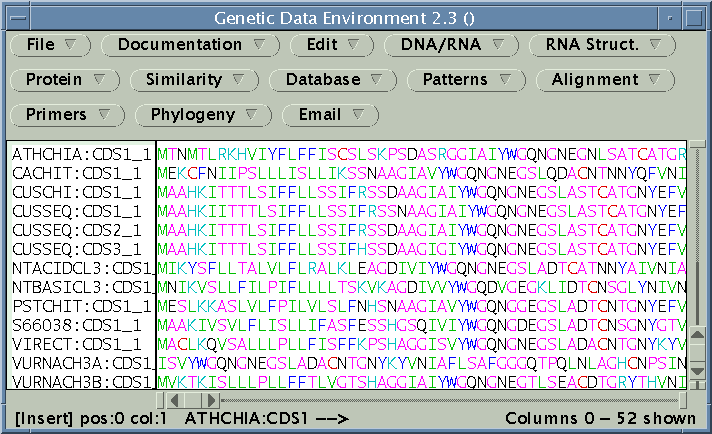 Align protein sequences using PIMA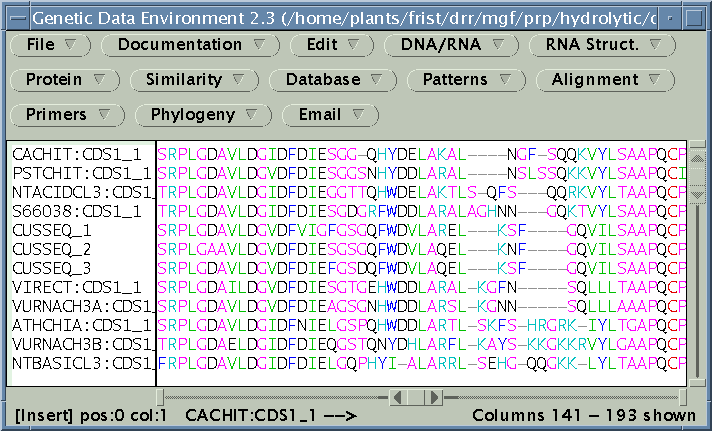 Align CDS sequences using mrtrans