Molecular Genetics in 5 minutes
1) DNA, RNA and proteins
DNA - Read Only Memory
DNA is a polymer of the components Adenine, Guanine, Cytosine, Thymine (AGCT)


DNA is usually double-stranded


5' ACCGTGA 3'
3' TGGCACT 5'



Base-pairing rules : A pairs with T; G pairs with C

RNA - The program resident in memory

RNA is a polymer of the components Adenine, Guanine, Cytosine and Uracil

RNA is usually single-stranded

Because of base-pairing rules, all information contained in the DNA can be represented in a single strand of RNA.
RNA encodes the sequence of protein, a "polypeptide", composed of amino acid subunits

20 amino acid subunits combine to confer unique biochemical functions to each protein

Example: Plant defensins


                 15                  30                  45                  60 
ATG GAG AAG AAA TCA CTA GCT TGC TTG TCC TTC CTC CTC CTC GTT CTC TTT GTT GCA CAA 
M   E   K   K   S   L   A   C   L   S   F   L   L   L   V   L   F   V   A   Q   

                 75                  90                 105                 120 
GAA ATA GTG GTG AGT GAA GCA AAC ACA TGT GAG AAT TTG GCT GGT TCA TAT AAG GGA GTA 
E   I   V   V   S   E   A   N   T   C   E   N   L   A   G   S   Y   K   G   V   

                135                 150                 165                 180 
TGC TTC GGT GGA TGT GAC CGT CAC TGT AGA ACA CAA GAG GGC GCA ATT AGC GGC AGA TGC 
C   F   G   G   C   D   R   H   C   R   T   Q   E   G   A   I   S   G   R   C   

                195                 210 
AGG GAT GAC TTT CGC TGT TGG TGC ACT AAA AAC TGT TAA 
R   D   D   F   R   C   W   C   T   K   N   C   *   


2) Gene Expression

most genes encode proteins

enzymes - carry out biochemical reactions
structural proteins

gene expression occurs by transcription of a gene into messenger RNA (mRNA) copies. Each mRNA can be used as a template for synthesizing many copies of the protein it encodes.
the rate of transcription is controlled by the interaction of the promoter region of the gene with regulatory proteins.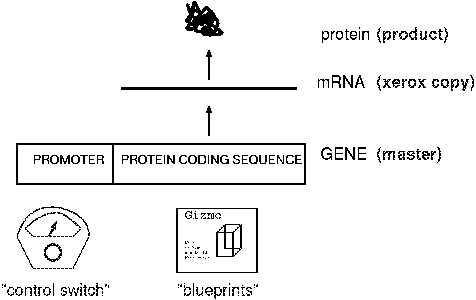 3) Genomes and Chromosomes

Prokaryotes (eg. bacteria, archea)
single circular chromosome
genome size: 106 to 107 bp
almost all single copy DNA

Eukaryotes (eg. protists, fungi, plants, animals)
one or more linear chromosomes
genome size: 107 to 1011 bp
most genes are single copy
most of the genome is repetitive DNA (junk?)
Organization of a typical human chromosome: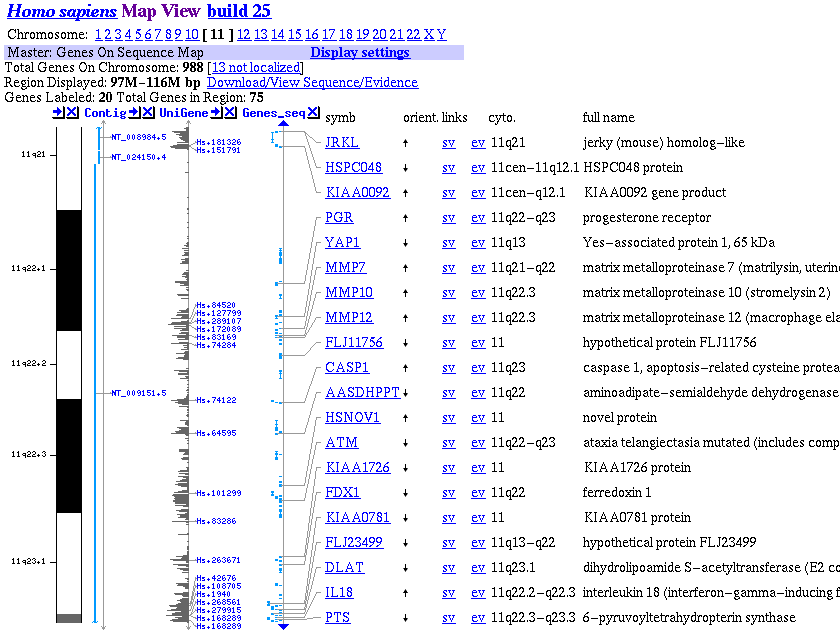 4) The Tree of Life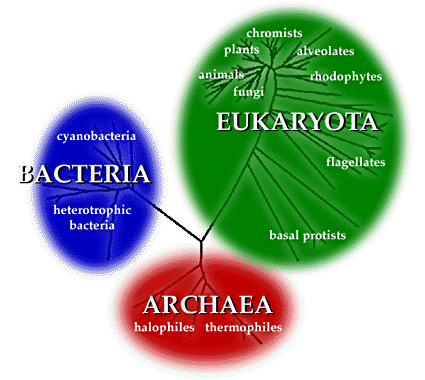 from http://www.ucmp.berkeley.edu/alllife/threedomains.html





---
http://home.cc.umanitoba.ca/~frist/Seminars/RIT/RIT.html