2D-protein gels allow us to visualize genes proteins induced in pea during non-host resistance to Fusarium solani f. sp. phaseoli.
Wagoner et al. (1982) Phys. Plant Pathol. 20:99-107.
Pea cDNA clones representing fungal-induced mRNAs were identified by differential hybridization using labeled probes derived from mRNAs from inoculated or uninoculated plants.




Defense genes included

PR10 - 17 kDa ribonuclease-like protein
defensin - 5 kDa Cys-rich antifungal protein
DRR206 - 20 kDa protein, unknown function

Riggleman et al. (1985) Plant Mol. Biol. 4:81-86.
Expression patterns differ when pea pods are inoculated with compatible or incompatible races of Fusarium solani, chitosan, or water.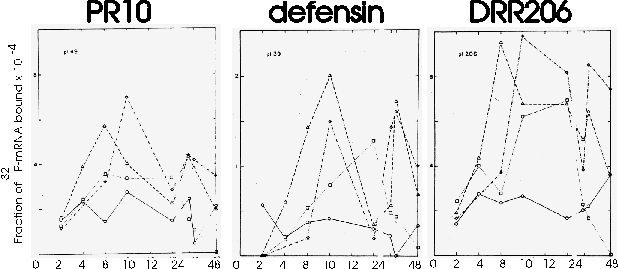 Fristensky et al. (1985) Phys. Plant Pathol. 27: 15-28.