An X-terminal is a computer that can display windows from a remote Unix server onto the local desktop. Th idea is that when programs with a graphic interface run on a Unix server, the commands necessary to draw the windows are sent to the terminal, and the terminal does the work of drawing the windows.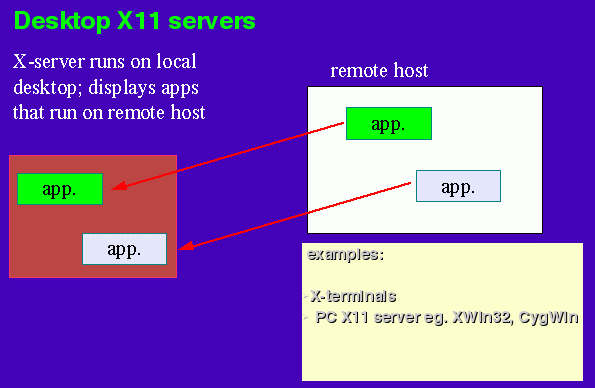 Many people have made large recent investments in PC hardware. As well, most departments are full of older PCs that can no longer run the latest software (eg. P400s that can't run Windows XP). Finally, it is usually not financially feasable to purchase a large number of NCs at one time. For all these reasons, a number of MS-Windows and/or Mac-based programs allow a PC to act as an X-terminal.
Some of the plusses of X11 emulation software include:
Cheap, typically few hundred dollars.
The software has been around long enough to be pretty reliable and easy to use and even install

Even very old PCs will often perform almost as quickly as an X-terminal. Also, the task of drawing windows on a screen always remains about the same, so once an old PC works, it should always work.

typically includes network transport protocols such as SLIP and PPP , making it possible to run an X-windows session over a modem from home.
There are some very good reasons why X emulation software is an interim fix, rather than a permanent solution:
You still have to keep MS-Windows working. Any time you upgrade Windows, or install software, or monkey with the PC networking software, on the PC or on the LAN server, you risk affecting the X emulation program.
X emulators aren't perfect. Because the PC and Windows add a layer of complexity, there is never a guarantee that the X11 software will be able to do everything that an X terminal is supposed to do.
If you are using a PC with an X emulator, there is a temptation to do some things on the X desktop, and some things on the PC. Thus, you fragment your files, keep on having to upload and download information, you have less incentive to really learn how to use the X desktop, and generally make things more complex than if you stuck to one system.
The strategy should, therefore, be to upgrade existing PCs to X-terminals in the short term, and in the long term, buy new X-terminals, rather than new PCs.
Sources of PC X-emulation software:
Many of these vendors offer free downloads of a trial copy of the program.