Solution for October/November 2008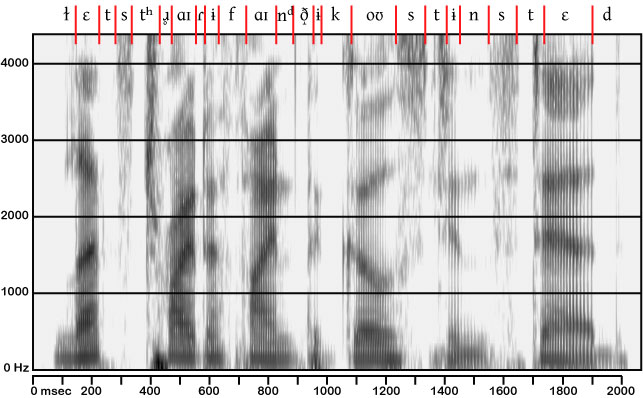 "Let's try to find the ghost instead."
---
Inspired by the Scooby-Doo toy I got out of a gumball machine.
[ɫ], IPA 209
Tilde L (Dark L)
Well, you might have thought this was a nasal, but the noise in the upper formants probably should be a clue against that. Otherwise, it does look nasaly---zeroes between weakish formants, relatively flat structure. So if it wer a nasal, it would be [m], probably, becasue the 'pole' looks like it's at about 1100 Hz at best. But it turns out not to be a nasal, as mentioned earlier. F1 is very, very low, disappearing into the voicing bar, typical of very high vowels and approximants. F2, that pole thing, is on the low end (though not low enough to be really back and round, as in a real back [u]. But back. Now take a look at the F3. It's actually raised, to about 2800 Hz (or thereabouts), from a more reasonable 2500 or just below (check out the longish vowels, especially that last one). That raised F3 is usually a good cue for laterality. I'll let Carol Espy-Wilson and Frank Guenther try to explain why. So what we have here is a nice back (velarized, i.e. dark) /l/.
[ɛ], IPA 303
Epsilon
So we have a vowel here, about 100 msec long. It's moving throughout, which is usually an indicator of schwa-iness, but this is too strong to be unstressed. So if we just kind of average out the movement (and especially the lower starting point of F2 and the raised starting point of F3) we have a mid-to-lowish kind of vowel (as indicated by the 'average' F1 of, um, let's say around 700 Hz, which is higher than 'neutral', but not 'really high'. F2 is around 1500-1600 Hz or so, which is, in the scheme of things, 'not low'. So this is a centralish-to-frontish sort of midish-to-lowish vowel. Work with me.
[t], IPA 103
Lower-case T
So, starting at about 225 msec or so, to just aboute 300 msec, we've got a gap. A silence. Which is pretty clearly telling us that we've got a stop/plosive. (I'm intrigued by comparing the terms 'stop' and 'plosive', one referring primarily to the closure, and the other to the quality of the release, but both referring to the same underlying 'object'. But anyway....) As to place, the F1 transition into it seems to be rising, which is anomalous. F2 may also be rising slightly, which is a good indicator of not-bilabialness. The F3 is coming down, which taken with the F2 might be velar pinch, but it's not really 'pinchy', and anyway the movement may still be transitional from the frequencies forced by the initial /l/. So go fig. Alveolar is probably a better guess in general.
[s], IPA 132
Lower-case S
Frictaive. This probably isn't just 'release' from the previous plosive, since it's not noticeably stronger at the 'release'. Looks like a release into a fricative rather than a 'fricated release', if you follow. But anyway, no resonance shaping so it's one broad band, apparently strongest off the top of the spectrogram (by which I only mean 'above 4000 Hz or so'). Classic [s].
[tʰ], IPA 103 + 404
Lower-case T + Right Superscript H
So there's anoter plosive here, and note the difference in the release--sharper transient and stronger/st noise in the release rather than later. So this is probably aspirated (and strongly fricated)--being [s] shaped, the most likely candidate is [t].
[ɹ̥], IPA 151 + 402
Turned R + Under-Ring
So even if you're not convinced of the segmentation, I invite you to look at the starting formants in the following vowel (and as an exercise, the noise in the aspiration). The F1 seems to start very high, F2 very low. And now look at the F3. Very low. Very, very low. Must be an [ɹ].
[ɑɪ], IPA 304 + 319
Script A + Small Capital I
So as we were saying, the F1 starts high and drops. The F2 starts low and raises. So we've got a a nice fronting diphthong here.
[ɾ], IPA 124
Fish-Hook R
You may think this looks like a small, short, little stop. And it is. Classic definition of a flap. See Inouye (1989). Who, by the way, was the first person to explain what a formant was to me. Thanks, Sue!
[ɨ], IPA 317
Barred I
Short little vowel, relatively weak and almost definitely unstressed. F2 is closer to F3 than F1, so following Keating et al. (1994), it's a barred-i.
[f], IPA 128
Lower-case F
So here's another fricative. It's tilted to the high frequencies, but is really very weak compared to the obvious [s] earlier. Note also the higher frequency noise isn't really well organized. There's also a lot of stuff down at the very low frequencies that doensn't connect up (literally or logically) with that upper noise if it's a sibilant. So it probably ain't. It's not [h]y looking and (it's obviously voiceless so) that leaves only two real possibilities--the labiodental and the (inter)dental. Exactly how one tells the difference is not clear. The lwo F2 starting frequency in the following vowel could be labial, reinforced by the rising f4, but the F3 is just sort of sitting there. but labiodental isn't quite 'bilabial' so it isn't clear what to expect here. So probably [f], but it could go either way.
[ɑɪ], IPA 304 + 319
Script A + Small Capital I
F1 starting at around 900 Hz and falling sharply. F2 starting at about 1200 Hz and rising. Falling diphthong (in traditional terms 'falling from the syllable peak (i.e. peak sonority)'). What I would call the low, fronting diphthong. Transcribed here with a starting script-a since it's clear the F1 and F2 starting frequencies are in that range, rather than central.
[nd], IPA 116 + 104
Lower-case N + Right Superscript D
Well, this is what I mean by something that looks like a nasal. Fully voiced, zeroes, flat resonances, and no noise. Pole up around 1500Hz is usually an [n] in my voice. The 'oral release' is marked by the burst transient, but there isn't a lot in the way of separate oral 'closure duration'. If you follow me. So I've been transcribing this as an orally released nasal, althohg it's phonemically a sequence.
[ð̝], IPA 131 + 429
Eth + Raising Sign
This looks like a stop, and perhaps it is. I tried to convince myself tjere was meaningful noise in the lower frequencies, but I don't think it's really meaningful at all. It's a little short to be an onset ploosive, but then the following vowel is definitely stressless, so that's a wash. I'd suggest the noisy release meant something but I'd be talking out of my *ss. (Sorry, I don't usually work blue, but as I'm typing this it's very late and I'm very tired.)
[ɨ], IPA 317
Barred I
Short, obviously stressless, almost transitional, vowel. Movingo n.
[k], IPA 109
Lower-case K
Well, there's actually a fair amount of voicing in the closure, so I probably should have transcribed this as voiced. Sorry. The release is nicely doubled (double bursts are usually described as involving the longer (sagitally) closure of velars and Bernoulli's force (which explains their occurrence in some dental/laminal releases) but I'm of the opinion that velar releases are ubiquitously doubled because the release happens separately on both sides of the uvula. The rising F3 and falling F2 may be evidence of velar pinch, but the double release centered in the F2/F3 frequencies is the dead giveaway of velarity here.
[oʊ], IPA 307 + 321
Lower-case O + Upsilon
Well, this is another diphthing. F1 isn't moving much at all but is comfortably mid-looking throughout. F3 starts sort of, well, almost front, but moves sharply downward, i.e. back and round-ward. So this is what I woudl call a mid, backing diphthong, a realization of /o/.
[s], IPA 132
Lower-case S
Another sibilant. Longer than the previous one, proably due to not being trapped in between plosives. Note the spectral similarities.
[t], IPA 103
Lower-case T
On l'autre main, There's a funny gap in the noise here. It even has a release burst and a bit of a delay before the noise starts up again. So this is tough to ignore, and we won't. Could be anything, but the release is too [s] shaped to be anything except /t/.
[ɨ], IPA 317
Barred I
Another short little tiny vowel. Moving on.
[n], IPA 116
Lower-case N
Another nasal. Nice and flat. Weak little pole at 1500 again.
[s], IPA 132
Lower-case S
Do i have to keep saying it?
[t], IPA 103
Lower-case T
Yes, yes.
[ɛ], IPA 303
Epsilon
Ah, finally. F1 around 600 Hz, so a tiny bit lower than my /o/, but not 'low'. F2 well abover 1500 Hz, but not absurdly high. So this is mostly front and middish or lower-middish.
[d], IPA 104
Lower-case D
And lastly, a quite strongly voiced (even I couldn't ignore that voicing) sound, with absolutely nothing above the voicing bar--must be a voiced plosive (or something else so close as to be functionally closed), with a sharpish release, tilted (sort of) to the high frequencies. So sort of /t/ looking, but voiced.
---