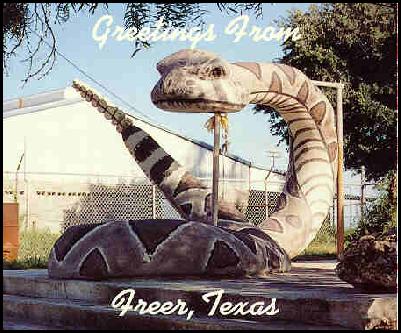 (The above is a copy of a postcard from FREER, Texas)
---
FREER, TEXAS

---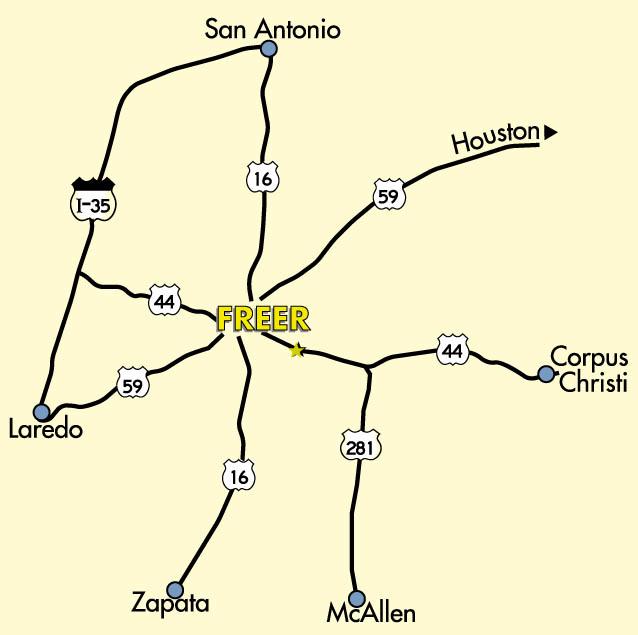 Location of FREER, Texas.
---
The information below was written by the Chamber of Commerce at Freer, Texas. I wish to give a special thanks to Nancy Deviney who sent me the information below. For additional information on Freer, Texas check out the book "Oil,Mud, and Guts - Birth of a Texas Town" by Dorothy Abbott McCoy, Springman-King Lithograph, Brownsville, Texas, 1977 (Limited First Edition - 1,000 copies) -Thanks for this information go to Dan & Rhonda Auld who trace some of their ancestors to the Freers of Freer, Texas.
---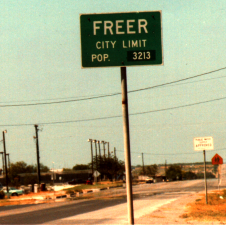 Photo courtesy of Terri Wilson

****************

A HISTORY OF FREER TEXAS

by Freer Chamber of Commerce

P.O. Box 717

Freer, Texas 78357

(512) 394-6891

FREER, TEXAS

Freer, Texas is named for Daniel John (DJ) Freer, born in Pennsylvania in 1866. He went to the wilderness of the Washington Territory in 1889 and then moved to the Indian Territory of Oklahoma and married Nancy Gabehart in 1890. They had six children - a son named Charley and five daughters. In 1915 entrepreneur C. W. Hahl advertised in nationwide newspapers for people to come to "Rosita Valley" (later known as Freer) to buy land at $1,000 for 60 acres to establish a community. In 1916 Mr. Freer sent his son Charley to South Texas from Oklahoma to check out the situation. Charley liked what he saw and met and married Hinnie Riley of the Rosita Valley shortly thereafter. Minnie later became the first postmaster of Freer.

The rest of the Freer family moved to Rosita Valley in 1917. At that time there were no stores or post office in Rosita Valley to service the six families that lived there. They all travelled to nearby San Diego (25 miles east) to shop, and everyone got their mail in San Diego at Box 112. In 1925 D.J. Freer and J. T. Johnson submitted three names to the Post Office Department in Washington, D.C. to establish a post office in the community. The Post Office Department selected Freer because the other two names - Riley and Wendt - were already names of towns in Texas. Freer was a fitting name for several reasons: Mr. Freer operated the Post Office out of his home. He actually purchased and developed the original townsite (which is now the four streets east and west of the existing Main Street). He built the first utility plant for the town. Home of the "Official Rattlesnake Round Up of Texas" He owned one of the first gas stations. He donated land for the first church. He helped establish the first Chamber of Commerce in 1934. The Post Office was moved to the City Drug Store in 1928 which was owned by Charley and Minnie Freer. Minnie then became the first official postmaster. The City of Freer was first incorporated in 1936 but because it was too expensive to maintain the city, an election was held on March 7, 1936 to discontinue the official incorporation. In 1938 Freer was the second largest producing oil field in the United States. The population was estimated at 5,000-8,000 people, ant there was a monthly oilfield payroll of over S500,000. The 3,000 oil wells around Freer produced 50,000 barrels of o il a day. D. J. Freer died on December 7, 1941 (Pearl Harbor Day) in a San Antonio hospital at the age of 75. J. D. White, a long-time rancher in Freer, is a direct descendant of Mr. Freer. Mr. White's mother was one of D. J. Freer's daughters. The only town in the United States named Freer is located in Texas. People with the surname "Freer" come from all over the United States to the town to visit their namesake. A few years ago a man named Freer from South Africa detoured from a business trip in Phoenix, Arizona just to visit Freer. There is actually a "Freer" association in Missouri that keeps track of everyone in the United States named Freer, and they hold annual family reunions. Some of the Missouri Freers visited Freer, Texas in November of 1995 and pre-liminary plans are being mate to hold the reunion in Freer in 1997. The original Freer (at that time spelled Frear) family is thought to be part of the French Hugenots. They first settled in upstate New York in the 1600s. There is actually a museum dedicated to the Hugenots and the Freer family, and it is located in New Paltz,New York. Chamber of Commerce -Freer, Texas 512 394-6891

A BRIEF HISTORY OF FREER, TEXAS Freer, the "Buckle of the Oil Belt", sits in the northwestern part of Duval County, in the approximate center of South Texas. It is located 125 miles south of San Antonio, 82 miles west of Corpus Christi, and 60 miles east of Laredo, Texas, and Nuevo Laredo, Mexico. Major industries include oil and gas, ranching and tourism (hunting). The most recent census reflected a population of 32:3.

Duval County, organized in 1876, was named for Captain Burr H. Duval, who was massacred at Goliad with Fannin on March 27, 1836. THE county seat is in San Diego, 25 miles east of Freer. Duval County contains 1795 square miles. Freer's involvement with the petroleum industry began in 1907 with the discovery of the Piedras Pintas oil field, which was first called the Mary Owen Field. This was not only the first field in Duval County, but the first in the state of Texas and onl y missed one or two years being the first in the United States. As early as 1860, oil was being produced from a shallow well of around 60 feet. This first well furnished grease for wagons hauling goods to the freighters in the area. In 1915, people were lured to the "Rosita Valley", not far from the present site of Freer, by a plan conceived by C. W. Hahl designed to entice settlers to Texas. Brochures detailing this plan were mailed out in bulk, and advertising was also purchased in well-known newspapers and farm journals. A copy of this original brochure is shown in Attachment I. (I didn't include this sheet since it didn't scan well - Stan Freer) The first settlers came to Freer in 1916. Many tried their hand at staying, but left after finding it too much of a hardship. Only six families dared to stay. This hot and dry country sometimes went 18 months with no rain. It was very dusty, with blowing sand and caliche. The land was covered with mesquite trees and cactus and a massive amount of underbrush. It was common to pay $22 per acre to have the la nd cleared. Plus, the area was infested with rattlesnakes, rats, spiders and scorpions. The settlers often killed as many as 15 rattlesnakes in one day. The only water available at first was from hand-dug wells, lined from top to bottom with rocks. These wells were dug in approximately 1876 by the Federal troops stationed in San Diego. The wells were placed so that they would be half a days ride betw een San Diego and Mexico, or San Diego and the Nueces River. The troops were here at that time to protect the area from raids by the Indians and from the attacks of Pancho Villa, the famed Mexican bandito who roamed this area at will. The area around Freer to the north became known as Government Wells, because of these wells. The water was too salty, so fresh drinking water was hauled from the White Brothers ranch a few miles south. There was no road leading in or out, simply a trail with a gate at every section. When mules were used to pull a wagon on the trail, by the time they reached San Diego, their hooves were so sore they had to be pastured up to a week before making the lo ng journey back. If it rained, it was a hopeless mud bog. The only place to do shopping was the general store in San Diego. Everyone in the Rosita Valley got their mail in San Diego under the same post office box number, Box 112. Whoever went to San Diego would bring the mail back for everyone. The oil industry began a new in Freer in 1923 when major oil companies came in and began leasing land for royalties for 10 to 95 cents an acre. Some settlers with lease knowledge received as much as $2.50 to $4 per acre. The oil field activity brought more settlers to Freer, and, in 1925, the government granted authority for a Post Office. The Post Office was located in the home of D. J. Freer, and the town took his name. There were two things that attracted the oil companies to Freer - one was the proven oil field, 60 miles southwest at Mirando City. The second was the old Escarpment (shore line) that runs from Reynosa, Mexico, to east of Freer. The "Boom" drilling began with the first well or. Government Wells called the Saxet Hahl No. 1, in October, 1928, at 2200 feet. The Helen Sutter No. 1 at 2260 feet brought in the second "Boom" in the Spring of 1932. This was Fre er's real beginning. In 1933, Freer was the second largest oil field in the United States. There was a monthly payroll of $75,000 to $100,000, increasing to $250,000 by 1935. There were 600 men working in the oil fields with 1200 wells in production. By 1935-36, Freer reached a population peak of 5000. Freer was a wild and woolly young boom town with no paved streets, no paved roads in or out, no jail, and no fire fighting equipment. One block on Main Street burned to the ground once. If a person broke the law, he would be handcuffed to the nearest telephone pole or horse hitching post until his case was heard. And remember, this was in 1935. Humble Oil (now Exxon) hit the third and largest "Boom" in 1935 in the Loma Novia field. Shortly thereafter, LIFE magazine ran a feature article on Freer complete with photos. [If anyone has access to this particular copy I would like a copy of the article and photos to put up on this web page so others can see it - Stan Freer] — — Freer has since celebrated its golden anniversary and still revolves around the oil and gas industry. The streets have been paved for 20 years; Freer is at the major intersection of Highways 16, 44 and 59; and is proud of the city police department and volunteer EMS-Fire Department. The elementary, junior high and high school have a combined enrollment of approximately 1100; the school complex boasts of a new gymnasium, a swimming pool, lighted tennis courts, track field and separate football stadium and baseball field. There is a doctor and medical clinic in the center of town, and plans are being made for a nursing home facility. The city is incorporated and governed by a mayor and city council and is also served by a permanent contingent of Texas Parks and Wildlife and Texas Department of Public Safety personnel. The U.S. Border Patrol maintains a well-staffed office as well. Other features of Freer include an airport with a 3200 feet paved runway, picnic grounds, a new civic center, the Government library, the annual Muy Grande hunting contest and the annual Rattlesnake Round Up sponsored by the Chamber of Commerce. Freer has six churches and numerous social, non-profit, and civic clubs and organizations. Financial institutions include the Brush Country Bank, and two credit unions, Freer Federal Credit Union and MADE (Mobil Affiliated Division Employees). The Valley Transit Company bus line serves Freer daily as well as the freight services of UPS, Alamo Express and Mistletoe Express. The media is represented by Duval County's only radio station, KBRA-FM in Freer, and by the Freer Town local Press (if anyone knows the name please let me know - Stan Freer), the weekly newspaper.Electricity is furnished by Central Power and Light Company; water, gas, sewer, and garbage pick up are furnished by the City and by the Fre er Water Control and Improvement District. Southwestern Bell Telephone serves this area. Freerand the surrounding area is full of grand old legends. There have been several books written about the legends and ghost tales and the hardships of the ranchers, the Indian attacks, the lost wagon full of gold, the mysterious silve r mine that disappeared, and the lives of the gallant people who dared to stay. Some of the authors are J. Frank Dobie, Blackie Joe Wilson and Dorothy Abbott McCoy.