Master's Research (2007- 2009)
Strength, surface quality and finish of cast concrete columns, walls, beams, slabs and panels in both precast and in-situ construction can be significantly improved by using permeable fabric molds. The specific effects on concrete quality obtained by using commercially available woven polyolefin fabrics have not been systematically studied.
My research studied and documented the effects on concrete quality produced by those inexpensive fabrics. I am honored to work with my advisors Dr. Dagmar Svecova, and Prof. Mark West, the director of the Centre for Architectural Structures and Technology (C.A.S.T.), the first research centre dedicated to fabric formwork technology and education.
Hobby
Photos
Fabric Formed Concrete Foundation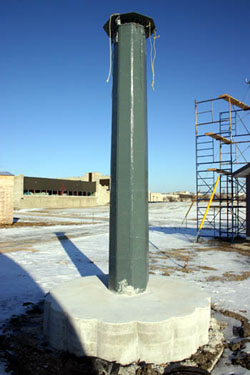 As far as we know, this is the world's first fabric formed steel reinforced concrete foundation. We formed and finished it as a side project in November 2008. The project belongs to Dr. Dimos Polyzois and his students. Fabric formwork was collaboratively designed and built by Prof. Mark West, Greg Moneta, Alex Korotkov, Tim Krahn and myself at C.A.S.T.