All-Time List of Canadian Transit Systems
Alberta Communities (A - G)
by David A. Wyatt

Town of Banff Shuttle Bus (1994 - 199?)
(RS). Contract operator Banff Transportation and Tours. Probably just renamed to BTS.

Banff Transit System (199? - 31 May 2008)
"Half-hourly on two routes in the summer, half-hourly on 1 route spring and fall, and hourly on that same route in winter" (DW 1998). Multi-route service in operation by or before 2005. Contract of operator Banff Transportation and Tours terminated prematurely 31 October 2007. Temporary contractor Pinnacle Tours assumed operations from 05 November 2007 until 31 May 2008, when a new contractor took over. (Photo: Dale Randall).


Roam (01 June 2008 - 29 February 2012)
Operations contracted to Brewster, Inc.. (photo: David Wyatt). Responsibility for service assumed by a regional transit authority at the start of March 2012.


system logo

Ridership
519,354 (2009)
Data sources:
CTF [Aug. 2010] (ridership)
website 2010 (logo)
Banff ROAM (01 March 2012 - present)
Local transit in Banff operated by the Bow Valley Regional Transit Authority. The BVTA is administered by the Bow Valley Regional Transit Services Commission (established 21 April 2011) (Bus Industry, Vol. 25, No. 96, June 2011, pp. 12-13). Commission members are the Towns of Banff and Canmore, and Improvement District #9 [Banff National Park].
Regional ROAM (03 December 2012 - present)
The Bow Valley Regional Transit Authority began transit service between Canmore and Banff in December 2012 (website 2012). Local service in Canmore, and further service to Lake Louise and elsewhere in Banff National Park, are forecast within 5 years.

Brooks Transit (04 September 2001 - circa 31 December 2001)
"Two routes operating between 0700 and 1700 Monday to Friday. There will also be a shuttle service from the downtown core to the Brooks Campus of Medicine Hat College." Operated by Cardinal Coach Lines. Service discontinued due to low ridership. (CTN 2001, 2002) (photo KdR 2002).


Newell Mini-bus (circa 2012 - present)
Demand-responsive bus service connecting locations in the County of Newell with Brooks. Schedule rotates through the week: Tilley & area (Mondays); Scandia & area (Tuesdays); Gem & area (alternate Wednesdays); Patricia & area (alternate Wednesdays); Rolling Hills & area (Thursdays); and Bassano & area (Fridays). Service is open to anyone, including Brooks residents visiting County locations. (website 2012, photo: Newell County website).


? ("a few months in 1970.")
Promotional operation conducted by a real estate developer (Canadian Coach 1971).

Cold Lake Transit System (13 September 2004 - 07 June 2005)
Service cancelled because of deficits and/or low ridership.

The Town of Drumheller was reconstituted in 1998 as the amalgamation of the former City of Drumheller and the M.D. of Badlands No. 7. This resulted in Drumheller absorbing seven unincorporated communities that were previously under the jurisdiction of the M.D.: Aerial, Cambria, East Coulee, Lehigh, Nacmine, Rosedale and Wayne. Drumheller previously absorbed the sizeable communities of Midlandvale, Newcastle and North Drumheller during annexations while under city status. Eladesor, Kneehill, Rosedale Station, Western Monarch and Willow Creek are other localities within Drumheller that were absorbed through past annexations or its eventual amalgamation with the M.D. of Badlands No. 7 (Wikipedia).

Drumheller Bus and Taxi Co. (circa August 1928 - ?)
Operating a scheduled bus service from Nacmine via Drumheller to Rosedale (CR&MW September 1928, p. 555). Nacmine is about 6 km west of Drumheller. Rosedale Station is about 8 km southeast.

Brown's Bus Line (? - ?)
Proprietor William Brown was refused an operating subsidy by Drumheller City council in 1962 (Calgary Herald Feb. 21, 1962 p. 16).

Mike's Bus Lines (? - ?)
Operator of local bus service in Drumheller in 1974 (Edmonton Journal Oct. 28, 1974, p. 19).

The City of Fort McMurray was merged with the surrounding rural municipality (Improvement District 18) to form the Regional Municipality of Wood Buffalo 01 April 1995. At 63,343 km2 it is geographically the largest municipality in Canada. Transit service is confined largely to the urban area of the former City of Fort McMurray.

Fort McMurray Transit (April 1980 - present)
Operation conducted under contract by Diversified Transportation Ltd. (CUTA TT89, pb96, website 2003). In online and published materials this system refers to itself as Fort McMurray Transit and Wood Buffalo Transit, often in the same document (website 2011). System has also used Wood Buffalo Express in some materials (website 2003). CTHF/SSG 1998 lists this operation as Wood Buffalo Transit but CTHF/SSG 2000 returns to FMT. Circa September 2011 the system adopted the brand name Woosh. Beginning 01 July 2013 operation and maintenance was contracted for 15 years to Tok Transit Alberta Limited a division of Tokmakjian Group. Woosh also operates a two days/week rural bus service connecting Fort McMurray with Anzac, Janvier and Conklin (website 2014). Operating contract with TOK Transit cancelled effective circa 20 May 2015 in favour of in-house operation. (CUTA 1989, CUTA 1991/2, CUTA 1992)

system logo

Service area population
34,000 (1991)
47,705 (2006 census)
76,797 (2010 municipal census)
Ridership
1,178,872 (2009)
Vehicle fleet
17 buses (2000)
Employees
3 (City),
37 (DTL) (1991)
Data source:
CUTA 1991/2
CTHF/SSG 2000
CTF [Aug. 2010] (ridership)
website 2011 (logo)
Note
The oil sands industry has a long history of providing commuter transportation to employees. Syncrude and Suncor (formerly G.C.O.S.) have from time to time contracted bus service to Sunburst Motor Coaches, [Canadian] Coachways System, Diversified Transportation Ltd. and Grey Goose Bus Lines (Alberta) Ltd. Both services operated by Diversified in 1996 (pb96). By 2012 Diversified Transportation Ltd. was operating dozens of routes for workers from every Fort McMurray neighbourhood to Shell, Suncor and Syncrude employment centres (www.mybusroute.ca 2012). More recently companies have built "camps" for employees. Operator Onkod provides scheduled bus service between Fort McMurray and the Borealis, Millenium and Noralta camps (www.albertabus.com 2012).

Grande Prairie Transit (02 March 1981 - present)
Operation conducted by a contractor. Initial contractor in 1981 was Evergreen Transportation. Contractor from 1996 has been Cardinal Coach Lines. Conversion from a contractor operation to a municipal operation occured September 2013. (CUTA 1989, CUTA 1991/2, CUTA 1992, Photos: Peter Cox, BARP)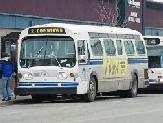 | | | |
| --- | --- | --- |
| system logo | Service area population | 28,000 (1991) |
References
---
Copyright ©1989-2015 David A. Wyatt. All Rights Reserved.
Return to All-Time List of Canadian Transit Systems

The author is always interested in comments, corrections and further information. Please email to: dawwpg@shaw.ca This page last modified: Friday, 20-Feb-2015 17:30:44 CST