All-Time List of Canadian Transit Systems
Nunavut Communities
by David A. Wyatt

? (1980 - circa 1982)
Municipally supported bus service in what was then Frobisher Bay, Northwest Territories (Nunatsiaq News, March 29th, 2002, Lawrence). Run by brothers Paul and Louis Barrieau. Frobisher Bay was formally renamed Iqaluit 01 January 1987.

? (21 October 2002 - 18 November 2002)
One month trial service operated by the City of Iqaluit. (CTN 2002, 2003, Lawrence).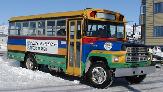 Public Transit (03 March 2003 - 10 January 2005)
In February 2003 it was announced that service would resume 03 March 2003, operated under a six month contract by R.L. Hanson Construction. In May 2003 a long term contract was signed with Hanson. Service terminated before the end of the Hanson contract due to low ridership. (Nunatsiaq News, 14 Feb 2003, CBC North, 29 May 2003, Lawrence). (Photo, Vincent Chan, The Bus Stops Here 2003).


Many Nunavut communities have taxi service, often operated as shared taxis. A 1998 survey indicated sixteen communities with local taxi services. Iqaluit is the territory's most populous community and capital city.
Arctic Bay [Ikpiarjuk] (pop. 639),
Arviat [Eskimo Point] (pop. 1,559),
Baker Lake (pop. 1,385),
Cambridge Bay [Iqaluktuutiak] (pop. 1,351),
Cape Dorset [Kingait] (pop. 1,118),
Chesterfield Inlet (pop. 337),
Coral Harbour [Salliq] (pop. 669),
Gjoa Haven [Uqsuqtuuq] (pop. 879),
Hall Beach (pop. 543),
Igloolik (pop. 1,174),
Iqaluit (pop. 4,220),
Kugluktuk [Coppermine] (pop. 1,201),
Pangnirtung (pop. 1,243),
Pelly Bay [Arviligjuaq] (pop. 496),
Rankin Inlet (pop. 2,058), and
Whale Cove [Tikirarjuaq] (pop. 301).
References
Lawrence, Loring M., "A Bus Service for Baffin Island," Bus Industry, Vol. 21, No. 80, June 2006, pp. 26-30.
The 1998 Nunavut Handbook, a World Wide Web site at the URL: http://www.arctictravel.com/noframes/, 1999.
---
Copyright ©1989-2011 David A. Wyatt. All Rights Reserved.
Return to All-Time List of Canadian Transit Systems

The author is always interested in comments, corrections and further information. Please email to: dawwpg@shaw.ca This page last modified: Wednesday, 30-Nov-2011 13:24:21 CST