All-Time List of Canadian Transit Systems
Northwest Territories Communities
by David A. Wyatt

Rae Edzo Friendship Express (? - present?)
A "NWT Bus Services" website (2011) lists the above bus line. Behchokò, named Rae-Edzo prior to 2005, is comprised of two population centres, Rae and Edzo, located 19 km apart by road (6 km by air or winter ice road) with a population of approximately 2,000 (Wikipedia). Neither REFE nor the municipality have a website so it's hard to determine if REFE operates scheduled service or anything like a transit frequency.

Town of Hay River Transit (1966 - circa 1974-75?)
Service between the old townsite and the new townsite. (Canadian Coach 1970, 1971). Service ended when much of the old townsite had relocated.

? (circa 1980-81)
Unsuccessful later attempt to institute local transit service. (Colinda Latour, archival technician of the Northwest Territories Government Archives, circa 2003 via another correspondent 2003)

Red Dusseault (1945 - 1948)
Owner-operator of local bus service (Ryan Silke 2014).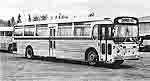 Frame and Perkins, Ltd. (1948 - 1990)
Operating in Yellowknife in 1980 using a second hand bus from Edmonton. (Motor Coach Age Vol. XXXIII Nos. 1-2 p. 11, January-February 1981, courtesy Alan Gryfe, 2004, Ryan Silke 2014).

Arctic Frontier Carriers Limited (1990 - 1999)
Municipally supported private enterprise carrier. (Web page: http://www.ssimicro.com/ftpages/ykresg_transit.html 1997)
Yellowknife City Transit (13 September 1999 - present)
Operated by Cardinal Coach Lines (Website, 1999). CTHF/SSG 2000 cites Yellowknife Transit. Operating contract renewed for four years with FirstCanada ULC (formerly Cardinal) 01 September 2012.

system logo

Vehicle fleet
5 buses (2000)
Ridership
190,807 (2009)
Data sources:
CTHF/SSG 2000
CTF [Aug. 2010] (ridership)
website 2011 (logo)
Reference
Nicol, Kevin, "Yellowknife — On the Rim of the Midnight Sun", Bus Industry Vol. 29 No. 112 August 2018, pp. 24-33.
---
Copyright ©1989-2014 David A. Wyatt. All Rights Reserved.
Return to All-Time List of Canadian Transit Systems

The author is always interested in comments, corrections and further information. Please email to: dawwpg@shaw.ca This page last modified: Thursday, 18-Oct-2018 13:51:59 CDT