All-Time List of Canadian Transit Systems
by David A. Wyatt
Calgary, Alberta
Principal System
William B. (Bill) Sherman (1905 - 1906)


Short-lived omnibus service. (Sanders pp. 17-18)


The Calgary Car Company Ltd. (07 April 1907 - 1908)
Company disbanded October 1915. (Sanders p. 31-32, photo: Glenbow Archives)

Calgary Electric Railway (05 July 1909 - early 1910)


Municipal operation. When efforts to lease the system to a private operator failed, name usage was altered to CMR.


Calgary Municipal Railway (early 1910 - 19 July 1946)


Municipal operation. Service extended to Ogden, Forrest Lawn, and Bowness. CMR Introduced bus service in 1931. Name changed to CTS 1946. (Photo: NewDavesRailPix)


Calgary Transit System (19 July 1946 - 07 July 1970)



Municipal operation. Introduced electric trolley buses 1947. Discontinued electric streetcars 1950. Absorbed Forest Lawn Bus Service 1962. Name changed to CT 1970. (photos: NewDavesRailPix, Peter Cox)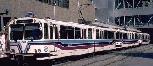 Calgary Transit (07 July 1970 - present)



Municipal operation. Discontinued electric trolley buses 1975. Introduced light rail transit 1981. A Siemens RegioSprinter diesel light rail car (or self-propelled commuter rail car) was operated during the summer of 1996. Operated by CP Rail crews on behalf of CT, as a trial extension of the south LRT line. The route was entirely within Calgary corporate limits. (CUTA 1989, CUTA 1991/2, CUTA 1992) (Photos Blickpunkt Straßenbahn, Peter Cox, Angus McIntyre)







system logo

Service area population
709,000 (1991)
Vehicle fleet
693 buses,
85 LR cars (2000)
Employees
1708 (1991)
Ridership
93,042,000 (2009)
Data sources:
CUTA 1991/2
CTHF/SSG 2000
CTF [Aug. 2010] (ridership)
website 2011 (logo)
Note
The Dominion government received a petition from James F. MacLeod and others on 08 February 1884 for the incorporation of the Calgary Omnibus, Tramway and Transfer Company. The petition was withdrawn before a bill could be passed. (Journal of the House of Commons Vol. 18, p. 86).
Secondary System

Felix Monden Transportation (? - ?)
Operating frequent bus service from the end of the streetcar track to Currie Barracks using two buses. Fare: 5¢ or 6 tickets for 25¢. (Calgary Herald 21 September 1943, p. 7). Also operated bus service to Calgary Airport in connection with the British Commonwealth Air Training Plan flight school 1941 - ?[1944?] (Calgary Herald 21 January 1941, p. 9). Company began bus service between Calgary and Turner Valley in 1932. Also operated taxicabs in Calgary.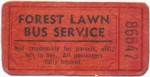 Forest Lawn Bus Service (? - 31 December 1961)
Bain says Ackermans bought surplus CTS buses for Forest Lawn bus service in 1951. Owner at the time of annexation was W.H. Ratcliffe, with 7 staff and 5 buses (Calgary Herald Dec. 13, 1961, p. 1). Forest Lawn annexed to Calgary 01 January 1962 (Canadian Coach 1969, 1970).


"Heritage Park Street Railway" (summer 1975 - circa 2007, 22 May 2010 - present (summer seasons only))


Heritage tramway operation between 14th Street SW and the Heritage Park entrance 3300 ft (1 km) away. Operations shut for approximately three years (2007 - 2010?) while the line was rebuilt. Line had no formal name until its relaunch in 2010 as the ENMAX Electric Streetcar System in recognition of the rebuilding sponsor. (Photo Blickpunkt Straßenbahn)

Modes
Motor bus
1905 - 1908,
18 November 1931* - present
Electric railway
05 July 1909 - 29 December 1950
Electric railway (heritage)
summer 1975 - present (summer only)
Light rail transit
25 May 1981 - present
Trolley coach
01 June 1947 - 08 March 1975
Diesel light rail §
11 April 1996 - August 1996
* Bus operation begun with leased vehicles (CR&MW 1932). First CMR buses purchased 1935.
§ Or commuter rail, depending on the definition used.
Bain, D[onald] M., Calgary Transit Then and Now, Kishorn Publications, Calgary (Alberta), 1994.
NewDavesRailPix: Alberta, a World Wide Web gallery of photos at the URL: http://newdavesrailpix.com/odds/ab/ab.htm, 2004.
Hatcher, Colin K., Stampede City Streetcars: The Story of the Calgary Municipal Railway, Railfare Enterprises Limited, Montreal (Quebec), 1975.
Sanders, Harry Max, Calgary Transit: A Centennial History, Calgary: City of Calgary, 2009.
---
Copyright ©1989-2015 David A. Wyatt. All Rights Reserved.
Return to All-Time List of Canadian Transit Systems

The author is always interested in comments, corrections and further information. Please email to: dawwpg@shaw.ca This page last modified: Friday, 06-Feb-2015 17:55:07 CST