All-Time List of Canadian Transit Systems
by David A. Wyatt
Edmonton, Alberta
Principal System

Edmonton Bus Line (1890's)


Omnibus operation between Edmonton and the railway station at South Edmonton (later Strathcona). Service timed to coordinate with railway arrivals and departures. In 1901 other omnibus operators running scheduled service between Edmonton and Strathcona were D.E. Cameron and N. Leclerc (Tingley p. 10). Perhaps discontinued when the two communities were linked by the Edmonton, Yukon & Pacific Railway Co. in 1902, but certainly the market would have dried up when the street railway opened in 1908.
Edmonton Street Railway Company (No Operation)


Incorporated 1894 (Dom.) to operate street railway in Edmonton. Franchise secured from the Town of Edmonton 1903. $10,000.00 performance bond forfeited 1905. (Dorman et al.)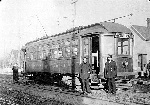 Edmonton Radial Railway (30 October 1908 - 16 July 1946)



Municipal operation. Also cited in law as Edmonton Radial Tramway. Municipality authorized 1893 (NWT) to construct and/or operate tramways. Authorized 1908 (Alta) to operate tramways in Edmonton and for 80 miles (128 km) in any direction. This included operation to St. Paul, St. Albert, Morinville, Lacombe, Namao, Athabasca Landing, Fort Saskatchewan, and Daysland. (None of this was ever done). Acquired 26 August 1908 the Strathcona Radial Tramway Company Limited (incorporated 08 October 1904, NWT) which held, from 30 September 1907, an exclusive franchise to operate tramways in the City of Strathcona. In addition to the cities of Edmonton and Strathcona, service was also extended to the villages of North Edmonton and Calder. ERR name changed to ETS 1946. (Photo: NewDavesRailPix)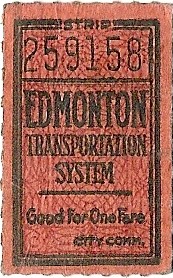 Edmonton Transportation System (16 July 1946 - 29 April 1947)



Municipal operation. Name changed again in 1947.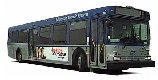 Edmonton Transit System (29 April 1947 - present)



ETS took over transit service in the Town of Beverly in 1961, and in the Town of Jasper Place in 1964. Name altered to Edmonton Transit 1977 but "Edmonton Transit System" began appearing on buses again in 1993. Contract transit operator for St. Albert (1974-1986), Sherwood Park (1977 - c1989), Beaumont (2003-2004), Edmonton Garrison (2004-present), Fort Saskatchewan (2004-present), Spruce Grove (2006-present), and Leduc (2010-2014). Regular bus service between Edmonton and Edmonton International Airport begun 29 April 2012. (CUTA 1989, CUTA 1991/2, CUTA 1992) (Photos: ETS Photo Gallery, DavesRailPix, William A. Luke, Angus McIntyre, Peter Cox)
| | |
| --- | --- |
| Ridership | 68,493,582 (2009) |
Secondary Systems
Edmonton, Yukon & Pacific Railway Company (1902 - 1929)


Between 1902 and 1929 the EY&P operated passenger trains between Strathcona and Edmonton. Schedule was 4 times/day in the 1920s.


Edmonton Incline Railway (20 May 1908 - circa 1913)


Incorporated 1907. A funicular (incline railway) operating at the foot of First Street. Closed when a more convenient river crossing opened.

[Forest Heights Bus Service] (circa 06 May 1937 - 1946?)
Bus service connecting the Forest Heights and Riverdale neighbourhoods with downtown Edmonton. Owned by John Carlson, and then Wallace Storey. Service received subsidy from the City of Edmonton. Service sold by Storey to Bus Universal Supply of Alberta Ltd. circa October 1938. (research by Martin Parsons 2012).
[Beverly Bus Service] (1930s? - 1950?)
Serving the Town of Beverly. Initial ownership either in the hands of Diamond Bus Lines (sole proprietor Nicholas Mazatiuk) according to City clerk (April 1937) or jointly held by Sunburst Motor Coaches and William A. Quick (October 1938). Route and bus sold October 1938 to Bus Universal Supply of Alberta Ltd. (research by Martin Parsons 2012).
Checker Taxi Cab Company Ltd. (circa 1940 - circa 1946)
Authorized to operate a public bus service between downtown Edmonton and Blatchford Field (airport) for the duration of World War II plus six months. Established to serve the British Commonwealth Air Training Plan facility. (research by Martin Parsons 2012).
Beverly Bus Lines Ltd. (1951 or before - 31 December 1961)
Serving Beverly (Sullivan). Town annexed by Edmonton 01 January 1962. (Edmonton Journal Jan. 02, 1962, p. 21).
Diamond Bus Lines Ltd. (circa 1947 - 16 August 1964)
Serving Jasper Place. Real estate advertising for Jasper Place mention bus service as early as 1940. Town annexed by Edmonton 17 August 1964. (Sullivan) (photos: William A. Luke, Peter Cox).



Edmonton Radial Railway Society (14 June 1997 - present (seasonal May to October))


Heritage trolley operation between downtown Edmonton and the Old Strathcona heritage district. Local service began in June in Old Strathcona. Service to Grandin Station began 15 August 1997. Service also operated over part of the line 06 - 08 October 1979, 14 August - 04 September 1995, and 12 - 14 October 1996. The Society has operated an electric street railway within the Fort Edmonton historical park since 1984.
Notes


Prior to the construction of bridges across the North Saskatchewan River ferry services were operated at three points. The "upper ferry", 1881-1913 (vessel Belle of Edmonton from 1882), between the later Walterdale and High Level bridges, and "lower ferry", 1882-1900, at the mouth of Mill Creek were owned by John Walter. A ferry service (?-1912) in the vicinity of the Dawson bridge was operated by a teenager named Fred Marshall. (Monto & Lawrence)


Research also found October 1938 correspondence with the City regarding a private bus service to operate on Fort Road between 118th Avenue and a point two blocks past the Transit Hotel on 66th Street (to 66th St./130th Ave. or Fort Rd./64th St.?). The C. Kruger Bus Line received permission from the Edmonton Radial Railway Superintendant to operate one bus, a 1933 Chevrolet with a 26 passenger body. It is unclear if this service was operated, or for how long. (Martin Parsons 2012).
Modes
Funicular
20 May 1908 - circa 1913,
under construction, planned to open Fall 2017
Electric railway
30 October 1908 - 01 September 1951>
Light rail transit
23 April 1978* - present
Electric railway (heritage)
14 June 1997 - present (seasonal May to October)
Motor bus
1932 - present
Trolley coach
24 September 1939 - 02 May 2009

* Edmonton Transit employees were carried on free rides 17 April 1978, and the public was carried free 18-20 April 1978. Formal opening ceremonies were held 22 April 1978.
NewDavesRailPix: Alberta, a World Wide Web gallery of photos at the URL: http://newdavesrailpix.com/odds/ab/ab.htm, 2000.
ETS Photo Express, a World Wide Web site at the URL: http://www.etspe.ca/, 2004.
About ETS: Photo Gallery, a World Wide Web gallery of photos at the URL: http://www.gov.edmonton.ab.ca/transit/about_edmonton_transit/ets_photo_gallery.html 2002.
Hatcher, Colin K., and Tom Schwarzkopf, Edmonton's Electric Transit: The Story of Edmonton's Streetcars and Trolley Buses, Railfare Enterprises Limited, West Hill (Ontario), 1983.
Monto, Randy and Tom Lawrence, Old Strathcona Before the Great Depression, Edmonton: Pioneer Press, 2008.
NA Transit, Edmonton Transit System, a photo gallery website at the URL: http://photo.natransit.com/ets/index.htm 2003.
Sullivan, Brian, "Edmonton Suburban Operations," Canadian Coach, Vol. V No. 9, September 1969, pp. 4-5.
Tingley, Ken, Ride of the Century: The Story of the Edmonton Transit System, Edmonton: City of Edmonton, 2011.
---
Copyright ©1989-2016 David A. Wyatt. All Rights Reserved.
Return to All-Time List of Canadian Transit Systems

The author is always interested in comments, corrections and further information. Please email to: dawwpg@shaw.ca This page last modified: Thursday, 17-Mar-2016 10:51:07 CDT