All-Time List of Canadian Transit Systems
by David A. Wyatt
Saskatoon, Saskatchewan
Principal System
Saskatoon Electric Railway and Power Company (No Operation)


Company secured a franchise from the City of Saskatoon 21 July 1911, incorporated 1912 (Sask.) to operate electric railway in Saskatoon and the area within 25 miles (40 km). (Dorman, Wayman)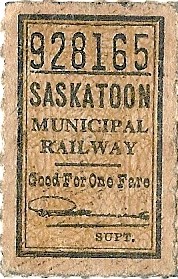 Saskatoon Municipal Railway (01 January 1913 - 15 August 1949)



Authorized at law 1912 (Sask.). Also cited in law as Saskatoon Municipal Street Railway. Suburban line to the village of Sutherland opened 17 December 1913. Introduced motor buses circa 1938. Introduced electric trolley buses 1948.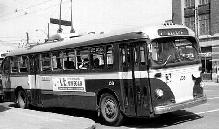 Saskatoon Transit System (15 August 1949 - 1995)



Streetcars discontinued 1951. Discontinued electric trolley buses 1974. Name changed from "System" to "Services" 1995 (DAW 1998). (Dawes et al. 1972, CUTA 1989, CUTA 1991/2, CUTA 1992, photos: DavesRailPix, Peter Cox)

Saskatoon Transit Services (1995 - July 2006)
Municipal operation. Name shortened in 2006.

Saskatoon Transit (July 2006 - present)
Municipal operation. (Photo: David A. Wyatt)


system logo

Service area population
177,000 (1991)
Vehicle fleet
111 buses (2000)
Employees
256 (1991)
Ridership
11,579,606 (2009)
Data sources:
CUTA 1991/2
CTHF/SSG 2000
CTF [Aug. 2010] (ridership)
website 2010 (logo)
Secondary Systems

Dunning's Buss Line (circa 1910?)


Jack Dunning owned a sales and livery barn [...] from about 1910 to 1925. The buses were primarily used to convey passengers from Saskatoon south to Earl - later called South Saskatoon. Earl was located on the Grand Trunk Pacific Railway whose mainline traversed west over the river about 2 miles (3 km) south of the small city of the time. [Saskatoon Public Schools website] (photo Western Development Museum or Saskatoon Public Library Local History Room or Saskatoon Public Schools).

A.W. Beise (circa April 1915 - ?)
The "jitney craze" in Saskatoon played out in similar but smaller scale compared to other Canadian cities. The first jitney was reported to be operating circa April 1915 by A.W. Beise between the Pleasant Hill and Mayfort districts. Another operator, E.G. White, was recorded in the August 1915 issue of CR&MW. The magazine declared the jitney trade in Saskatoon to be practically ceased as of August 1915, and a September 1915 City bylaw caused "all three jitneys" to go out of business. An intercity jitney between Saskatoon and Sutherland (now also Saskatoon) continued for some time more. (CR&MW 1915-1918).
Modes
Electric railway
01 January 1913 - 10 November 1951 *
Trolley coach
22 November 1948 - 10 May 1974
Motor bus
circa 1938 - present

* Ceremonial and VIP run on the afternoon of the last day, in addition to regular service (RFC).
NewDavesRailPix:Saskatchewan, a World Wide Web gallery of photos at the URL: http://newdavesrailpix.com/odds/sk/sk.htm, 2000.
"All-New Saskatoon: Saskatchewan's Largest City Has Revamped Its Transit System", Bus Industry, Bus History Association, Manchester NH, Vol. 22, No. 84, October 2007, pp. 26-30.
Wayman, Easten, Saskatoon's Electric Transit: The Story of Saskatoon's Streetcars and Trolley Buses, Railfare Enterprises Limited, Hawkesbury (Ontario), 1988.
---
Copyright ©1989-2015 David A. Wyatt. All Rights Reserved.
Return to All-Time List of Canadian Transit Systems

The author is always interested in comments, corrections and further information. Please email to: dawwpg@shaw.ca This page last modified: Tuesday, 08-Dec-2015 23:23:06 CST