Summer Explorations: Day Trips - 2016
Charles Burchill
The following is a draft of an article written for the Paddle Manitoba Ripple - Fall 2016
This summer I decided I would do more day tripping - I wanted to explore some new places and revisit some old. Most of these trips were done solo or with one vehicle so out-and-back trips were the rule. Many of the smaller rivers and streams are not considered good for paddling later in the season due to low water levels but with some careful weather watching, flow gauge checking, keel-less canoe, and a 12-foot stick the shallow haunts are still open for adventure.
The following are the rivers and creeks I visited over the past summer. I wanted to provide a quick feel for the places that I went rather than writing a longer piece on just one location - I thought that pictures and videos, with a few short notes, would best capture my experiences. Mostly the trips were less then 20km, many where not really day trips at all, just a morning (or afternoon/evening) outing. A few of the outings ended up close to 30km, or more, by the time I returned.
I have created a simple interactive map with the approximate starting points. This provides a good overview of my travels. https://www.google.com/maps/d/viewer?mid=1gDALGe_RhvPIvplFsx-szdcuPMI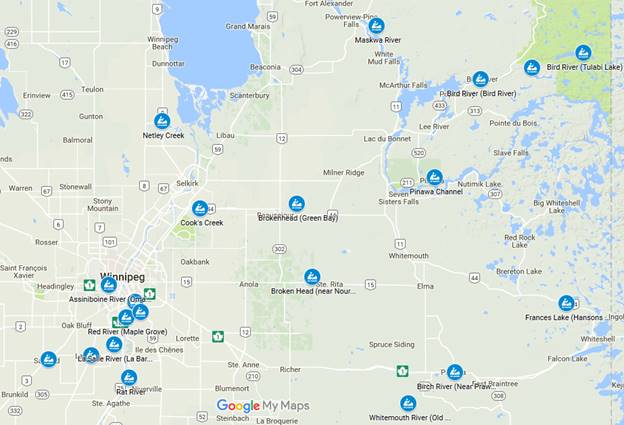 Starting at the old Dawson Rd crossing and heading north to the campground. The campground has offered a great service by shuttling paddlers upstream making a car shuttle un-necessary. Over the last few years I have often gone poling on this section sometime in August to October but this year I joined some friends to do the one-direction trip. With the current it was an easy 4-hour paddle. Most people in the paddling community know about Cook's and Farmer's but fewer realize that the Whitemouth south of the Trans Canada is a jewel to be paddled. There are some very simple moving water sections but most of the trip is an easy wilderness day. Video clip from September 11: https://youtu.be/SFAKm-V7TWg
Late in November I wanted to check out the river south from the old Daswson Rd crossing. There are several sets of swifts near the crossing but by 5 or 6km upstream it levels out and it becomes wider and deeper. I forgot to bring a pole so I had to portage around a couple of sets of rapids. The Portages were not well used so it took a bit of exploration to find a usable trail (on the east side). It was well worth the time to head up stream.
The creek is a very nice morning or afternoon paddle from Hwy 44 to the East Selkirk Fire Station. The water levels are pretty variable so you might want to check the flow over the riffles on the east side of the 59 crossing. If you don't see any rocks or other things sticking up, some haystacks are fine, you are likely good to go. If it is shallow expect to wade and bring a plastic boat to slide over the rocks. A friend at work mentioned he enjoys Cook's Creek, I hadn't been on the Creek since the early 1980s (1984?) so I decided to give it a try again (three times). Video clip from July 17: https://youtu.be/ojylTeDCndU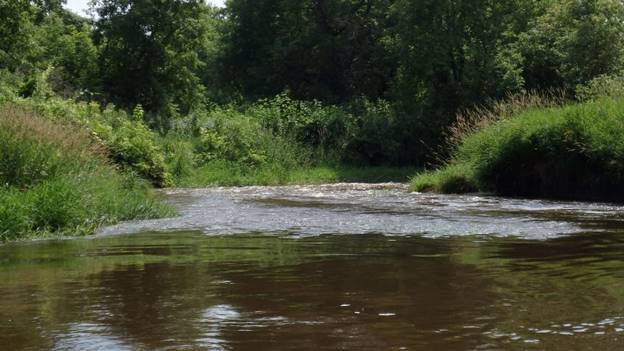 A number of friends have paddled the Birch River over the last few years but until this summer I had not been able to tag along. Generally the Birch is considered only in the spring or higher water periods but on a beautiful summer day I dropped in near Prawda and poled upstream to the Trans Canada and then had a nice float back. There are some easy rapids and a few ledges to cross. I was not able to pole up one of these because the base was smooth rock and I couldn't find footing for my pole, I had to make a short portage. On the way back I was able to stay in the canoe over everything. I did have a small concern right near the campground - the tubers had strung a line across the river that I wasn't sure I could get over (or under).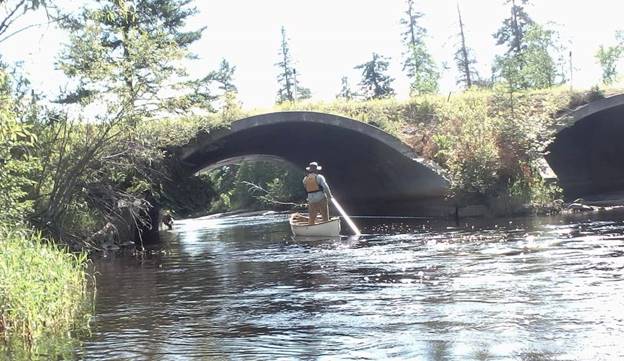 The Roseau is a wonderful river to paddle, it has many basic moving water sections allowing for some practice. Later in the summer most paddlers head elsewhere, I have found this river provides an excellent opportunity to go poling when it is considered too low for paddling. This summer I dropped in at the old ford and went upstream past the Sinkew Bridge. On the way back I met a number of people tubing and taking a lazy float down the river - they were curious about the guy standing in a canoe with a pole. Video clip from Aug 28: https://youtu.be/y-oiY3EzodY
I had read about the Maskwa river several years ago but had problems with the location, this fall I took a more determined look and discovered a jewel that shouldn't be missed. It provides some lovely paddling with beautiful scenic falls and rapids. The portages are a little difficult to find in a few places, I expect this is due to the low volume of paddlers. Care should be taken to scout everything ahead of time since there are several falls that would be an unpleasant shooting adventure. Above one set of falls there is a sign indicating there is a low bridge ahead, and to 'Please' take the 'marked' portage. If you start by heading upstream you will be able to locate the portage but if you are heading down stream from the Translicense road the start of the portage is hard to spot (there is access right beside the sign). Video clip from Oct 5: https://youtu.be/riePfeF7CRI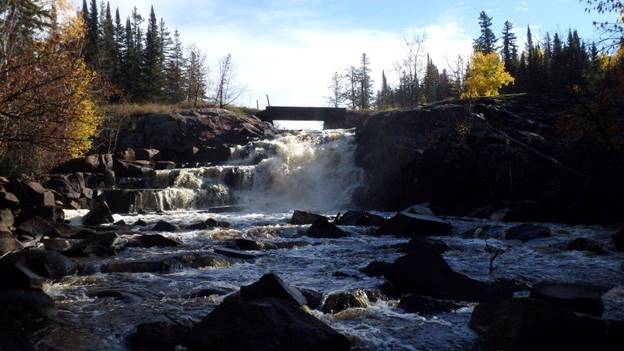 The Channel is one of my favorite go-to locations for day trip at any time over the season. The dam at Pinawa ensures the flow is fairly constant throughout the year. It provides beautiful scenery, a few simple sections of moving water, and some small lake paddling. The 'lake' section is really just a wide section but it is filled with wild rice and rushes, sometimes it can be difficult to find the correct route. The channel is one of the great paddling places to visit in southern Manitoba. There is something for everyone including the historic park at the old Pinawa Dam. Steve Lambert's video taken in August on Vimeo: https://vimeo.com/177925320

La Salle River
Even with the proximity to southern Winnipeg the La Salle river has a wilderness feel. It has minimal current and ample protection from the wind making it a perfect evening place to paddle. Although this summer my day or evening trips were limited to only a few spots, the La Salle can be paddled from near its source (near Portage) back to the Red River at St. Norbert.
La Barriere. Every Wednesday evening Paddle Manitoba ran a drop in paddle outing providing a chance to get in some practice or just hanging out. Heading upstream or down from the park provides the opportunity for seeing Eagles, Deer, and the occasional fox. Motorized boats are not allowed on the river from the Red to near the bridge at Waverley (SCHEDULE 2(Subsection 2(2)), Part 4) so it is usually very quite. It is also popular location for fishing. Video clip May 14: https://youtu.be/93nIpf1P6M0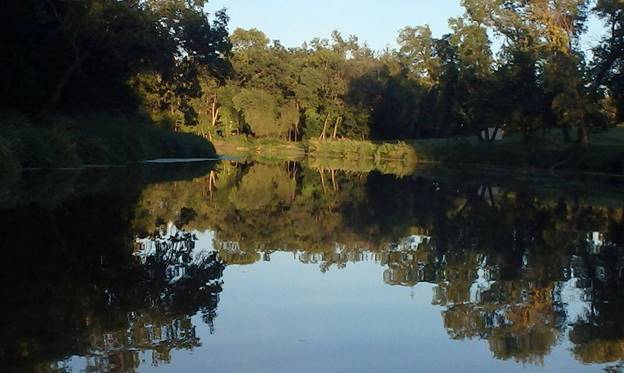 Sanford. I headed up stream from the Collegiate in Sanford a number of times this summer. MPC has maintained a floating dock near the parking lot for several years making getting on/off the water much easier. It is a nice local paddle.
La Salle. I dropped my canoe in at the boat launch, just west of the rail bridge, a number of times this summer. Downstream there is a scenic bridge and a large riffle structure, upstream there is a residential portion and then the golf course and beyond.
Bird River
Tulabi to Elbow The Bird River, in Nopiming provincial park, is one of the favourite paddling destinations in Manitoba. I think this was my longest day trip this summer as I spent time exploring the creeks that feed into the river, walking the falls, and doing some exploring (geocaching) at Elbow Lake. This is a beautiful river with several sets of rapids and falls. Each of the moving water sections has easy to find portages and that are well maintained. Unfortunately popularity has its problems, I took a large garbage bag of cans and pop bottles out with me this year. It was a long day trip to get from Tulabi to Elbow Lake but it was well worth it.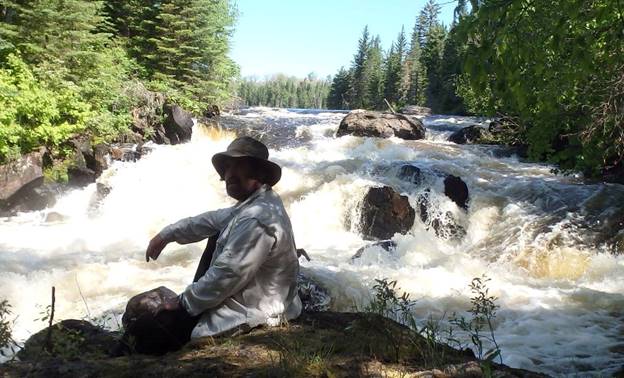 Bird River (upstream to Hammerstead Falls (Canyon)). Until this summer I not paddled any of the lower Bird. I decided to go exploring and dropped my canoe in at the boat launch in Bird River (Pioneer Drive) and headed upstream. I discovered what appeared to be a portage on the south side of the first set of rapids only to find it ended half way, in hind sight I am not even sure if it was a portage or just a thin place through the shrubs. I ferried across the rapids to the north shore where I saw an ATV trail coming down to the water. I wandered around the numerous trials until I found one that ended overlooking the canyon where I stopped to take pictures and have lunch. The 'Canyon' is not possible in an open canoe but it is used by the WW kayaking crowd. Eventually I found a trail that took me above the rapids allowing me to continue upstream. When I returned home I found a description of the portage in John Buchanan's book. I think that people take this section of the river more often down stream since his only comment about the bottom section of the rapids was running them out - nothing about going up.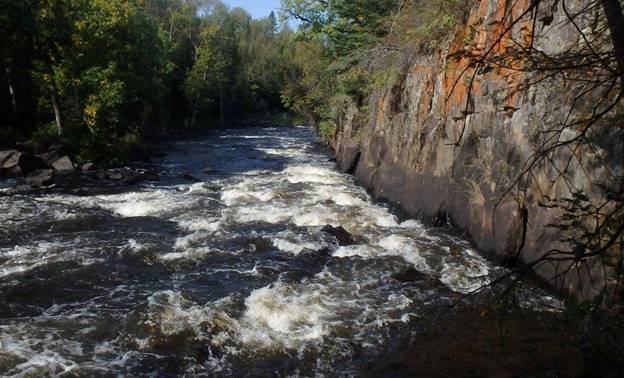 Tantalum (TANCO) mine road to Hammerstead Falls. This year I joined the Wilderness Committee on the Lower Bird starting just below the rapids where the road to the Tantalum mine crosses. The Wilderness Committee has been working to have this section of the Bird protected from mining and other development, over the last three years they have organized an educational paddle to highlight the river. This section of the river is beautiful to travel with long sections of flat water, some easy moving water, and a set of falls to enjoy.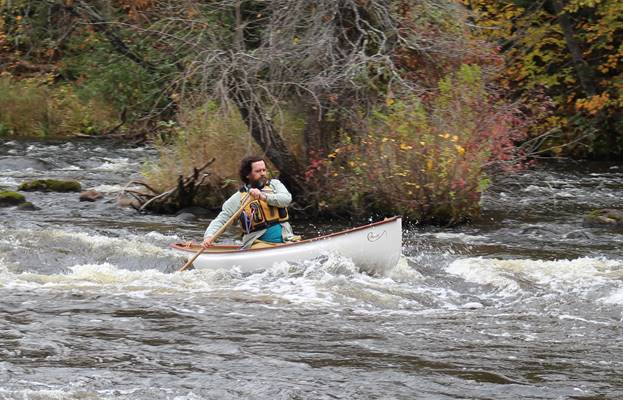 I spent a day in September poling upstream from McKellar's Bridge (hwy 346) to Hwy 10 late in September. This is another river that is usually only considered for paddling (downstream) early in the paddling season. With a little homework, and some local advice, it sounded like a perfect river for poling. The shale bottom and easy rapids provided an excellent place to pole with a few sections that were deep enough to paddle comfortably.


I joined the president and past-president of Paddle Manitoba to explore the Rat river starting near the confluence at the Red River (St. Mary's) and traveling upstream to hwy 311. It is apparent that this little river is only open for paddling when the Red is running high and water is backed up. We came across a number of significant log jams with only a bit of water to meander through in the trees
Another popular paddling destination in Winnipeg is the Seine River. I always feel like I am in the wilderness when paddling the Seine through St. Vital and St. Boniface. The river is fairly narrow so fallen trees can block the whole river - bring a saw or be prepared to tip-toe over the occasional downed tree. There are lots of sections of the river that can be paddled, although later in the summer some parts start getting a little shallow. There are numerous riffle structures which help stabilize the river level and provide paddling opportunities through out the season. I dropped my canoe somewhere on the seine about once a week, my favourite places were upstream from John Bruce, and upstream from the perimeter hwy. Motorized boats are not allowed on the river from the Red to Grande Pointe (SCHEDULE 2(Subsection 2(2)), Part 4). Video clip July 16: https://youtu.be/prCI-bEb_EA

I took a trip down memory lane with a friend traveling from Maple Grove to the Forks. I grew up in Ft. Richmond and bought my first canoe the summer I turned 15, I regularly walk down to the river for an evening or daytime paddle. The Red is relatively large, often with larger boats and less protection if it is windy. Because of the size many people are hesitant to paddle on the Red but for most of the summer it is quite safe. The hardest part is finding a place that you don't have to walk over (or sink into) the wide mud bank when getting out for a paddle. Steve Lambert's video clip from August: https://vimeo.com/179675241
The Brokenhead is another great local paddle that I re-discovered through Dusty Molinski's fine book 'Through Field and Forest: A Canoe Companion for the Brokenhead'. Most people only paddle early in the year or when there has been recent heavy rain but the Brokenhead also makes a fine poling river. This summer I took the opportunity to pole near Nourse or upstream from the Green Bay bridge. Video clip from August 14: https://youtu.be/XBXEAV4JBHE
I have paddled and explored Netley Marsh but I had wondered about the creek upstream from Petersfield. This summer I went with a friend to explore the creek starting at Hwy 9 and continuing up through the golf course as far as the culverts at Schmid Rd. I realize that this only crosses the diagonal between two mile roads but it was relatively slow going and we were limited to a morning outing. I think coming downstream in slightly higher water would have been more enjoyable, we had to wade through a number of riffle structures through the golf course. It was a beautiful paddle with many different bridges. Upstream from the culverts looked promising as there are fewer riffle structures (or low spots apparent on google maps satellite view) but we were limited by available time.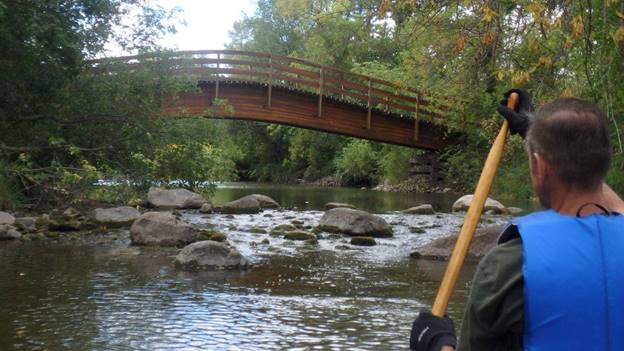 This is a pretty route through extensive fens ending in a pleasant secluded lake. I took the opportunity to paddle up to Frances Lake on a Saturday early in October. There were four very short portages and only four beaver dams. I expect some years there would be many more beaver dam. The creek was obviously running a little high since I paddled over a number of dams other dams. The sign at the put-in says 13km to Frances lake but my GPS said just it was just under 12. I expect there might be some variance in the measurement due to the channel which winds a fair bit. The sign also indicates 6 hours paddle time(one way), this might be the case if the water is low or there are a lot of beaver dams but my return trip was just over 5 hours. I did get to practice turns through the fen sections but the channel is fairly deep and easy to follow. One place I did have to look at the map since there was a split and it was unclear which 'creek' to take (stay left going in to Frances Lake). In one place there was a long (100m) blind channel where I made the wrong choice (on the high side of an old beaver dam).

We went for a short day trip up the Whiteshell River from the George Lake access road (ER 31) to just past Pine Point Rapids. I had not paddled this section of the Whiteshell River and it was a really nice addition to my day tripping activities. There were four rapids that we portaged around over the time we were out. The portage access points were harder to find than expected given the popularity of the river. All the access points were on the west side of the river, the trails when found were clear and well used. Video clip from October 29 https://youtu.be/2FK0DUHRfnw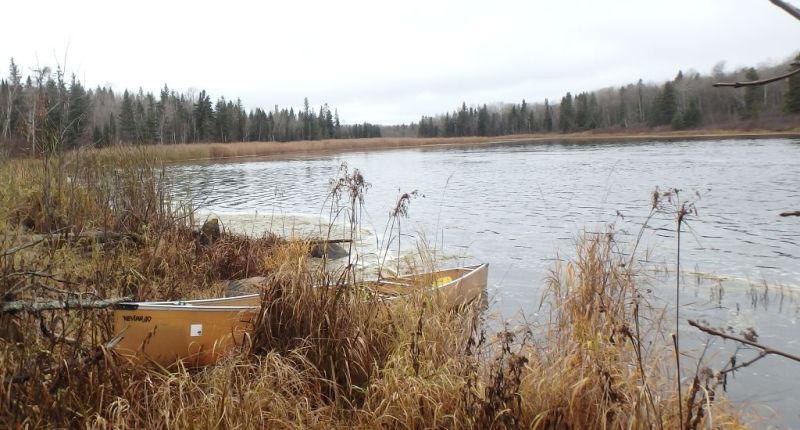 I started off from Great Falls - there is a launching spot just off of Carter Cres W. I headed down stream for a bit since I was not sure how much chop there would be from the spillway from the dam. I think next time I will get onto the creek directly from the end of Broadlands Rd (across the river) and save a couple of kilometers paddling. The falls are worth the trip alone but the creek can still be paddled above the falls. The portage is just a light track starting on the north side, up to the ATV trail, across the bridge, and dropping back in just above the falls. The next set of rapids are much smaller but still not runable (at least by me), the portage on the north shore is easier to find. I don't know how far the creek can easily be paddled, I ran out of time. Video clip from November 15 https://www.youtube.com/watch?v=BWBMvaRFCcc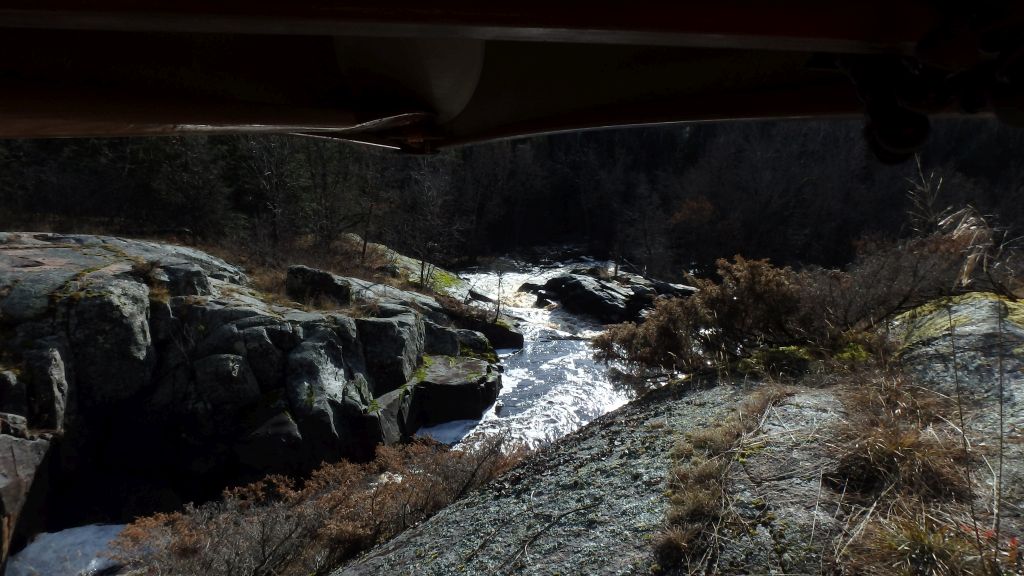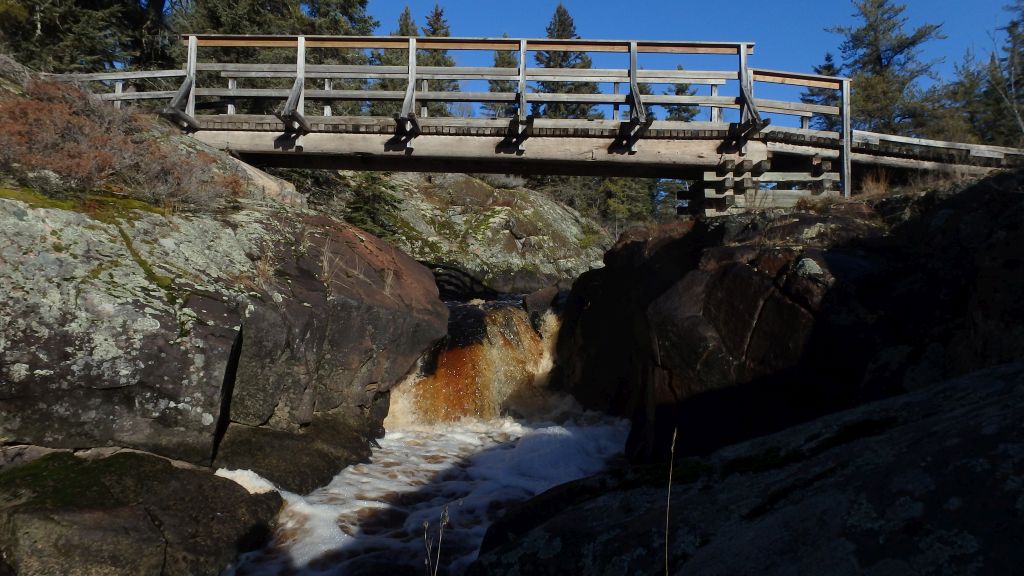 I don't think that I paddled (or poled) the Assiniboine river this summer and I felt this was an oversight on my part. I chose to head out on the second day of December - I had noticed the river had not ice on Thursday night and figured Friday might be my last chance for 'real' paddling this fall. I dropped in at Benjaminson Park (Bedson St, St. James) and paddled east to the forks where I was picked up for lunch. A little iced had formed overnight but there was still good access and enough room to get around without any danger.
Video clip from December 2 https://www.youtube.com/watch?v=8xXdhlXgbjs
It seems I missed a couple of bridges when putting the video clip together: https://www.youtube.com/watch?v=hnFtPLI9s4E
---
Back to my paddling Page
Paddle Manitoba Home Page
Email: burc...@cc.umanitoba.ca
Last modified: Fri Oct 21 20:33:45 2016