Surface-wave tomography the Canadian upper mantle
Details of this project have been published in this paper.
Using the available archive of regional surface-wave data from the broadband instruments of the CNSN (circles) and IRIS (squares) arrays, Guust Nolet's partitioned waveform inversion technique was used to derive 1-D and 3-D S velocity models of the Canadian upper mantle.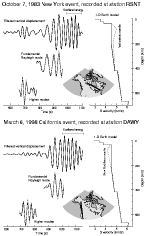 The resulting one-dimensional velocity models for shield regions (top) generally exhibit high mantle velocities, while cordilleran paths (bottom) generally display low mantle velocities.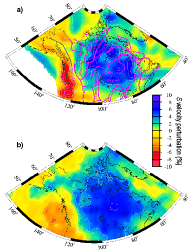 A 100-km section through the surface-wave velocity model (top) shows considerably more roughness than a comparable section through Steve Grand's model.
andrew_frederiksen@umanitoba.ca