All-Time List of Canadian Transit Systems
by David A. Wyatt
Saint John, New Brunswick
Principal System
People's Street Railway Company (24 August 1869 - early 1876)


Incorporated 09 July 1866 (NB). Operations ended early in 1876.

Saint John City Railway Company (17 October 1887 - 1892)


Incorporated September 1886 (NY) and reincorporated 15 April 1887 (NB). Acquired by the CECo 1892.

Consolidated Electric Company (1892 - 07 April 1897)


Company sold at bankruptcy auction.

Saint John Railway Company (07 April 1897 - February 1917)


Successor to CECo and suceeded by NBPCo.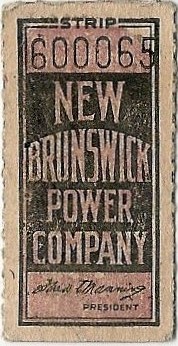 New Brunswick Power Company (February 1917 - 07 August 1948)


Electric power utility. Introduced first bus in sightseeing service 1927. First buses used in transit service 1936 (or 1934, sources differ). Forced to close its street railway by the City of Saint John. (Angus 1979, Bus Industry, Vol. 20, No. 76, June 2005, pp. 30-31, photo Peter Cox)


City Transit Limited (01 July 1948 - 31 December 1976?)
Subsidiary of S.M.T. (Eastern) Limited. (Canadian Coach 1970, Dawes et al. 1972, CUTA 1976-77, photo: Peter Cox collection).


Saint John Transit Commission (01 January 1977? - present)
Municipal operation. Extended transit service to Grand Bay-Westfield May 2015 replacing ComeX commuter service. (CUTA 1988, CUTA 1989, CUTA 1991/2, CUTA 1992) (Photo: G. Donnelly through Jacques Matte)


system logo

Service area population
80,000 (1991)
Vehicle fleet
49 buses (2000)
Employees
77 (1991)
Ridership
2,609,381 (2009)
Data sources:
CUTA 1991/2
CTHF/SSG 2000
CTF [Aug. 2010] (ridership)
website 2011 (logo)
Secondary Systems

The Saint John Motor Line Limited (1927 - 1978)
Suburban bus service from Saint John to Fairvale & Gondola Point, Woodman's Point & Public Landing, and Lorneville. Acquired by Irving interests and included in SMT System Limited when that entity was incorporated 03 September 1936. Parent company renamed S.M.T. (Eastern) Limited 30 June 1937. Beginning in the 1940's equipment was generally lettered for the parent company. Last SJML route discontinued 1978. (Lawrence and Leger, photo: William A. Luke).


Bay Beaches Bus Co. (circa March 1928 - ?)
Fundy Beaches Bus Co. granted a permit to operate scheduled bus service Saint John - Anthony's Cove circa March 1928, and changed it's name to BBB Co. circa April 1928 (CR&MW April 1928, p. 233 and May 1928, p. 300). (CR&MW February 1929, p. 107).
Maritime Transit Company (July 1936 only)
Bus service in direct competition with NBPCo. Operations halted through the courts by the NBPCo.
ComeX (04 September 2007 - present)
Commuter trips between central Saint John and the outlying communities of Grand Bay, Westfield, Rothesay, Quispamsis, and Hampton, operated by Saint John Transit with financial support of the federal and provincial governments. The name ComeX is short for the bilingual names: Community Express and Communauté Express. ComeX service to Grand Bay–Westfield discontinued in favour of integrated service by Saint John Transit May 2015.
| | | |
| --- | --- | --- |
| ComeX system logo | Data source: | website 2011 (logo) |
Note


There were (and continue to be) a number of ferries in the greater Saint John area. Among the collection of photographs and ephemera of the New Brunswick Museum are tickets for the West Saint John Ferry, and schedules for the Saint John and Carleton Ferry and the steamer Maggie Miller [page 1] [page 2] operating ferry service across the Kennebecasis River connecting Millidgeville, Summerville, Kennebecasis Island and Bayswater. A footnote on page two of the 1911 Maggie Miller schedule notes that Seeley's Busses make connections between Saint John streetcars and all sailings of the steamer. (New Brunswick Museum via David O'Reilly).

Modes
Animal railway
24 August 1869 - early 1876,
17 October 1887 - early May 1893
Electric railway
12 April 1893 - 07 August 1948
Motor bus
1936 - present (city)
1927-1978, 2007-present (suburbs)
Angus, Fred F., "The Saint John City Railway, 1887 - 1987, or: The Electric Railway That Almost Was," Canadian Rail, No. 402, Canadian Railroad Historical Association, Jan-Feb 1988.
Angus, Fred, Loyalist City Streetcars: The Story of Street Railway Transit in Saint John, New Brunswick, Railfare Enterprises Limited, West Hill (Ontario) and The New Brunswick Museum, Saint John (New Brunswick), 1979.
NewDavesRailPix: New Brunswick, a World Wide Web gallery of photos at the URL: http://newdavesrailpix.com/odds/nb/nb.htm, 2000.
Lawrence, Loring M., and Paul A. Leger, "King Street Terminal," Bus Industry, Vol. 12, No. 2, July-December 1987, pp. 22-40.
---
Copyright ©1989-2015 David A. Wyatt. All Rights Reserved.
Return to All-Time List of Canadian Transit Systems

The author is always interested in comments, corrections and further information. Please email to: dawwpg@shaw.ca This page last modified: Friday, 19-Jun-2015 11:02:13 CDT