Wet and Dry - 2011
Wednesday Evenings at La Barriere Park
This year of evening paddles should have started May 4th but the city had prohibited paddling on any of the rivers. Although the La Salle was not included in the list on the River Patrol website I felt it would be appropriate not to push the issue if there were any potential problems. Even though the bridge was still well under water and would remain submerged until June 11th. Even though the bridge had appeared in June there was no drop over the dam until the end of August and 'normal' river levels were not reached until the second week of September. The last evening paddle of the summer was September 28 - a beautiful warm evening.
The summer started very wet with a lot of run off and then rain through the beginning of June. The river levels remained very high through out the rest of the summer. Even with the wet spring and high water there were virtually no mosquitoes or other biting flies through out the summer. Outings were well attended with more than 20 people coming out may evenings.
There was a sad note to the summer. Some time over the weekend of August 13/14 two canoes were stolen from the compound at La Barriere Park. One Red Mad River and another Grumman. We have locked the remaining canoes up with a much heavier chain and hope there will be no more theft.
September is drawing to a close; the river is down and paddling is pretty much limited to the high side of the dam. Over the summer there were 19 evening paddles. I was away for three evenings at graduation ceremonies or on trips of my own. Yvonne Kyle and Sharon Touchette graciously took on two of those evenings, one of which was moved to Fort Whyte Alive for the (annual?) Paddle Manitoba summer BBQ. Over 221 people came out to the weekly outings over the summer and although there were one or two days where it looked like it might rain the sun came out and shone down on us every week.
I would like to thank the board of Paddle Manitoba, in particular Sharon Touchette, Yvonne Kyle, and Tim Lutz for coming out to many of the evening paddles to share their experience and help out.
See you on the river next summer...
Charles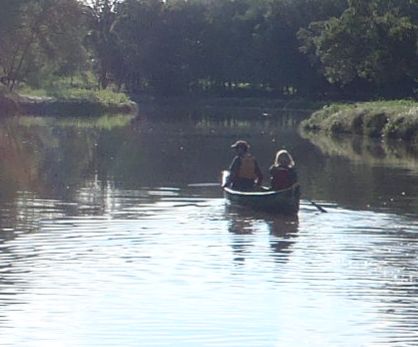 ---
Back to my paddling Page
Paddle Manitoba Home Page
Email: burc...@cc.umanitoba.ca Last modified: Fri Oct 26 19:15:24 2012