Close to Perfect - 2013
Wednesday Evenings at La Barriere Park
The evening paddles started May 1 this year with the bridge and dam well under water and moderate current in the little (then wide) La Salle river. The bridge came out of the water late in May and the dam appeared in a little worse shape the week after. The wood portions of the dam had been shored up with riprap last fall and new stone and fence had been put along the river banks - including the launching point. The fence was pretty much ripped out by the ice this spring and remained a gnarled mess throughout the summer. The province came out a repaired the badly leaking dam late in June - at that point the river upstream of the dam was the lowest I remember in 35 years of paddling. With the repairs and a little rain the dam did its job.
Sometime in July the top of a dock and some pallets were found floating up stream. They were towed to the launch and a small dock was put together for paddlers to use throughout the summer. This addition was much appreciated - the WEP crew thank the anonymous builder for their addition. The parts will be pulled out (mostly so they don't float away or cause winter obstructions) for next season later October.
Between July and September all the canoes were booked pretty much every week. Throughout the summer 199 people came out, some were regulars and brought their own boats, stories, and company, others [most] only came once or twice. More children came with young families than I remember in the past - it is fun to see kids getting into the adventure early. We have added several small paddles and a clip in seat for the younger members in the crowd. Unfortunately people often book a place but never show - starting a few years ago I stopped letting people book more than a couple of canoes for this reasons.
Once again the Paddle Manitoba board showed support for these popular paddles with at least one board member attending most evening paddles. Paddle Manitoba also supported the La Salle River at La Barriere Park as a site for the Great Canadian Shoreline Cleanup in September.
See you on the river next summer...
Charles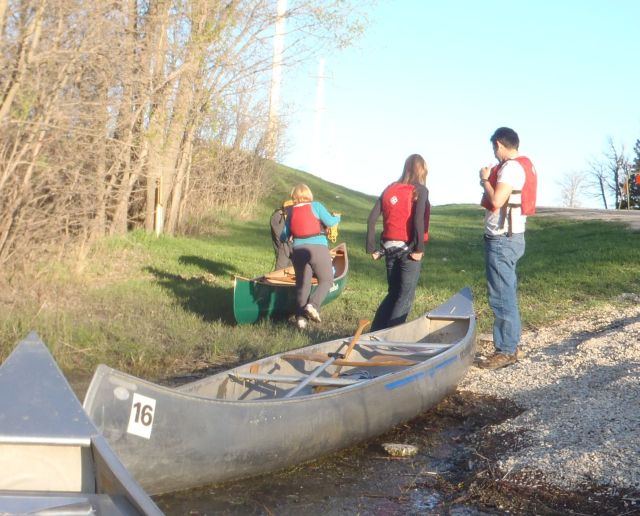 ---
Back to my paddling Page
Paddle Manitoba Home Page
Email: burc...@cc.umanitoba.ca Last modified: Sun Sep 29 10:32:23 2013