Freer (Frere) Genealogy in Barbados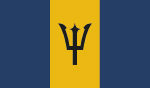 (This page is is only a general reference source for those wishing to do research on relatives who might have moved to Barbados. It appears that 4 groups of Freres moved to the eastern United States in 1680. [in particular the Carolinas] and changed their names to Freer at that time.) . Individuals who have done extensive research in this area include Opel Spencer and John H. and Wendell Freer.

;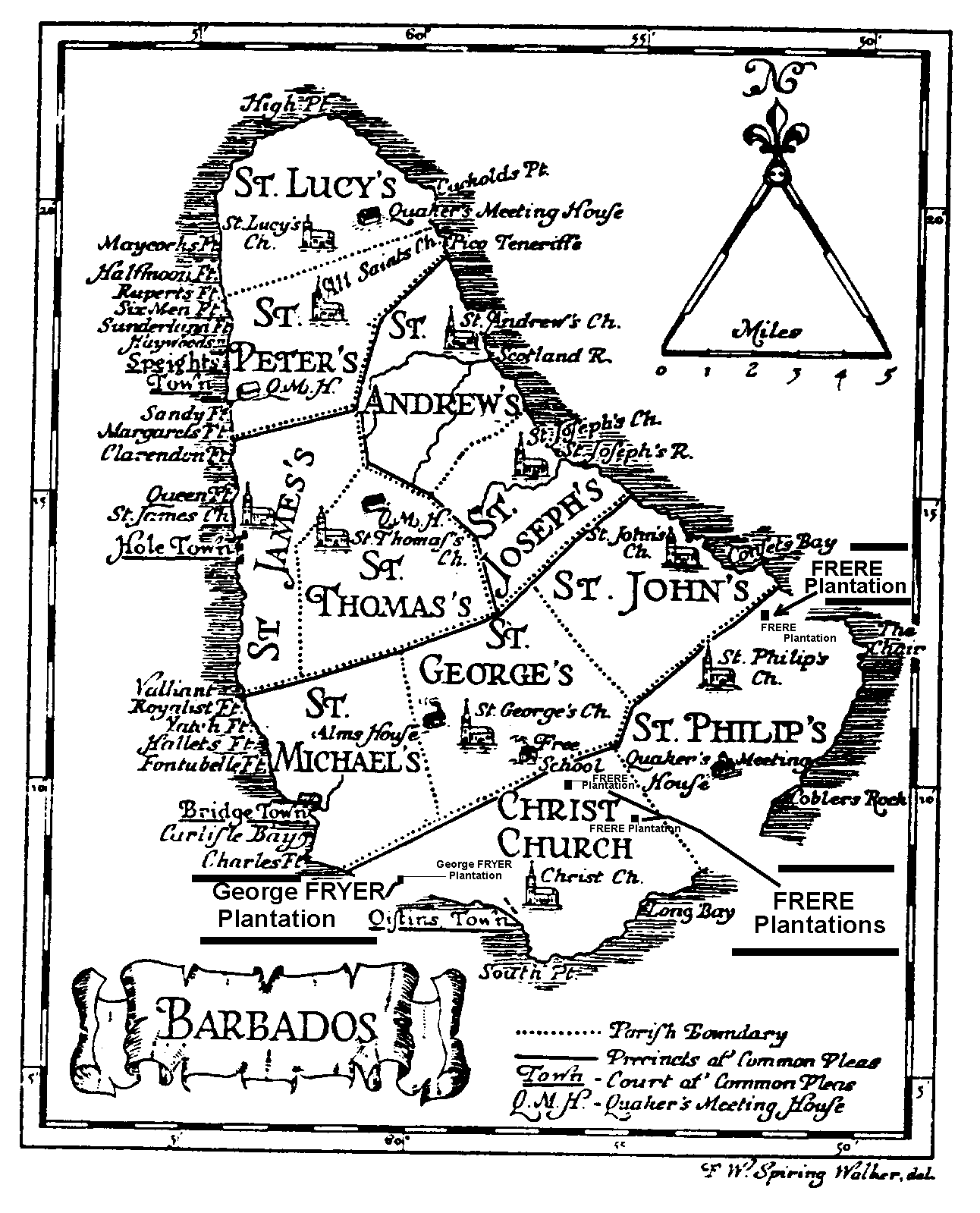 Map of the Barbados showing approximate location of Frere/Fryer Plantations ( Based upon Maps from "The Monumental Inscriptions in the Churches and Churchyards of the Island of Barbados, British West Indies", by Vere Langford Oliver, 1915; and "A topographicall Description and Admeasurement of the YLAND of BARBADOS in the West INDYAES with the M. Names of the Seuerall plantacons" - Reproduced from Richard Ligon. 'A true and Exact History of the Island of Barbados'

Frere Names and Dates associated with Barbados
The following is found in "The Original Lists of Persons of Quality: Emigrants; Religious Exiles; Political Rebels; serving Men Sold For A Term of Years; Apprentices; Children Stolen; Maidens Pressed; and Others who went from Great Britain to the Americans Plantations 1600-1700 with their ages, the localities where they formerly Lived in the Mother Country, The Names of the Ships in which then embarked, and other interesting particulars, Fromm MSS. Preserved in the State Paper Department of Her Majesty's Public Record Office, England." edited by John Camden Hotten , London 1874.
- Captain (also titled Lt. Colonel) John Frere is referred to as being born in 1617 and dieing Aug. 1683.
Tobias Frier in 1635, at the age of 18 boarded at the Port of London on the Plaine Joan. - page 79,
- on Page 42 Captain Tobias Frere is listed as escorting the convicts Thomas Tounsend and John Hugens from Virginia to the Barbados upon his ship.
- on Page 477 the following is listed:
Frere - Tobias, Esqu having 395 Acres with 5 servants and 150 Negroes
Frere - John, Esqu having 180 Acres -(blank) servants, 80 Negroes
Frere - William having 120 Acres - (blank) servants and 40 Negroes
Frere - William having 1 Acres - (blank) servants NS (blank) Negroes
-- on p. 533 (Index) there is mention of a George Fryer and Frier with reference to P. 117 and 218 and to see Frier but no mention on those pages of this particular source. Note the Map above shows a George Fryer having a Plantation along the southwestern coast of Barbados.
- on page 19 (1635) is reference to a Thomas Frier on page 18.
*************
In the same source on page 218 - MUSTERS OF THE INHABITANTS IN VIRGINIA -
- on P. 218 -Pasbehayghs Corporation of James Ciity - The MUSTER of the Inhabitants of PASBEHAYS & the MAINE taken the 30th of January 1624 belonging to the Corporation of James Citty
- George Frier (sic) Arived in the William & Thomas
- Vrsula his wife in the London Marchant
***********
- in "The history of Barbados comprising a Geographical and Statistical Description of the Island; A Sketch of the Historical Events since the Settlement; and an Account of its Geology and Natural Productions" by Robert H. Schomburgk 1848 (reprinted 1971) - ISBN 0 7146 1948 5
-- there are references to a John Frere as President of Barbados in 1720 and Henry Frere in 1790 (p. 685) and a Mr. Frere, a Nephew of Governor Lowther (pp. 316, 317).
- in total there are three Freres associated with the Presidency in Barbados.
***********
-In "The Monumental Inscriptions in the Churches and Churchyards of the Island of Barbados, British West Indies", by Vere Langford Oliver, 1915 there is several references to Frere - Bury- p.134, Dorothy -pp. 114, 128, 130, Elizabeth- p. 128, Henry- pp. 114, 128, 130, John - p. 130, Susanna - p. 130, Tobias - pp. 128,3,
- on p. 128 there is reference to a Frere crest as ARMS - Two leopards' faces in pale, between as many flaunches Or.
CREST.- This has been lost.
ON a panel at the foot of the urn:- Mr FRERE | died 24th May 1792 | Aged 50 years.
- There are references to familial relationships between Freres and various island families such as Capt. Geo. P. of St. Michael's whos son married Tobias Frere's Daughter, Alleyne.
***********
Another source which discusses Frere (George) is A SHORT HISTORY OF BARBADOS, FROM IT'S FIRST DISCOVERY AND SETTLEMENT, TO THE END OF THE YEAR 1767" (London: Printed for J. Dodsley, in Pall Mall, 1768)

To FRERE Pedigree by Horace and Arthur Howard Frere
To FRERE Pedigree by Burke's Peerage
To John of Sweffling FRERE and Barbados
To John Frier Freer of Carolinas
To Historical Background of Barbados
To Freer Coats of Arms and Crests