OC Transpo
OC Transpo diesel light rail service.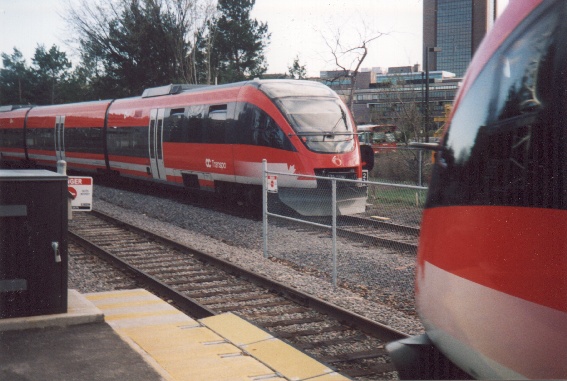 April 2002. Southbound OC Transpo Bombardier Talent diesel LRV (right) waits at Carleton University station for the arriving northbound service to clear the track. Carleton University station is the site of the otherwise single-track line's only passing track.
David E. Loftson photo. Copyright ©2002. Used by permission.
Return to Transit History of Ottawa, Ontario
---
Copyright ©2002 David A. Wyatt
Return to All-Time List of Canadian Transit Systems The author is always interested in comments, corrections and further information. Please email to: dawwpg@shaw.ca This page last modified: Sunday, 16-Jun-2002 17:51:12 CDT