University of Manitoba Municipal Infrastructure Chair
October 25, 2016
The University of Manitoba Municipal Infrastructure Chair is a research program supported by the City of Winnipeg, the Province of Manitoba and twelve Construction Industry contractors, suppliers and associations. The Chair partners will work together to develop and test innovative solutions that will extend the life and durability of infrastructure, improve and harmonize design and construction practices, and reduce the risk of implementing new innovations to infrastructure owners and contractors.
The Municipal Infrastructure Chair will accelerate R&D in the areas of design, construction, maintenance, and management of municipal transportation infrastructure including roads and active transportation facilities. The Chair will also offer specialized training opportunities for engineering students and professional engineers, and increase the supply of highly-qualified professionals to the job market.
Chair Partners
The Municipal Infrastructure Chair partners are the City of Winnipeg, the Province of Manitoba, the University of Manitoba and a group of heavy construction contractors, suppliers, and industry associations. The five-year Chair program is funded by $1 M in cash, and up to $1 M in in-kind contributions from all partners. Additional funding of $500,000 will be applied for under a federal collaborative research and development program.
Background
The Faculty of Engineering has a proud history of serving the research and development needs of the province of Manitoba for over 100 years.
Research groups have partnered with all levels of government and the private sector on developing innovative solutions that improve the safety and the quality of life in Manitoba and around the world.
The Municipal Infrastructure Chair program was first proposed in September 2014 as a campaign promise of then Mayor-Candidate Brian Bowman who pledged to engage with post secondary institutions on addressing the municipal infrastructure deficit.
During his mayoral campaign, Mayor Bowman stated "Winnipeg is home to tremendous talent and research skills at universities and colleges that rank among the best in this country. It's right here in our own city,"
...
"When you have world class resources in your own city, I think you should use them. For years, City hall has seen these facilities as some other level of government. I see them as another opportunity. We can harness the strength of our universities and colleges to help Winnipeg reach its full potential."
Source: Bowman for Mayor (2014)
In the February 2016 State of the City Address, Mayor Bowman announced his support to establishing a new research chair in Municipal Infrastructure. The initiative also attracted support from the Province of Manitoba, as well as from close to fifteen (15) construction and utilities contractors, suppliers and industry associations.
The funding of the five-year Chair program (2016-2021) was announced in October 2016. Dr. Ahmed Shalaby, P.Eng was named as Chairholder.

Dr. Shalaby has extensive research expertise in pavement and infrastructure engineering and management. He taught at the Department of Civil Engineering since 1998 and he is presently professor and Head of the Department.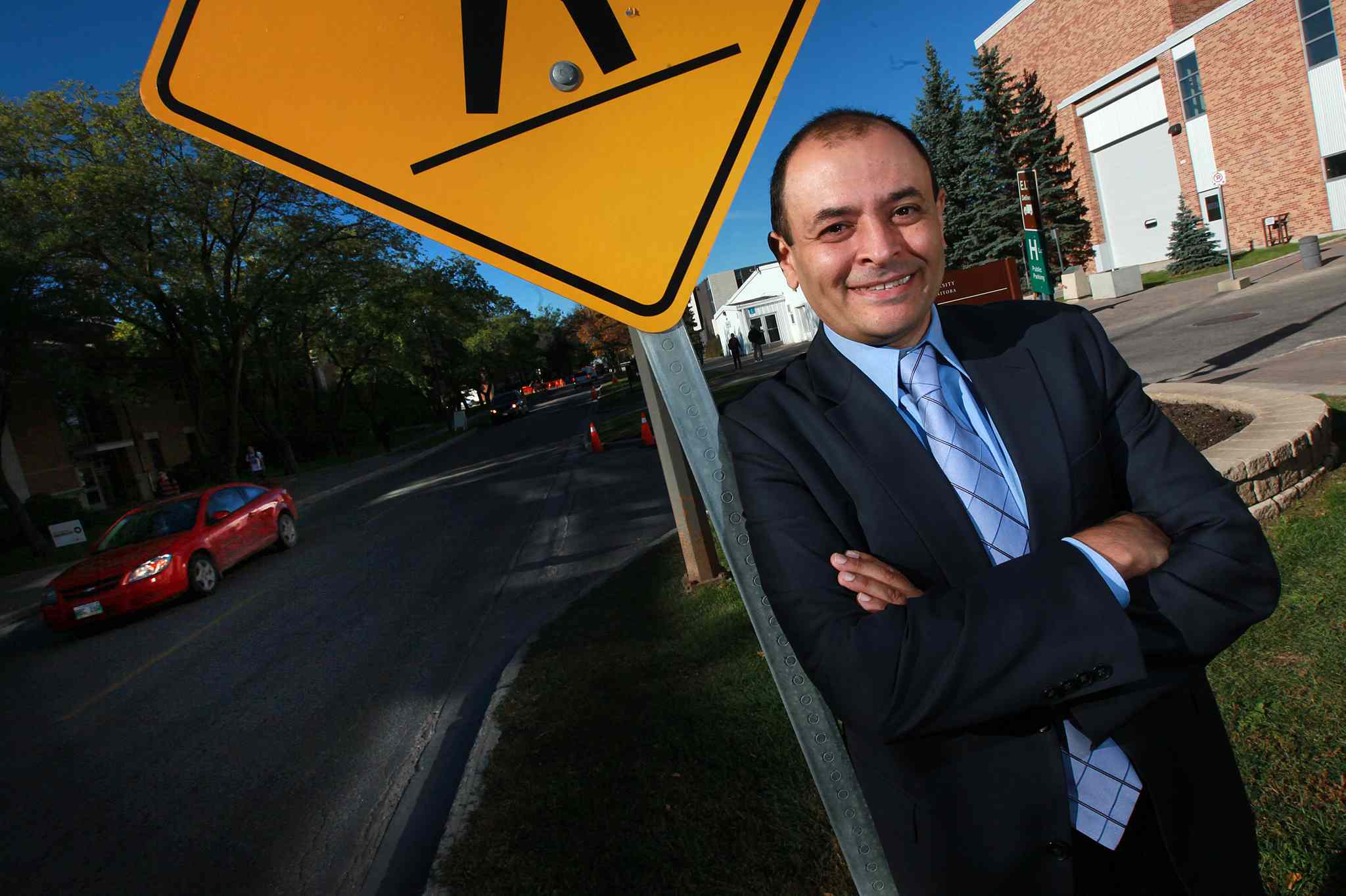 .
PHOTO: PHIL HOSSACK / WINNIPEG FREE PRESS
Vision and action plan
The Chair will pursue qualitative improvements in design, performance, management and condition assessment of municipal infrastructure elements. The Chair will lead the following actions:
Develop, update and refine current design processes and specifications by promoting innovative solutions focusing on improved durability, resilience and optimized life cycle costing.
Review construction specifications, and assess opportunities for harmonization of provincial and municipal specifications and designs.
Develop and maintain information databases for performance modelling, decision support and asset management
Improve dissemination of knowledge, design consistency and uniformity
Increase number of engineering graduates specializing in Municipal Infrastructure design and management at the University of Manitoba.
Improve and intensify training in Municipal Infrastructure Engineering
Objectives
Support the research needs of the City of Winnipeg, Manitoba Infrastructure, heavy construction industry, and municipalities in infrastructure renewal, innovation, training, and decision support
Partner with contractors, suppliers, and consulting engineers to share technical knowledge and expertise
Two main research directions:
Road design: specifications, materials, rehabilitation, asset management
Subsurface utilities: location, 3D/4D tools, SHRP-2 products, coordination with road construction
Building on Past and Current Collaborative Projects
There is already a strong collaborative environment between the City of Winnipeg, Manitoba Infrastructure, and the University. The collaborations generated the following current and recently completed projects:
Design of composite corrosion-free dowels for concrete pavements (included a demonstration project on Bishop Grandin Boulevard, Winnipeg, MB)
Selection criteria for joint sealant materials in cold regions
Design criteria, materials, and processes for partial depth repairs of concrete pavements (included a test site on Portage Avenue)
Design and performance of asphalt pavement mixtures containing recycled asphalt shingles
Design parameters for using recycled concrete aggregates in the base course