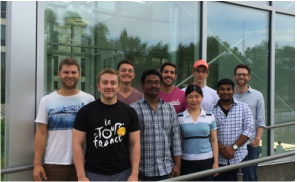 Welcome to the Herbert group website! David E. Herbert
We are a synthetic inorganic chemistry research group based in the Department of Chemistry at the University of Manitoba in Winnipeg, Canada.
We focus on using organometallic and inorganic chemistry, electrochemistry and polymer science to tackle problems in clean energy and environmental remediation, including aqueous organometallic/inorganic chemistry, small molecule activation including carbon dioxide reduction and utilization, and water treatment.
For more information, please check out our site or
get in touch
.
​
​***
2016 MITACS Globalink Application Deadline Has Passed! ***
Please be sure to check the "Openings" page in the summer of 2017 for details on the MITACS Globalink Internship Program and projects available for qualified international undergraduates in the Herbert group...
---