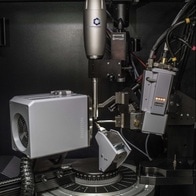 Welcome to the Centre for X-ray Diffraction in the Department of Chemistry at the University of Manitoba!

We currently host a range of diffractometers, capable of collecting diffraction data on single-crystals, powders and soft materials (both wide-angle and small-angle).

For more information, and for fee schedules and external user arrangements, please see the contacts listed below.
---
Single-Crystal X-Ray Diffraction

Equipment: Bruker D8 QUEST ECO

For more information, please contact:

david.herbert <at> umanitoba.ca

Powder X-Ray Diffraction (PXRD)

Equipment:

For more information, please contact:

mario.bieringer <at> umanitoba.ca

Small-Angle X-Ray Diffraction

Equipment: Rigaku S-MAX 3000 Small and Wide Angle X-ray Scattering

For more information, please contact:

​kevin.mceleney <at> umanitoba.ca