The Harrison Trip to Jerusalem
by Glenna Smith and Janice Smith, as told by their uncle Thomas C. Harrison
Email: dawwpg@shaw.ca
[September 16th, 1973, on the occasion of the celebration of Glenna and Janice's Aunt Emma Surber (née Harrison)'s 80th birthday in Perdue, Saskatchewan]
Elizabeth Corts (daughter of Godfrey Corts[1] and Charlotte Sause) and Thomas Harrison, Jr. (son of Thomas Harrison, Sr. and Elizabeth Hunter) were married on August 15th, 1885 in Middleton [or Midland] Michigan. There was 24 years difference in their ages, she was 16 years old and he was 40 years old. While they were living in St. Louis, Michigan they sold all land and possessions, and on May 6, 1899 sailed on the ship Ems from Hoboken, New Jersey with three other families[2] for Jerusalem.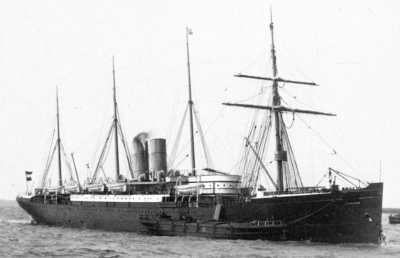 Ems (1885-1905) operated between New York and Mediterranean ports for North German Lloyd (Norddeutscher Lloyd) 1896-1901.

They were of the Seventh Day Adventist faith and they went to perform the role as sort-of missionaries, but some stories have been told that they expected an "end of the world" and wished to be in the Holy Land at that time.

They were very crowded on this first leg of the trip, for some Italian immigrants were being refused entry to the United States and had to return to Italy, causing a much more uncomfortable voyage than it should have been. The voyage was 15 days long and they encountered very bad weather for three days. The ship arrived at Naples, and the party stayed there for 10 to 15 days. They shipped from Naples on the Baron for Port Saïd, Egypt. They waited in Port Saïd for eight days, then sailed on the Catardo for Beirut. At Beirut they were quarantined on the ship because there were cases of smallpox aboard. The quarantine period was fifteen days. They left from Beirut to Jaffa and from there proceeded by train to Jerusalem. There were 19 people when they got to Jerusalem, and they all went together on the rental of a large building for their first residence there.

Thomas Harrison, Jr. (in partnership with a Jewish fellow) leased or bought land in Jericho and tried raising garden vegetables to sell, but this venture failed for the Arabs would come in the night and steal everything before they could harvest it.

Elizabeth Harrison (née Corts), while in Jericho, worked in a hotel for a man named Clark. The hotel was connected with the Cooks Travel Agency. They stayed about one season only and left there to come back to Jerusalem.

They rented a house owned by one Captian Johnson and Thomas Harrison, Jr. drove a carriage for work to do. Smallpox struck the family at this time and everyone but Thomas C. and Anna who were away working had it. The smallest child, Mary Harrison died of the disease, and is buried on the Mount of Olives.

Thomas C. worked for missionaries Miss Dunn and Miss Brown as a houseboy and cook's helper. These ladies were Methodists and ran a school teaching English and Arabic. It was here Tom learned to read and write Arabic, and has at home the first Bible he was given, with his signature in Arabic written in it. He used to lead blind girls to Sunday school while working for the Missionaries. Jack also worked as a houseboy for missionaries.

During their time in Jerusalem, young Tom also worked in Hebron as a houseboy for a couple who were missionaries there.

Thomas Harrison, Jr. and his wife Elizabeth worked in a sanitorium in Jerusalem. They had been in the Holy Land for about two years when they decided to return to Michigan.

The family travelled from Jerusalem to Naples, where the Health board rejected their return to America. The British Consul in Naples told them of the opportunities to be found in Patagonia, South America. When they got to Naples after leaving Jerusalem, they found a trunk to be missing and unfortunately it contained Elizabeth's wedding ring and marriage certificate, among many other things. The ship it was on was said to have sunk.

They sailed from Genoa on the Savoya for South America. The ship touched in Montevideo and then sailed on to Buenos Aires. (It should be noted here that all the ships they travelled on were steamships.) They were quarantined at Buenos Aires for 15 days and Thomas C. believed it was because of measles on board. The family finally arrived at Rio Gallegos in October of 1901.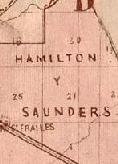 The family worked on a ranch at Puenta Layola, and the land ran down the coast to Cabo Virgenes. They carried from 40,000 to 50,000 sheep. Partners John Hamilton and Tom Saunders owned this ranch. Saunders had a ranch in Punta Arenas, named Ottway Station, and also had a cattle ranch of 3,000 to 5,000 animals at Rio Gallegos. Jack and Tom worked as Sheep herders, and they learned to speak Spanish well. Anna and her mother Elizabeth worked as cooks on the ranch and the elder Thomas worked as a handyman at this time, also on the ranch. Mary Harrison was born to Thomas and Elizabeth in Punta Arenas on February 23, 1906. Her birth certificate is written in Spanish.
During this period, Thomas Harrison, Jr. was corresponding with his nephew Howard Harrison, in Perdue, N.W.T. The letters from Canada told of good land and homesteading opportunities in Saskatchewan. Howard Harrison had bought his land for $3.00 an acre from the C.P.R. and when it was sold it brought $80.00 an acre. The family decided to go to Canada and homestead in Saskatchewan too.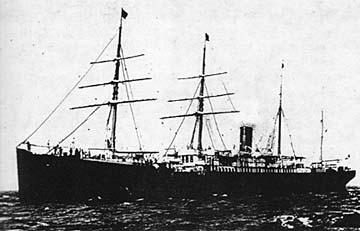 SS Gaelic (1885 White Star Line) was sold in 1904 to Pacific Steam Navigation Company and renamed Callao for operation between Europe and South America.

They sailed from Punta Arenas on May 25th, 1906 on the Gaelic[3] for Liverpool, England. The journey took 30 days because the ship they had planned to sail on got lost and they had to sail on a converted cattle ship. After two or three days in Liverpool, they then set sail on the Tunishen[4] to Quebec, Canada. The trip to Saskatoon was completed by rail, arriving July 10, 1906.

Because the family numbered eight in all (Thomas Jr. and Elizabeth, and children Thomas C., Anna, Jack, Paul, Emma and Mary), they were divided up, some wintering with Howard Harrison at Wheatfields, and the rest with his sister Jen Byce. The following spring they bought their own homestead, close to the town of Perdue.


Tunisian operated between Liverpool and Canadian ports for the Allan Line
Notes
[1] According to family legend Godfrey Corts deserted from the Imperial German Army in order to emigrate to the United States of America.
[2] An Emery family and two Dickinson families.
[3] Probably Callao, Pacific Steam Navigation Company. PSNCo. purchased the ship in 1905 from White Star Line, where it was named Gaelic.
[4] Probably Tunisian, Allan Line (Montreal Ocean Steamship Company).
---
Related Web Pages