Robert Crozier (1804 - 1869)
by Ethel Rafter Williams
Email: dawwpg@shaw.ca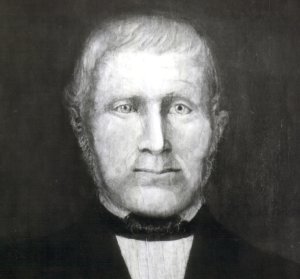 Robert Crozier (1804-1869). Artist was "Mr. Gadsen," a boarder in the home of Mary Samantha Crozier and her husband John Foster Williams. Image courtesy Susan Williams Green.
[Excerpted from The Williams-Rafter Family History by Ethel Rafter Williams, Rochester, NY: Ethel Williams, 1962, pp. 52-54]
Robert Crozier ... second son of John Crozier and Anna Coffle, was born in Ireland in 1804 and was 28 years old when he came to Canada. He carried his personal possessions in a small horsehair trunk on the cover of which we find his initials, "R.C." This trunk is now in the possession of his grandson, John R. Williams.

On leaving Elizabethtown, Robert Crozier moved to Back Street near Barrits Rapids. There he met and married Susannah Draper Hunter. Her first husband had died leaving her with one daughter, Edith, who grew up with the Crozier brothers and sisters as one of them.

In 1847 they moved to Merrickville, where Robert Crozier made his presence felt. First he started a grocery, then he built and ran for many years the Merrickville Hotel. He later purchased the Rollin Barrows property, which came to be known as the Crozier homestead.

The Rideau Canal was completed in 1832, and Merrickville became an important place on this new project. At Merrickville the Rideau River is 25 miles from the St. Lawrence, the shortest distance between the two waterways until Kingston is approached.

The blockhouse here played a role in Crozier family history. It was constructed for a double purpose, as a home for the lockmaster and as a fort with a magazine. It was surrounded by a moat which could be flooded at will. The basement and first story walls were of stone, four and a half feet thick. The second story wall, projecting a foot and a half, is sheeted with tin and constructed of stone and logs. The magazine in the basement has a three and a half foot stone wall around it.

This was partially destroyed years ago, and the moat on one side filled with earth. The long apertures between the windows in the second story were made to shoot from, in case of attack. Clearly, one hundreds years of peace between Canada and the United States was not anticipated.

The lockmaster and the men at Merrick Mills Station in 1835 received four shillings a day from the British Government; the lockmaster receiving his pay the year round, but the laborers for only the navigation season. For many years after the opening of the canal in 1832, there were two shifts of men, one for day and one for night duty. The British uniform was worn by the lockmaster until 1854.

The above description of the blockhouse is taken from an article in the weekly Advance, Kemptville, Ontario, December 5, 1935, written by Miss Mary F. Pearson of Merrickville.

In the old blockhouse at Merrickville there are many ledgers showing expenses, and the names of those who were employed on the work. Robert Crozier's name appears frequently in an official capacity. We know that he served as lockmaster for some years. For the time in which he lived, he was considered a rich man. Legend tells us that he once lost $50,000 on a poor loan.
Susannah Draper (1806-1895)
by Ethel Rafter Williams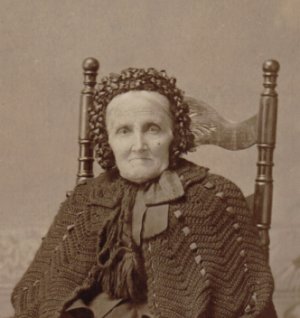 Susannah Draper, Mrs. Robert Crozier (1806-1895). Graham family collection.
[Excerpted from The Williams-Rafter Family History by Ethel Rafter Williams, Rochester, NY: Ethel Williams, 1962, pp. 54-55]
Susannah Draper, Robert Crozier's wife, was born in Hull, Quebec, in March, 1806. She was the daughter of James Draper and Esther Waller, who were both born in the United States; she in Granville, Washington County, New York, on November 11, 1784, and he in Killingly, Connecticut, April 19, 1775. He was a carpenter by trade. As a young man, he moved his family to Hull, Quebec, where he died June 16, 1856. His wife died in February, 1866.

James Draper's father, likewise James Draper, married Susannah Herendon and served with credit with the Americans in the Revolutionary War. Esther Waller's parents were Truman Waller and Martha Hitchcock. They lived in Hartford, New York. He also served on the American side in the Revolutionary War. These two names, James Draper and Truman Waller, could undoubtedly be found in the early history of New York State and would establish a direct line of membership in either the Daughters or Sons of the American Revolution for Robert and Susannah Crozier's descendants.

It is interesting to note, in reviewing the Draper family, ancestors of Mary Samantha Crozier, that her great-grandfather is said to have fought on the American side during the Revolution, and that his son (her grandfather) was an Empire Loyalist. As a young man he moved his family to Hull, Quebec. Historical records tell us that many families were so divided.

How Susannah Draper found Robert Crozier we do not know. Possibly she and Mr. Hunter had settled in Back Street where he had died leaving her a widow with her daughter Edith.

There were six children in the Crozier family: (1) Esther, who married William Robertson; (2) Adelaide, whose husband was Robert Harrison; (3) John, who lived in Baltimore; (4) Demetrius, whose wife was Eliza Harrison, a sister of Robert; (5) Angelina, who became Mrs. James Lingenfelter; and (6) Mary Samantha Williams.

There is a good photograph of Susannah Crozier as an old lady. She lived to be eighty-nine. Several of her grandchildren remember her from their early visits to Merrickville. An oil painting of Robert Crozier was made from a small photograph. It hangs in the home of the John R. Williams family, and we often point it out to his great- and great-great-grandchildren.
---
Related Web Pages