Nature Manitoba's Wilderness Experience
Mantario Through the Looking Glass July 11-15, 2022

Check the Mantario Summer Program page for other exciting and educational weeks as well
Charles Burchill
---
I don't like formal gardens. I like wild nature. It's just the wilderness instinct in me, I guess.

Walt Disney

Representing some of the best accessible canoe country in Manitoba, Mantario is right on the edge of the Boreal forest in the Mantario Wilderness Zone. The forests, Lakes, Bogs, and Rocks support a wonderland of plants, lichens, mosses, and mushrooms. Come through the Looking Glass and explore the Garden of Boreas from behind the lens.
---
This summer (2022) I will be teaming up with Brian Hydesmith, a consummate photographer and paddler, to explore the Mantario region from behind the viewfinder. We will be looking for the best photo opportunities and learning tips and tricks of wilderness and outdoor photography.
The Whiteshell region, in south eastern Manitoba, is found at the junction of several important and variable ecological regions. The flora of the area is quite diverse, with prairie species from the south and west, boreal species from the north and east, and hard wood forest species from the south and south east. This week will give interested participants a general overview of the plants and plant ecology of this region.
There is no set schedule for the week, a fixed plan would take away from the relaxed atmosphere of the Mantario experience. By the end of the week I would like the participants to feel that they have had a chance to better understand the diversity and importance of the flora of the Whiteshell. They should, if they are interested, come away with some knowledge of the plants of the region, general ecology, and plant identification.
There is generally lots of free time available for guests to relax, read, or do what ever they want. During these times I am available to answer questions or cover some in depth topics. Over the past several years some guests (really only two or three) have been interested in serious botanical study. I have spent time showing people how to identify mosses, lichens, mushrooms, sedges, rushes and grasses. These are very important groups of organisms that many people find very difficult, even overwhelming, to identify.
The botany week has generally followed the rough outline below. Every year the trip has been different based on the interests of the participants, weather, and time.
Monday - Introductions and paddle into Mantario.
During the trip into the cabin there is usually time to discuss a variety of topics. A few of the interesting notes have been: Cacti on Big Whiteshell, , carnivorous plants found in the bog on Lake Two, onions and smooth sumach on the 'Up-and-Over', and berries all along the way. The trip is roughly 22km with 18km of paddling and the rest traversing 5 or 6 portages. Making the trip over the years has taken as little as 4 hours and as many as 10. The typical time for the trip in with the summer program is 7 hours. There are further notes and a map found on my Trip to Mantario page.

Tuesday - Plant tour of the island, Canoe skills.
The morning is generally spent with a short tour of the island looking at the different types of plants followed by a short discussion on field guides and identification. A check list of the more common plant species in the Mantario region will be provided for participants. During the afternoon there has usually been a chance to practise and learn the art of canoe rescues - both assisted and self rescue techniques will be tried. Participants will also have a chance to learn more advanced flat water skills including both tandem and solo paddling.
Wednesday - Day hike, trip to Sunset hill.
The day hike takes us through many different plant communities. Generally a considerable amount of time is spent discussing or identifying the plants during the hike. I have a reputation for very slow hikes. During the 2001 Botany week we only made it to the top of the first hill by lunch time. We have spent time talking about the ecology and trying out edible plants on the trail. If the blue berries are ripe we usually have picked enough to make pies or muffins. Picking berries, swimming and lunch along the way provide some welcome breaks.


Photo Credit: Mikaila Hardy, 2005

Thursday - Various activities.


We have often collected the various edible plants discussed on the previous days of the trip and supplemented our supper. Usually I do not entertain the idea of collecting enough plants for a meal as that usually takes more time and effort than expected.
A paddling trip to the end of Jadel Lake has been very successful — especially later in the summer when the wild rice on Vier Lake is ripening.
A trip to swim in Bishoff Lake and pick berries is fun and interesting with a quick stop in Hop Lake to look at the bog cranberry and collect Labrador-tea at the old Kalanski cabin site (NAD 83, 15U 0343405E 5541258N).
When the water is high it is possible to paddle into Skull lake then portage out through Twin Stump. The creek into skull is interesting but slow going with lots of little dams, downed trees, and narrow spots to hop over and squeeze through. There is a nice hike/paddle at the far end of Skull that takes you to Ironwood Falls. There is a substantial wet meadow formed from a broken beaver dam that is quite interesting.
Some years we have spent a considerable amount of time working on canoe skills, rescues, or just relaxing on the shore.
I have also spent time working on navigation skills and using maps, compasses, maps and compasses, and GPS.
Hike into sunset hill from the Mantario trail. There does not appear to be a trail but it is fairly open bush. Take the Mantario trail from the cabin to 15U 0343901E 5540922N then head for the top of the canoe access path (15U 0344022E 5541111N). From the clearing head north north-east out of the clearing - it is open jackpine forest. Look for a large boulder field and head up.
An expedition into 'Hidden Lake' is worth the trip to see the fragrant waterlilies in mid July. Many people stop to enjoy the view from the top of the cliffs but few venture to the bottom.



Photo Credit: Sharon Touchette

Take a short jaunt to the top of the cliffs (15U 0344709E 5541009N) for a panoramic view of the south end of Mantario Lake. Go for a swim in the deep cool water at the bottom of the cliffs.


Friday - Trip back to Big Whiteshell.
New friends and fond memories. Often the participants have gone for supper in the evening either on the trip back to Winnipeg or at one of the many establishments in Winnipeg.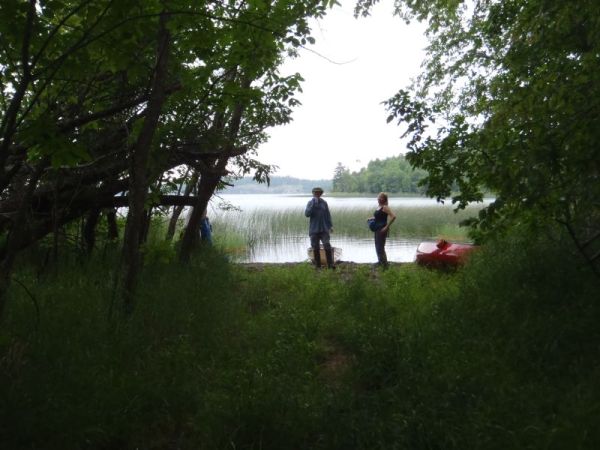 Plants
During the week we will informally cover the following topics.
How to identify plants. This usually calls for a careful examination and sometimes collecting the whole or part of the plant that you want to identify. If you are interested eating or using medicinal plants you must be very sure of your identification. There are a number of poisonous plants and fungi and an improper identification can spell disaster.

The first thing that you will generally have to figure out is if it is a plant or not - believe it or not mushrooms are not plants and lichens are only partly plants. A little time will be spent discussing what plants (higher plants, mosses, algae), mushrooms, and lichens are and how they are different from each other.

There are a number of field guides for the identification of plants (along with some lichens and mosses) available at the Mantario cabin. There are a wide variety of plant books on the market extending from the basic coffee table book to the scientific flora. Each of these books is suited to a particular purpose. We will look at several different kinds of books and discuss what they can be used for, along with when and where you might use them. There is a list of books attached to the plant list that I have made for the Mantario region. I have found Euell Gibons books very interesting general reading (Stalking the wild asparagus, Stalking the healthful herbs). If you are interested in the plants of the boreal forest then you should get Plants of the Western Boreal Forest and Aspen Parkland. Unfortunately there is not a current flora (complete plant identification key) available for Manitoba. If you can find copies the Flora of Manitoba by H.J. Scoggan, or Budd's Flora of the Canadian Prairie Provinces are very useful. These last two are really only for someone seriously interested in plant identification and in some areas are somewhat dated. I have a number of Peterson and Audubon field guides that I refer to regularly (trees, eastern wild flowers, ferns, shrubs, mushrooms, edible wild plants, medicinal plants). If you can find it Nature Made Ridiculously Simple by Miles Kington is a wonderfully funny introduction to the identification of natural things.

Participants may want to bring along the following extra equipment for plant identification: any field guides you use or would like to use, small measuring tape (cloth type used in sewing), small 10x magnifying glass or loupe, pocket knife, tweezers.

Is it edible (or will it kill me)? Walking through the woods collecting berries is a wonderful experience - especially if you eat most of what you collect. Berries only represent a portion of what is available for you to collect and eat. After working out how to identify plants a whole new area of wild edibles is open for your foraging. A salad can be enhanced by adding thistles, fireweed, violet leaves, and smartweed. If you think blue berries taste great try the flowers. Substitute young fireweed shoots for asparagus. Pancakes made from cattail flour have a new and wonderful taste, the roots and young shoots also make an interesting dish. Have you ever wondered what stinging nettles taste like - spinach! (you have to get the young shoots early before cystoliths form). Want to try out being beaver and eat a tree? How about a tea replacement using strawberry leaves. Adding rock tripe to hot and sour soup sounds like an interesting idea. Tie up fresh onions with cord made from nettle fiber.

A great reference filled with descriptions, suggestions, recipes, and other cool stuff is Discovering Wild Plants: Alaska, western Canada, the Northwest by Janice Schofield. Yes I know it does not appear to cover Manitoba but there are a lot of plants with wide distribution and the information is great. Pick up a copy of Mark Stensaas book Canoe Country Flora: Plants and Trees of the North Woods and Boundary Waters. Even though it is directed towards the Boundary Waters in Minnesota (Quetico in Ontario) I found this book easy to read with many interesting facts and tidbits about plants also found in South Eastern Manitoba. A useful book is The Uses of Wild Plants by Frank Tozer. Lots of great information the only problem, for some, is the plants are listed by their latin genus names.

Although we will try a number of different plants I do emphasize that you should know what you are sticking in your mouth. A few very deadly plants and mushrooms are found in the Mantario region. I usually spend a little time pointing out some of the more deadly species that people might confuse with edible ones. If you are allergic to any plants I recommend that you refrain from trying anything new.

Will that cure the common cold? During the week we will discuss a number of plants that have been used in traditional herbal medicine. I will not be using any of these as medicines — I am not a herbalist or a doctor, and I do not want to practice on the trip participants.

I think Euell Gibbons said it best in his book Stalking the healthful herbs

"... And yet, I would be dismayed if I thought that any reader would be likely to substitute the remedies and recipes found in this book for needed professional medical care. I am not a doctor and cannot, nor do I wish to, prescribe for your ills. My attitude in this matter is probably best revealed by the fact that if I were to have a serious illness or injury I would immediately seek the services of a competent doctor rather than run to the woods for a medicinal herb".

Successional sequences, fire and recovery, other ecological topics. Plants, and other similar organisms, probably play the most significant part in the succession or recovery of an ecosystem. Unfortunately most people do not place enough value on the importance of the plants and plant communities in these natural processes. Over the week I hope to discuss why we as naturalists should take more interest in plant communities.
Canoeing
Not everything is plants. I have had extensive canoeing experience (including Paddle Canada (CRCA) instructor certification) and have spent quite a number of years teaching canoeing and canoe related skills. I would like to pass on some of my experience to the guests at the cabin.
Paddling skills are of course very important when you are canoeing. Most people are familiar with a few basic canoeing strokes and can propel themselves along reasonably well. Adding a basic understanding of the form and function of canoes, equipment, weighting, and position will greatly enhance everyone's paddling. By learning a few more strokes you can take your canoeing experience from frustration to exhilaration. Strokes that may be covered include: bow, sweeps, braces (low and high), J stroke and derivatives (Canadian, pitch or draft, rolling J or silent, river J, rudder), pry and draw strokes (including running pry and draw), cuts and jams. These strokes can be combined in a number of ways to do things like side slips, pivots, turns and more. An awareness of body position when paddling will make many manoeuvrers easier. Interested guests will get direction in solo paddling.
Through the Canoe
Water and Body
Paddle and Soul
Become one.
An important aspect to any wilderness experience is how to rescue yourself and others, canoeing is no exception. One afternoon I hope to spend some time doing canoe rescues. We can try both assisted and self rescues. Assisted rescues usually involve doing some kind of canoe over canoe rescue. There are a number of different styles of emptying and getting back into canoes when there are others to help you out. There are even methods to rescue yourself if there is no one else around. Yes you can empty a swamped canoe, and get back in by yourself! It takes practise but it can be done.
I have found that staying out of trouble is usually best rescue technique - how to load a canoe, getting in and out, should you get in at all, and paddling techniques all play an important role in staying afloat.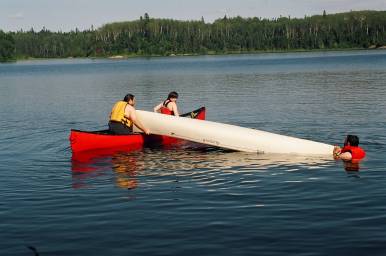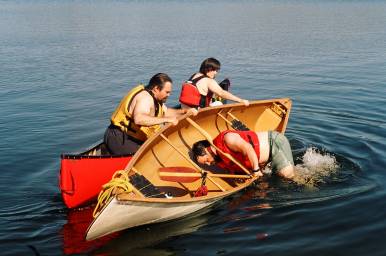 Canoe over Canoe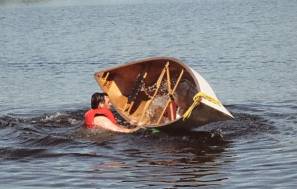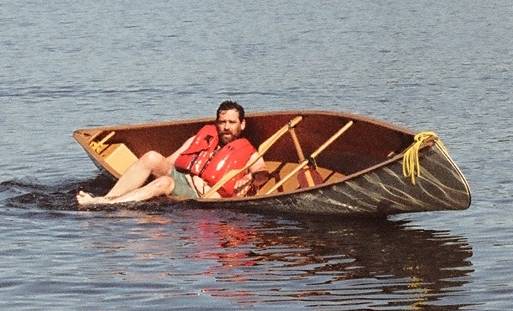 Splash out and re-entry
Photo Credit: Mary Sims, 2005
Map and Compass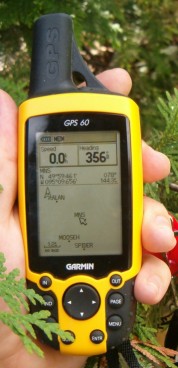 One of the areas that many people have problems with is understanding and using a map, or map and compass together. With the advent of affordable global positioning system receivers (GPSr) the perceived need for the use and understanding of a map, and traditional compass has been reduced. Unfortunately even a good GPS receiver can break or run out of power. Too many people do not know how to use a map and compass, or put to much reliance on technology.
If any participants are interested we will work on map and compass skills. How to use and understand the basic symbols of a topographic map including using longitude and latitude, and Universal Transverse Mercator grid (UTM) to specify a location. Understanding how a compass works and its limitations - why magnetic north is not true north and what is this thing called declination anyway? Using a compass to go in a straight line, or go 'there and back again'. Finally how to use a compass and map in tandem for marking a direction or finding a point (where you are or where you want to go) on a map. A GPS receiver will be available and we will look at the benifits and limitations of this technology. In addition, in 2005, I was asked to record the specific location of Large Tooth Aspen stands that are common on the day hike as well as a few other rare/uncommon plant species. A few links that you may find helpful are: Some GPS/UTM terms and Jargon, How to use a compass, and Topographic Maps, The Basics.
Lots of Other Things
I do not want to leave anyone with the impression that a week at Mantario is all study and identification. There is lots of time for relaxing, swimming, fishing - a lot of what is done depends on the participants and what they are interested in doing. Finally, at the end of a long day, don't forget the sauna.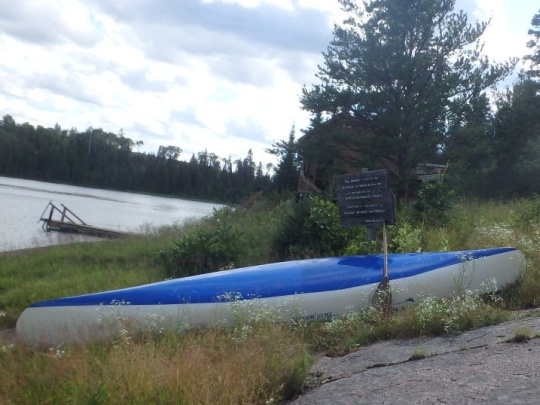 "In some mysterious way woods have never seemed to me to be static things. In physical terms, I move through them; yet in metaphysical ones, they seem to move through me."
John Fowles
---
---
Last modified: September 26, 2021