Current News and Events
December 20, 2012- One of our papers "EFFECTS OF CONSTRAINTS ON STANDING BALANCE CONTROL OF A BIPED WITH TOE-JOINTS" by E. Kouchaki, C.Q. Wu and M.J. Sadigh, published by International Journal of Humanoid Robotics (Vol. 09, No. 03) is one of the top 5 most read articles of IJHR. The list of most read articles is updated daily based on the volume of full text article downloads.
December 13, 2012- The group had the Christmas lunch at Sushi Gen, a Japaness/Koran restarant in Winnipeg. Here is a picture.
November 1, 2012- Mr. Gregg Streuber won the 1st place in the Applied Sciences Category, 2012 UM Underferaduate Research Poster Competition. A record of 120 posters were on display. The posters were divided into 6 categories: Applied Sciences, Creative Works, Health Sciences, Natural Sciences, Social Sciences and Qualitative Research Group, Social Sciences/ Humanities. Gregg did his summer research in my lab with an NSERC Undergrdauate Summer Research Award. Congratulations, Gregg. Here is a picture.
September 6, 2012- Mr. Nishant Balakrishnan joined my research group as an M.Sc. student. His research interest is in designing and building energy-efficient active bipedal walking robots. Welcome, Nishant.
August 20, 2012- Mr. Derek Koop successfuly defended his M.Sc. thesis. He will work at Price Industries as a mechcanical engineer. Congratulations, Derek, all the best.
June 4-6, 2012- Mr. Derek Koop, Sean O'brien, Shafiullah . AKM, Mansoor Alghooneh attended CSME International Congress 2012 in Winnipeg, MB, Canada.
June 3-7, 2012- Mr. Sobhan Sadri attended 2012 IEEE Intelligent Vehicles Symposium at Alcalá de Henares, Spain. He presented two posters.
May 11, 2012-The Research Group Spring Research Conference was held at FortWhyte Alive. Each graduate student presented his/her current reearch results. Dr. Wu gave a presentation reflecting the group achievemnts during the academic year of 2011 to 2012, and discussed the research plan for the next 5 years.
May 4, 2012- Dr. Wu has been named the NSERC/MCI Senior Industrial Research Chair in Heavy Ground Vehicles and Transportation Equipment. In her role, Dr. Wu will establish a reearch program on body structure integrity of heavy on-road vehicles, safety monitoring and accelerated sub-scaled durability testing. The Chair Program is co-sponsored by Motor Coach Indutries Inc., NSERC and University of Manitoba.
May 1, 2012- Three new reesarch students joined the group, Mr. Gregg Streuber, Mr. Daniel Kowbel and Jaiden Chan. Gregg and Daniel both received NSERC Undergraduate Summer Research Awards. Welcome.
April 15, 2012- Dr. Wu recieved Discovery Accelerator Supplements, which are awarded to accelerate progress and maximize the impact of superior research programs. The award is valued at $120,000 over three years ($40,000 annually) and provides recipients with additional resources to compete with the best in the world.
April 1. 2012- Dr. Wu received two grants from NSERC:.......... Discovery Grant (Development of stable and energy-efficient bipedal walking robots - challenges in stability analysis and stability criteria) and Reseach Tools and Instruments: (Fully Instrumented Treadmill for Characterizing Stability of Energy-Efficient Bipedal Walking)
March 30,2012- Mr. Graham Leveric recieved a University of Manitoba Graduate Fellowship. Graham is a recipient of NSERC Alexander Graham Bell Canada Graduate Scholarship in 2011.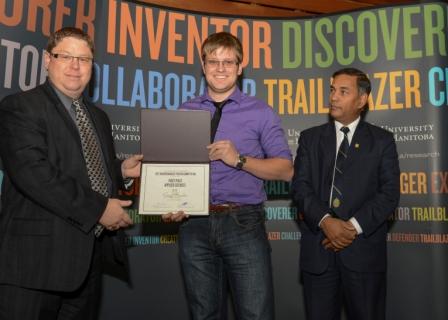 Mr. Gregg Streuber (middle) won the 1st place in the Applied Sciences Category, 2012 UM Underferaduate Research Poster Competition. A record of 120 posters were on display. Pictured with Dr. Digvir Jayas, VP-Research and International (right) and Dr. James Blatz, Associate VP-Partnerships (left).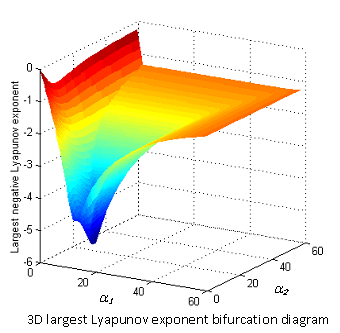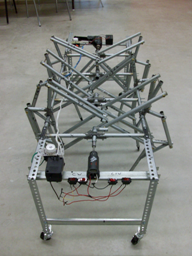 The legged walking mechanism similar to the kinetic sculpture created by Mr. Theo Jansen. Our mechanism was designed by Mr. Daniel Giesbrecht using the mechanism design theory and optimization.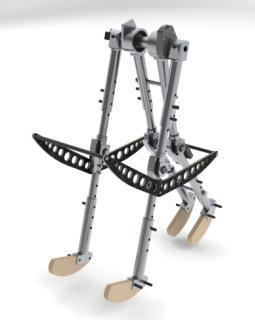 Dexter III, a passive dynamic walker equipped with sensors. It was designed and built by Mr. Derek Koop.