All-Time List of Canadian Transit Systems
by David A. Wyatt
5.0 Index of Communities By Transit Modes

Sometime called "Regional Rail". Commuter trains are passenger trains operating on the general railway network, within an urban area or between an urban centre and it's outlying suburban communities. Principal passenger community is persons making same-day return trips within an urban metropolitan area.
The RegioSprinter-operated service in Calgary, Alberta during the summer of 1996 could be considered "commuter rail" or "diesel light rail". A technologically similar diesel light rail service began operating in Ottawa, Ontario in October 2001. The railbus operated at Lillooet might also be considered commuter rail.
The above list does not include commuter rail services operated directly by railways prior to the period of Transit Agency involvement, which remains to be fully documented. Notes may be found under 1. Elmira, Ontario, 2. Fort Erie, Ontario, 3. Halifax, Nova Scotia, 4. Kings County - Hants County, 5. Miramichi, New Brunswick, 6. Moncton, New Brunswick, 7. Montréal, Québec, 8. Pictou, Nova Scotia, 9. Portneuf - Québec, Québec, 10. Regina, Saskatchewan, 11. Renfrew, Ontario, 12. Saint John's, Newfoundland & Labrador, 13. Salaberry-de-Valleyfield, Québec 14. Shawinigan, Québec, 15. Sydney, Nova Scotia, 16. Toronto, Ontario, 17. Transcona, Manitoba, 18. Victoria, British Columbia, and 19. West Vancouver, British Columbia.
See also Storage battery cars.
Via Rail Canada, Inc., Canada's national passenger railway, offers commuter fares (monthly and ten-round-trip passes) for many station pairs. Via's list is available here (2015). Notes on Via's service can be found under Montréal, Ottawa, and Toronto.
5.2 Interurban Electric Railways

1. Brantford, 2. Chatham, 3-4. Galt [Cambridge] – Kitchener, 5. Temiskaming Shores, 6-9. Hamilton, 10. Hull [Gatineau], 11-12. London, 13. Montréal, 14. New Glasgow, 15. Niagara Falls, 16. Québec, 17. St. Catharines – Niagara Falls, 18. Sydney, 19. Thunder Bay‡, 20-21. Toronto, 22. Vancouver, 23. Victoria, 24-25. Windsor, 26. Winnipeg, and 26. Woodstock.
For a more detailed tabulation, see separate list.
This is based on the canonical list of Canadian interurban electric railways, as determined by John F. Due (see References). Other authors (notably William D. Middleton) writing from a less rigorous definition include a variety of suburban streetcar lines with interurban characteristics. Among these are: Calgary [Ogden and Bowness Park lines], Winnipeg [St. Norbert and SRT lines], Sudbury [Copper Cliff line], Ottawa [Britannia line], Montréal [MP&I and MT lines], and Québec [QC and Kent House lines].
‡ The Mount Mckay & Kakabeka Falls Railway was leased, electrified and operated by the Fort William city system 1923-1947 which it appears neither Due nor Middleton knew.

Also known as "subway", "metro", or "rapid transit".
Montréal, Québec (1966 - present)
Toronto, Ontario (1954 - present) *
Vancouver, British Columbia (1986 - present) *
* Vancouver's SkyTrain rapid transit system and the Scarborough RT in Toronto are implementations of a technology marketed initially as "ICTS" (Intermediate Capacity Transit System) and then later as "ALRT" (Advanced Light Rapid Transit). The systems more closely resemble "small metros" than other implementations of what has come to be called "light rail transit".

During Expo '67 (the 1967 World's Fair) in Montréal, a separate heavy rail rapid transit system, the Expo Express, was operated to transport visitors to the fair site.

Technological modern descendant of the electric street railway, often featuring very little mixed-traffic street running.
The surviving street railway (tramway) in Toronto, Ontario also qualifies as "light rail transit" by most definitions. The railbus service between Lillooet and Seton Lake might also be consider [internal combustion] light rail. Some observers also classify the Vancouver SkyTrain and Toronto Scarborough RT as light rail.

A light rail transit project is in an advanced design or construction phase in Mississauga .
5.5 Electric Street Railways

1. Belleville, 2. Brandon, 3. Brantford, 4. Calgary, 5. Cornwall, 6. Edmonton, 7. Fort William, 8. Glace Bay, 9. Guelph, 10. Halifax, 11. Hamilton, 12. Hull [Gatineau], 13. Kingston, 14. Kitchener – Waterloo, 15. Lethbridge, 16. Lévis, 17. London, 18. Moncton, 19. Montréal, 20. Moose Jaw, 21. Nelson, 22. New Westminster, 23. Niagara Falls, 24. North Sydney – Sydney Mines, 25. North Vancouver, 26. Oshawa, 27. Ottawa, 28. Peterborough, 29. Port Arthur, 30. Québec, 31. Regina, 32. St. Catharines, 33. Saint John, 34. St. John's, 35. St. Stephen, 36. St. Thomas, 37. Sarnia, 38. Saskatoon, 39. Sault Ste. Marie, 40. Sherbrooke, 41. Sudbury, 42. Sydney, 43. Toronto, 44. Trois-Rivières, 45. Vancouver, 46. Victoria, 47. Welland, 48. Windsor, 49. Winnipeg, and 50. Yarmouth.
For a more detailed tabulation, see separate list.
5.6 Animal Street Railways

In most cases the use of animal power on street railways in Canada included the use of sleighs in winter. In some cities omnibuses were routinely used to provide service during the Spring thaw.
1. Belleville, 2. Brantford, 3. Chatham, 4. Halifax, 5. Hamilton, 6. Kingston, 7. Kitchener – Waterloo, 8. London, 9. Montréal, 10. Niagara Falls, 11. Ottawa, 12. Québec, 13. St. Catharines, 14. Saint John, 15. St. Thomas, 16. Sarnia, 17. Toronto, 18. Windsor, and 19. Winnipeg.
For a more detailed tabulation, see separate list.

Common carrier public passenger transport in an urban area using replica or restored antique street railway cars.
See also Street Railway Operating Museums.

Electric buses powered from overhead wires.
Trolley bus demonstration lines ran briefly in Vancouver, British Columbia and Victoria, British Columbia late in 1945.

For a listing of electric trolleybus systems in Canada, the United States of America, and Mexico, see All-Time List of North American Trolleybus Systems.

The universal technology of urban public transit in Canada in the 20th century. Every community in the All-Time List of Canadian Transit Systems with local transit service has been served by buses, except perhaps St. Stephen, New Brunswick, and sufficient research will probably uncover local bus service there too. Early known examples of motor bus transit include Montréal – Saint-Lambert in 1904, Calgary in 1907, and Leamington in 1910. The earliest existing transit [streetcar] company to implement a bus service was Brantford in 1916. The first appearance of motorized road transit in many Canadian cities was jitneys. Beginning on the west coast in late 1914, private automobile owners began using their cars to pick up fare-paying passengers. In some cities hundreds of cars were engaged in the trade, jitney associations were formed, routes established, and service hours announced. Operators serious about profitability began modifying their cars to carry more passengers, and the motor bus was born. Nearly everywhere the activity was eventually stamped out by municipal or provincial legislation.

1. Belleville, Ontario, 2. Brandon, Manitoba, 3. Centre Wellington, Ontario, 4. Corner Brook, Newfoundland & Labrador, 5. Creighton Mine, Ontario [Greater Sudbury], 6. Hamilton, Ontario, 7. Lockport, Manitoba, 8. London, Ontario, 9. Owen Sound, Ontario, 10. Montréal, Québec, 11. Ottawa, Ontario, 12. Saguenay, Québec, 13. St. John's, Newfoundland & Labrador, 14. St. Thomas, Ontario, 15. Saskatoon, Saskatchewan, 16. Toronto, Ontario, 17. Transcona, Manitoba, 18. Vancouver, British Columbia, 19. Vancouver – New Westminster, British Columbia, 20. Vernon, British Columbia, 21. Victoria, British Columbia, 22. Winnipeg, Manitoba.

Private automobiles organized as a commercial service to provide rides to the public reappeared in 2012 as Uber.

Several small communities, including a large number of rural localities in some provinces, have in recent years implemented forms of public transit service using techniques such as demand-responsive minibuses, shared-ride taxis, and coordination of travellers with existing services (including putting passengers on school buses and coordinating ride sharing, volunteer drivers, and carpooling). Some of these approaches can also be found as part of services in larger communities where areas or periods of low demand exist.
The All-Time List of Canadian Transit Systems tries to list those systems that are open to everyone, and operate at least some scheduled service (even if advanced booking is required). A few transit services whose sole function is to put riders into others' vehicles are listed under Québec Rural Paratransit Services.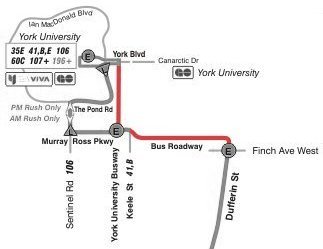 Application of private right-of-way using motor buses. The term "BRT" (Bus Rapid Transit) encompasses a wide range of technologies from conventional on-street/mixed traffic express bus service, to enhanced bus stops, bus-only lanes, signal pre-emptions, or private road infrastructure with elaborate stations. In the context of the All-time List of Canadian Transit Systems "motor bus busway" is intended to designate private right-of-way rapid bus service which includes stations. The Toronto example listed below (and illustrated left) does not have stations, but is of substantial length.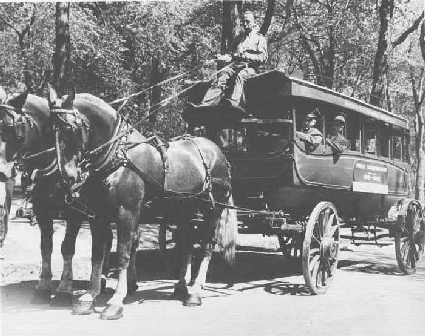 Animal drawn buses. (Commonly horses, possibly mules and probably not oxen in Canada.) Since this transit technology was used in Canada almost exclusively in the 19th Century, before the regulation or franchising of over-the-road commerce, records of omnibus services are far from complete.

It was common practice in the animal street railway era to use omnibuses in spring after the snow melted but before the ground was dry enough to operate the railway.

1. Beamsville, Ontario 2. Beauport, Québec, 3. Boischâtel, Québec, 4. Bowmanville [Durham Region], Ontario, 5. Brighton, Ontario, 6. Calgary, Alberta, 7. Cap-Rouge, Québec, 8. Charlesbourg, Québec, 9. Deseronto, Ontario, 10. Edmonton, Alberta, 11. Elora [Centre Wellington], Ontario, 12. Fort William [Thunder Bay], Ontario, 13. Goderich, Ontario, 14. Halifax, Nova Scotia, 15. Madoc, Ontario, 16. Midland, Ontario, 17. Milverton, Ontario, 18. Montmorency, Québec, 19. Montréal, Québec, 20. New Waterford, Nova Scotia, 21. Norwich, Ontario, 22. Oakville, Ontario, 23. Orillia, Ontario, 24. Orono [Durham Region], Ontario, 25. Ottawa, Ontario, 26. Owen Sound, Ontario, 27. Picton, Ontario, 28. Port Hope, Ontario, 29. Québec, Québec, 30. Ridgetown [Chatham–Kent], Ontario, 31. St. Catharines, Ontario, 32. Sainte-Foy, Québec, 33. Saskatoon, Saskatchewan, 34. Sillery, Québec, 35. Smiths Falls, Ontario, 36. Teeswater, Ontario, 37. Toronto, Ontario, 38. Victoria, British Columbia, 39. Walkerton, Ontario, 40. Welland, Ontario, 41. Windsor, Ontario, 42. Wingham, Ontario, and 43. Winnipeg, Manitoba.


Called "incline railways" almost everywhere in Canada.
* A British military incline railway at Québec (1823 - 1840s) reportedly also carried the public.

Water barriers create a specific local transportation need, and ferries and other marine transportation is the solution at places and times where a bridge is not possible or practical. While a few services are obviously urban transit (for example the seabus in Vancouver and the Dartmouth ferry), there is a large grey area, especially historically, where boats play or played a role in getting people from place to place in an urban area.

Also belonging to this category are a number small-craft passenger boat services operated in various urban waterways. These include Vancouver (False Creek), Victoria (harbour), and Winnipeg (Red and Assiniboine Rivers),

Other ferry services are noted for
Application of street railway-like technology to the transportation of passengers in remote locations, most commonly horse-drawn portage railways.

See separate list.

In addition to the above listed heritage tramways (Calgary, Edmonton, Nelson, Vancouver, and Whitehorse) there are street railway operating museums at
A horse car line was operated at Heritage Park Historical Village, Calgary, Alberta (?-circa 1998).

The Cornwall Electric Railway Society (1949-1952) preserved one Cornwall streetcar and operated it over the then freight-only trackage of the Cornwall Street Railway, Light and Power Company, Limited. The group disbanded in 1952 and the car was transferred back to the CSRL&P (Clegg & Lavalée 2007 pp. 57-61).

In the 1920's and 1930's three Canadian mainline railways, Canadian National Railways, Canadian Pacific Railway Company, and Temiskaming and Northern Ontario Railway operated storage battery cars on several lines. In most of these cases service never approached interurban levels, nor were they considered separate from the railways' steam-hauled services. The largest user, the CNR, had retired all its storage battery cars by 1942. (Photo: CN Images of Canada: Canada Science and Technology Museum)


Canadian National Railways (16 May 1921 - circa 1942)

Trenton – Belleville, Ontario [22km/13.8mi] 16 May 1921 - 19 June 1921 (trial),
Campbellton – Bathhurst, New Brunswick [100km/63mi] [101km/62.9mi] 1921 - 1922,
Campbellton, New Brunswick – Matapedia, Québec [21km/13mi],
Toronto – Beaverton, Ontario [103km/64.2mi] September 1922 - ?,
Toronto – Weston, Ontario [13.4km/8.4mi] 1923 - ?,
Toronto – Oakville, Ontario [34km/21.3mi] 1924 - ?,
Montréal – Saint-Eustache, Québec [27km/17mi] 1924 - ?,
Halifax – Windsor Junction, Nova Scotia [25.6km/16mi],
Lunenburg – Mahone Bay, Nova Scotia [11.2km/7mi] 1937? - 1961?,
Fredericton – Centreville, New Brunswick [141.6km/88.5mi],
Sainte-Rosalie – Nicolet, Québec [96km/60mi],
Fort Erie, Ontario – Black Rock, New York (over International Bridge),
Winnipeg – Transcona, Manitoba [14.4km/9mi],
Canadian Pacific Railway Company (? - ?)

Temiskaming and Northern Ontario Railway (? - ?)

Swastika – Kirkland Lake, Ontario [9km/5.6mi].
(Martin)

The Ontario Southern Railway was also operated by storage battery. Martin also lists the Toronto – Guelph line of the interurban Toronto Suburban Railway as receiving battery cars in 1924, but other traction historians disagree (Martin, RFC).
---
Copyright ©1989-2020 David A. Wyatt. All Rights Reserved.
Return to All-Time List of Canadian Transit Systems The author is always interested in comments, corrections and further information. Please email to: dawwpg@shaw.ca This page last modified: Wednesday, 21-Oct-2020 14:56:01 CDT